Introducing a suite of new & improved recruiting tools — the best part, it's free


The recruiting industry is evolving like never before. The pandemic has accelerated the focus on remote work, flexibility, and purpose for job seekers.
Companies are competing for top tech talent who are no longer settling for mediocre benefits, pay or workplace culture. The talent acquisition strategies of the past aren't cutting it anymore.
Recruiters have less time, need better tools, and need to share their brand in unique and engaging ways in order to compete for top talent.
That's why we're taking a modern approach to recruiting, and we're excited to launch some major new features for employers.
Are you an employer looking to hire? Schedule some time with Matt to chat about joining Purpose Jobs, or start by posting jobs for free.
Already part of the Purpose Jobs community? Log in now to start using these features.
1. Video & Audio Job Descriptions
Hiring a software engineer? So is everyone else 🙂
Right now, there are 1.4 million software engineering jobs open in the U.S. So how do you differentiate yourself among all the other tech companies looking for the candidates you want to hire?
Introducing video and audio job descriptions:
Get your story in front of candidates right from the start.

Use video to share what it's like to be a part of that team, or what's exciting about the job.

Don't want to be on camera? Use an audio file to share your story.

Increase engagement with videos (people watch video more than they read text).

Easily create candid videos (for free) in just minutes.
Companies that invest in employer branding consistently see more and better candidates in their pipeline. That's because 75% of job seekers consider a company's employer brand before deciding to apply to a job, according to LinkedIn.
You can check out the help doc here, or give it a go by adding a video when you post a job.
2. ATS Integrations
How many times a day are you switching between recruiting tools and resources? Too many.
Recruiters are busy and don't have time to be going back and forth, searching for candidates or repeating job postings.
Our ATS integration takes 60 seconds to set up. Here's a few benefits:
Jobs: Automatically import from your ATS

Applicants: Automatically export to your ATS

Sourcing: Export candidates you love from our sourcing tool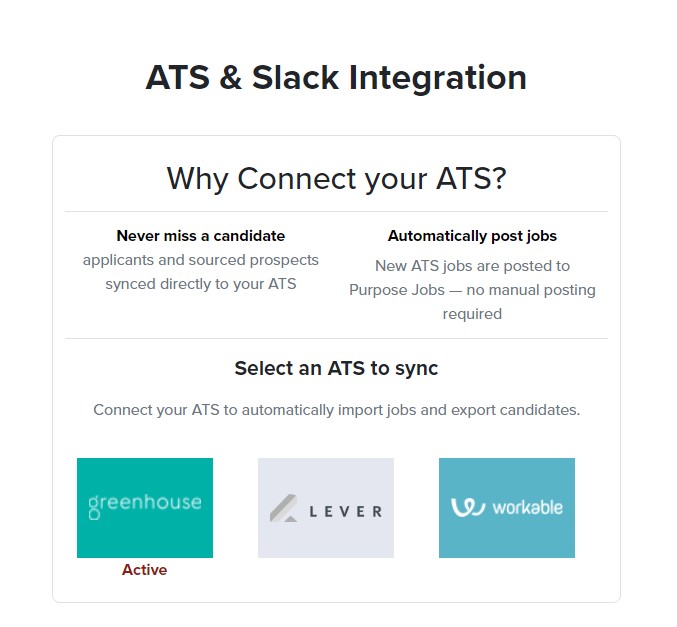 Need help setting up your integration (Purpose Jobs currently integrates with Lever, Greenhouse and Workable)? It's one click to set it up, or put time on Jonathan's calendar and he will help you set it up.
3. Slack Integration
A candidate applies to your job. And they're really good. Like, really good. But it slipped past you because you were using too many recruiting tools and couldn't track down the important info.
In addition to integrating your ATS, you can get real-time notifications in Slack.
Our ATS + Slack integrations are the perfect combo for streamlining communications. They're like spaghetti and meatballs. *chefs kiss
Integrate with Slack:
Hook up your Purpose Jobs account with a Slack channel and have notifications sent directly to your Slack whenever someone applies for one of your open jobs.

Set your preferences to have a notification sent immediately, once daily, or once weekly. Whatever you prefer.

Never miss a candidate that could be the one.

Save time with a streamlined process and seamless recruiting tools.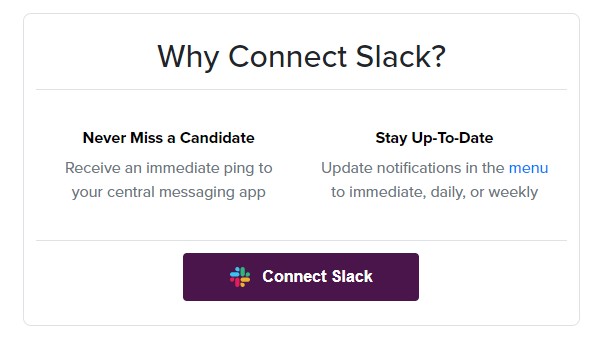 Integrate your Slack with Purpose Jobs, or get more help here.
4. Remote Talent
Over 80% of Purpose Jobs candidates are open to remote roles. And it's one of the top priorities for job seekers these days.
But it can be hard to find remote talent. If you're not narrowing down your search with a location, how do you find quality remote candidates?
Connect with remote talent:
Easily filter for remote candidates. Filter even more for remote engineers.

Let candidates know you're hiring remotely by listing your jobs as "Remote." Use the "Remote-Friendly" tag to let candidates know you're hybrid, or have an office + a work-from-anywhere policy.

Share more about your remote culture on your company page through text, image and video.
We're always focused on creating a valuable and seamless experience for Purpose Jobs employers that helps them navigate this ever-evolving industry. If you're looking for a more advanced suite of recruiter tools and ways to up your recruiting game, start a new account, and let's chat!