Mark your calendars, friends. Intermitten, the one-day tech conference created to unite, nurture, and celebrate the Midwest tech community is back for its third year running. And this year, it's taking place in Detroit!
DATE
Thursday, July 12, 2018

TIME
8:00 AM – 8:00 PM EDT
LOCATION
The Guardian Building
500 Griswold Street
Guardian Club: 32nd Floor
Detroit, MI 48226
There's a lot of reasons to be stoked about this conference.
To begin, this is the first time Intermitten is happening in our own backyard. (Normally it's hosted in Ann Arbor, Michigan.)
Second, it was created by members of the local startup community for the local startup community. It's got the polish you'd expect from a professional tech conference, but to this day, it's still a volunteer-run event, fueled by the passion of its founders, sponsors, and of course, the attendees.
We reached out to Heidi Craun, one of Intermitten's co-founders, to learn more about the conference's origin story.
Meet Heidi: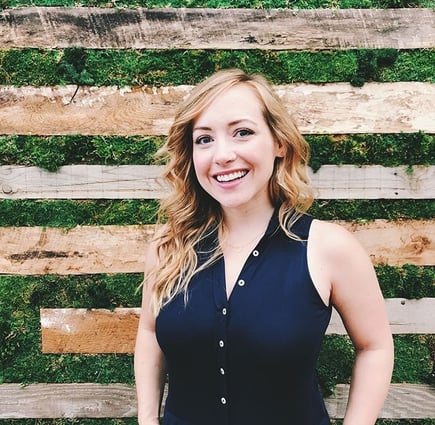 Here's how she explains the story of Intermitten:
"The idea for Intermitten came in 2015. I had just been sent to a conference in Chicago by the startup I was working for in Ann Arbor. At that conference, as luck would have it, I crossed paths with some super talented people—all of whom were working for other cool startups in and around Ann Arbor. We thought it was crazy that we didn't already know each other, or that each other's startups even existed. We realized how disconnected we felt."
"So we started talking and asking questions," Heidi said. "How can we foster collaboration and connection in our local community? How can we help support local startups through various stages of growth? How can we bring the value of attending a conference to our hometown? Intermitten was the answer."
"Our first event was in 2016. Since then, our themes have changed each year, but our number one priority has remained the same: nurture and deepen connections within our local tech ecosystem, and highlight it as a hub for technological thought leadership and talent."
Four reasons why you'll find us at Intermitten 2018
If you haven't yet been to an Intermitten event, you're in for a treat. The energy there is palpable. It's a truly inspiring feeling—being able to walk into a room, look around and see new and familiar faces, and know that everyone's there to learn and help build up the local community.
If you're on the fence about buying a ticket, here are four reasons why you can count on seeing us there.
1. It's happening in Detroit.
Okay, we know we already pointed this out, but we think it's worth elaborating on.
When we asked Heidi why Intermitten was happening in Detroit this year rather than in Ann Arbor, her answer was spot on:
"In the last few years, I think a lot of us have witnessed a sort of 'Ann Arbor vs. Detroit' mentality within our local tech communities. And that kind of thinking does nothing to further either city's economic development," she told us.
"We think of the two cities as distinct ecosystems, which just seems silly, given how close they are; they're closer in proximity to each other than San Francisco is to San Jose, which we collectively refer to as Silicon Valley."
"Geography aside," Heidi said, "Detroit resonates with us for a lot of reasons: its diversity, its creative scene, and its resilience (a startup characteristic in and of itself). We think all of these factors are key to successful innovation and entrepreneurship. We want to highlight all of the amazing things happening in Detroit to our Ann Arbor following (and other cities)—not to inspire them to compete with Detroit, but to inspire them to go home and replicate it, give Detroit credit for it, and build relationships that support the larger ecosystem for years to come. Michigan is uniquely positioned to get tech right as it relates to the community in which it lives, and we want to see these two cities work together."
Bravo, Heidi.
Plus, if you didn't catch it in the event details, Intermitten 2018 is happening in the historical Guardian Building, which, as they say on their website, was "designed by Michigan architects; erected by Michigan contractors; [and] built by Michigan artisans. ...The Guardian Building is virtually a temple of Michigan commerce and ingenuity."
2. This year's themes are diversity, community, and collaboration.
This year there will be 11 speakers, and each of them will be speaking on diversity, community, or collaboration.
Given the current political climate, these topics couldn't be more timely. In an age where people are more divided than ever, focusing on conversations that can bring us together rather than drive us apart is one of the most important investments we can make in ourselves, in our businesses and careers, and in our community.
Here are just a few of the discussions Intermitten speakers will guide us through this year:
How to build a diverse tech startup from day one

How to build inclusive communities

How tech can enter communities respectfully and thoughtfully

How to avoid collaboration disaster

How to collaborate for social impact

3. All of this year's speakers are women.
This isn't something that Intermitten is advertising, but if you take a look at the speaker lineup, it's hard to miss.
We love it. It's a nice "Show, don't tell" moment for a conference that's focusing on diversity and inclusion.
We think there's a lot that can be learned from these local thought leaders.
We'll hear from the founder and VP of Melanin.Tech, the president and owner of LimeRed Lab & Studio, the Director of Student Recruitment at Girls Who Code, the co-founder of Bamboo, the founder and CEO of Black Tech Women, and so many others.
4. It was created just for us.
Us = me and you and all of our favorite techie friends living in the area.
Think about it. Intermitten was created for the emerging startup scene in Michigan. It's a grassroots operation that we get to be a part of and influence.
Here's how Heidi described the relationship between the event and its attendees: "While we carefully curate the event's programming to ensure it's impactful and valuable to every person who attends, what we're really doing is designing a framework for everyone who attends to create the event that it ultimately becomes."
"Everyone's unique talents, personalities, burning questions, and ideas come together through talks, exercises, and activities, and the result is a space of connection and inspiration," she said. "We are getting better and better at this, thanks to our attendees' insights, and we think this year is going to be the most inspiring and practical event yet."
Hope to see you there
Convinced you want to go? We hope so! Tickets are still available for purchase.
If it's not quite in the budget this year, apply for a scholarship ticket. (As we understand it, no one who's asked for a scholarship has ever been turned down.)
If you do plan to attend, let us know. We'd love to connect IRL and say hello.
Subscribe to stay in the loop
Like what you've learned here?
Subscribe to the re:purpose blog to stay up-to-date on:
More news from the Detroit startup community (and surrounding areas)

Expert advice from seasoned professionals

Tips on driving creativity and innovation

Proven methods for landing your dream job

And more!