Despite expectations and the odds, 2020 VC activity was at a record high — for some founders.
For women founders, VC funding shrank to 2.2%, and of the $150 billion U.S. companies raised in venture capital, only $1 billion went to Black founders. What about LGBTQ+ founders? Well, according to Backstage Capital, on average, less than 1% of deals go to LGBTQ+ founders.
2020 was also the year when people set out to change that.
In Columbus, it started with LOUD Capital's Pride Fund 1.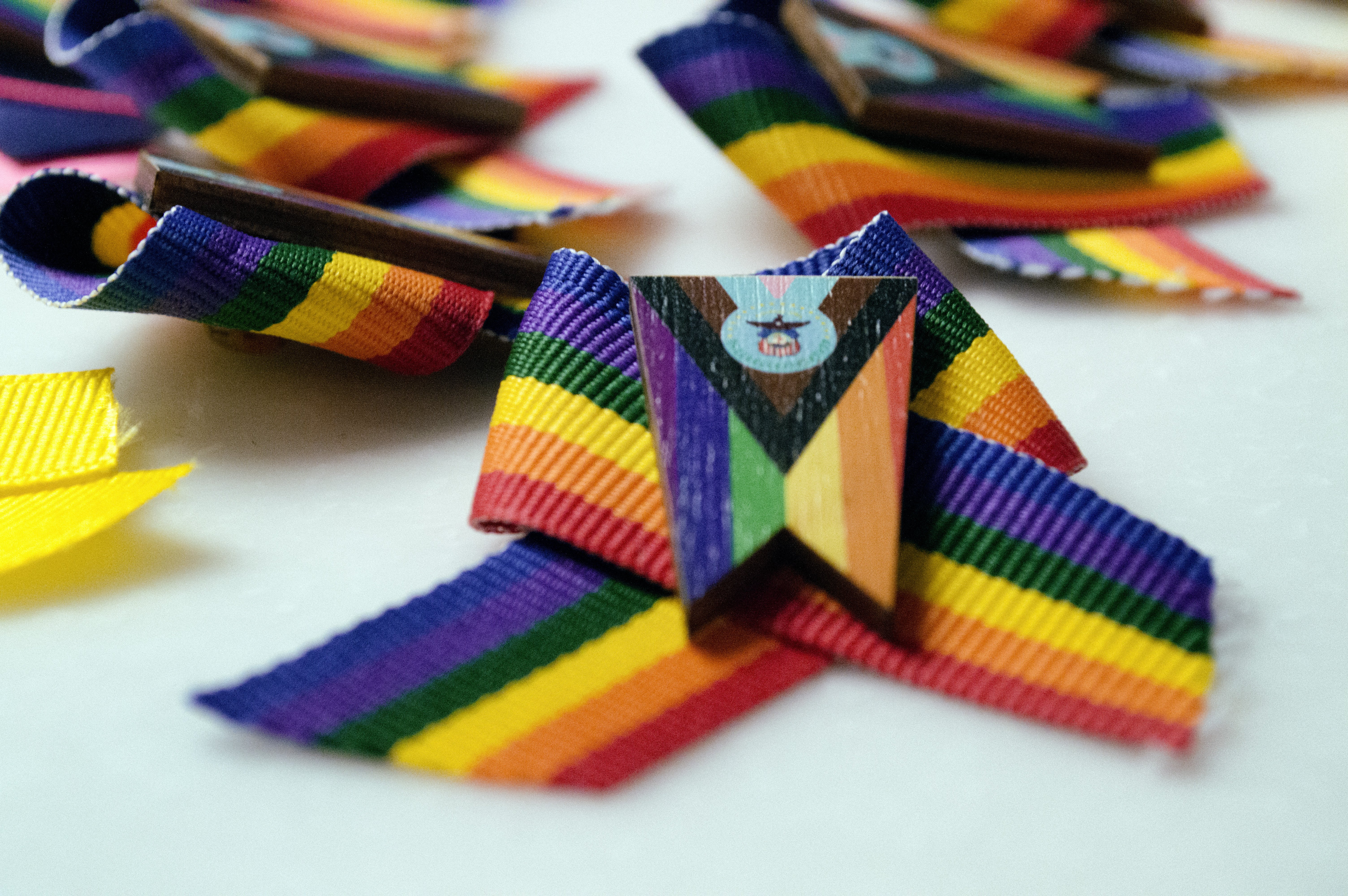 Image Courtesy of T. Wolf Starr and Pride Fund 1
"Venture For the People"
Launched in June 2020, Pride Fund 1 is a $10 million fund created to make VC funding more accessible to LGBTQ+ founders or companies that directly serve the LGBTQ+ community. Accessibility has always been the ethos of LOUD Capital: "venture for the people" is their mantra.
Perhaps that's why Pride Fund 1 found a home so easily with LOUD Capital. The idea for Pride Fund 1 was brought to LOUD Capital's co-founder and CEO, Navin Goyal, by T. Wolf Starr. Wolf is the chief executive officer at Atlas Venture Partners and the Managing Partner at Pride Fund 1.
Before working at Atlas, Wolf started a large shop-local network called Small Business Beanstalk. With over 500 deals with small businesses and 100,000 consumers using them, Wolf grew an expansive network. That network continued to grow as he started throwing festivals to get food trucks involved in the shop-local deals.
During his two years as a festival producer, Wolf threw many events, including LGBTQ+ and marriage equality festivals. But his allyship to the LGBTQ+ community goes back to his childhood.
"I grew up in the Short North, which is Columbus's Pride district, our boy's town. I was raised by guncles and gaunts because my parents were artists, and I was really involved in the community from a young age," Wolf said.
When he was 16, Wolf gave away his Eagle Scout ranking to stand up for LGBTQ+ rights and was put in the limelight as an ally, advocate, and champion for the community.
So when he had the opportunity to join a VC firm and create a specific impact fund to help the community, he knew they should start with Pride.
"There is such a level of discrimination and fear of coming out in a lot of startup and tech circles," Wolf said. "If you do come out, you might lose your opportunity, even if you have the best idea ever, just because of unintentional and intentional biases that exist."
Venture is already not the most inviting industry to get into, Wolf said.
"Venture as an industry has been very closed. A lot of it is unintentional, but it's largely individuals who know individuals, and then they invest in individuals who they know or know people like them. And it just becomes more and more insular."
There's also no antidiscrimination in venture. Because there are a million reasons why you wouldn't invest in a company (most of them being financial), there are no rules that say you can't or you can; the rules would be impossible to enforce.
"We realized there were so many founders staying in the closet or having a straight co-founder be the face of the company," Wolf said. "Many felt like they couldn't bring their full selves to the table because they wouldn't want to lose a pitch or a client, or have a really good meeting but know someone would be uncomfortable with their pronouns or lifestyle."
So Wolf brought the idea for a Pride fund to Goyal at LOUD Capital. Goyal got on board, and they started getting a team together.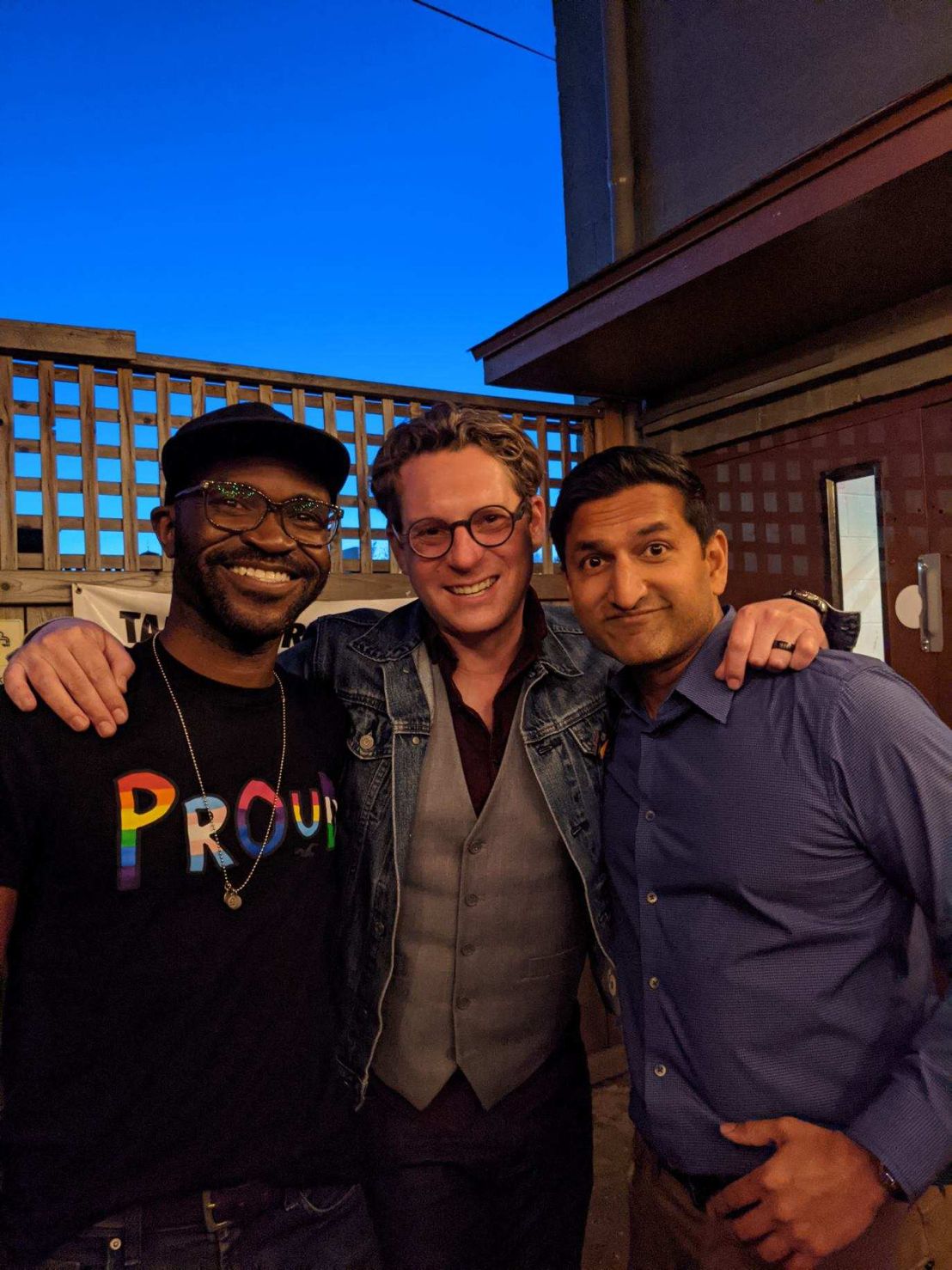 Image Courtesy of T. Wolf Starr and Pride Fund 1
"We were very fortunate that one of our venture partners and one of my best friends, Densil Porteous, was willing to step into the role of CEO," Wolf said. "That's when everything really started to coalesce."
Completing the team is Michael J. Smithson, Chief Growth Officer; Lindsay Karas Stencal, General Counsel; and Case Petrie, Operating Partner. And Pride Fund 1 officially launched in June 2020.
For the Community, Owned by the Community
Every company that Pride Fund 1 invests in has to meet three requirements:
It has to be LGBTQ+ led or specifically serving the LGBTQ+ community

It has to be venturable

Pride Fund 1 has to be able to provide them value beyond just writing a check — in some cases that means introducing them to their first client, helping them find people for their team, or making an introduction that changes their whole trajectory.
As much as the team loves their local coffee shops, Wolf emphasized the importance of venturability and that they find other ways to support non-venturable businesses.
"We have to succeed in order to change the industry," Wolf said. "When our successes are stronger than the benchmark, it's going to get everyone to start making these changes and be more equal and intentional."
In order to not have people fighting for the same dollars, most of the Pride investors are outside the region or the industry. Take for example a restaurateur that has done really well and has a lot of passion for the LGBTQ+ community and success: their investing isn't taking anything away from anyone, because they weren't going to invest in any other venture before, Wolf explained.
"It has always been a mission of ours that we want everyone to succeed," Wolf said.
Image Courtesy of T. Wolf Starr and Pride Fund 1
To make that happen, Pride Fund 1 started with venture partners that were already community leaders: business leaders, individuals who might be in the nonprofit space, those who fundraise for different things, etc. Wolf said they wanted them to have an actual place at the table.
"Even more so we wanted it to be led and owned by the community," Wolf said. "I am very proud to be an ally and accomplice in every way that I can be, but this fund deserves a very dynamic leader from the community. Because there are not enough gay people in leadership positions in the industry, we wanted to create those positions for them. We took a look at who was around us and also who wasn't around us."
So they created an advisory board, which now has nearly 40 people on it. Wolf shared the story of someone on the board, Stephanie Page, who wanted to get into venture. By joining the board, Stephanie has been able to get involved, learn, and have actual experience being a part of the conversation, which is empowering for their career.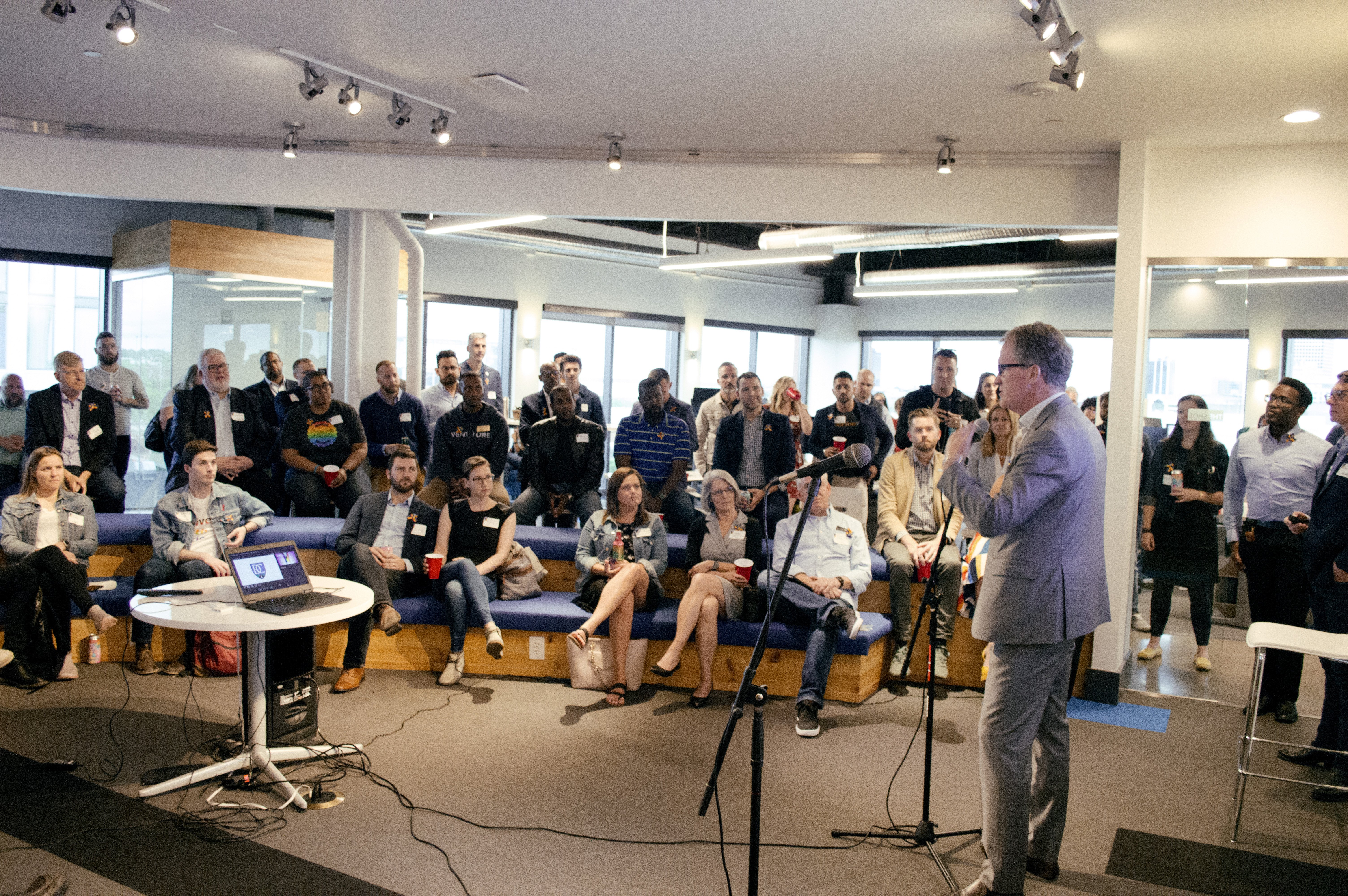 Image Courtesy of T. Wolf Starr and Pride Fund 1
Along with the advisor network, Pride Fund 1 has partnered with organizations like the National Gay and Lesbian Chamber of Commerce, the Gaingles (which is the largest LGBTQ+ angle network) and StartOut.
"Working with all of them has put us in a cool position to have an unlimited amount of deal flow and really have phenomenal companies," Wolf said. "It works so well because our advisors just want to help, help, help. It's great."
One Year Later
Given the state of VC investments for LGBTQ+ founders (on average it's less than 1% of deals), Wolf and the Pride Fund 1 team knew there was a problem, but they didn't realize how bad it was, he said.
When Pride Fund 1 originally started taking shape, Wolf said they didn't think they needed to start it because there had to be other ones around the country, but they couldn't find any.
"We became the first, and I now am very proud to say we are not the only," Wolf said. "In the last 12 months we've made more progress as an industry than we did in the 12 years prior. And that's got everything to do with our society standing up across the board and demanding that we be better."
After they launched, many large VC firms reached out to them expressing that they also wanted to support the LGBTQ+ community, but didn't know how to access it. Wolf said that's led to Pride Fund 1 being able to scout for some of the larger firms. When people come to Pride Fund 1 looking for larger investments, they can refer them to these VC larger firms looking to help.
What they also noticed after they launched was that entrepreneurs were coming out of the closet, saying that they never had someone who wanted to invest in them. Until now.
Since Pride Fund 1 launched one year ago, they've invested in some great companies:
Revry, a streaming service for LGBTQ+ TV, movies and music

OpticSurg, mixed reality telehealth platform

Another impact company helping young individuals pay for college, specifically in underrepresented communities, led by a LGBTQ+ founder of color
Pride Fund 1 has also partnered with LEAP (LGBTQ+ Entrepreneurial Accelerator Program), which was co-founded by Michael Smithson, Chief Growth Officer at Pride Fund 1.
On Thursday, June 17, 2021, LEP classes of 2020 and 2021 will share their work at VENTURE OUT 3, an event to celebrate and uplift the LGBTQ+ community.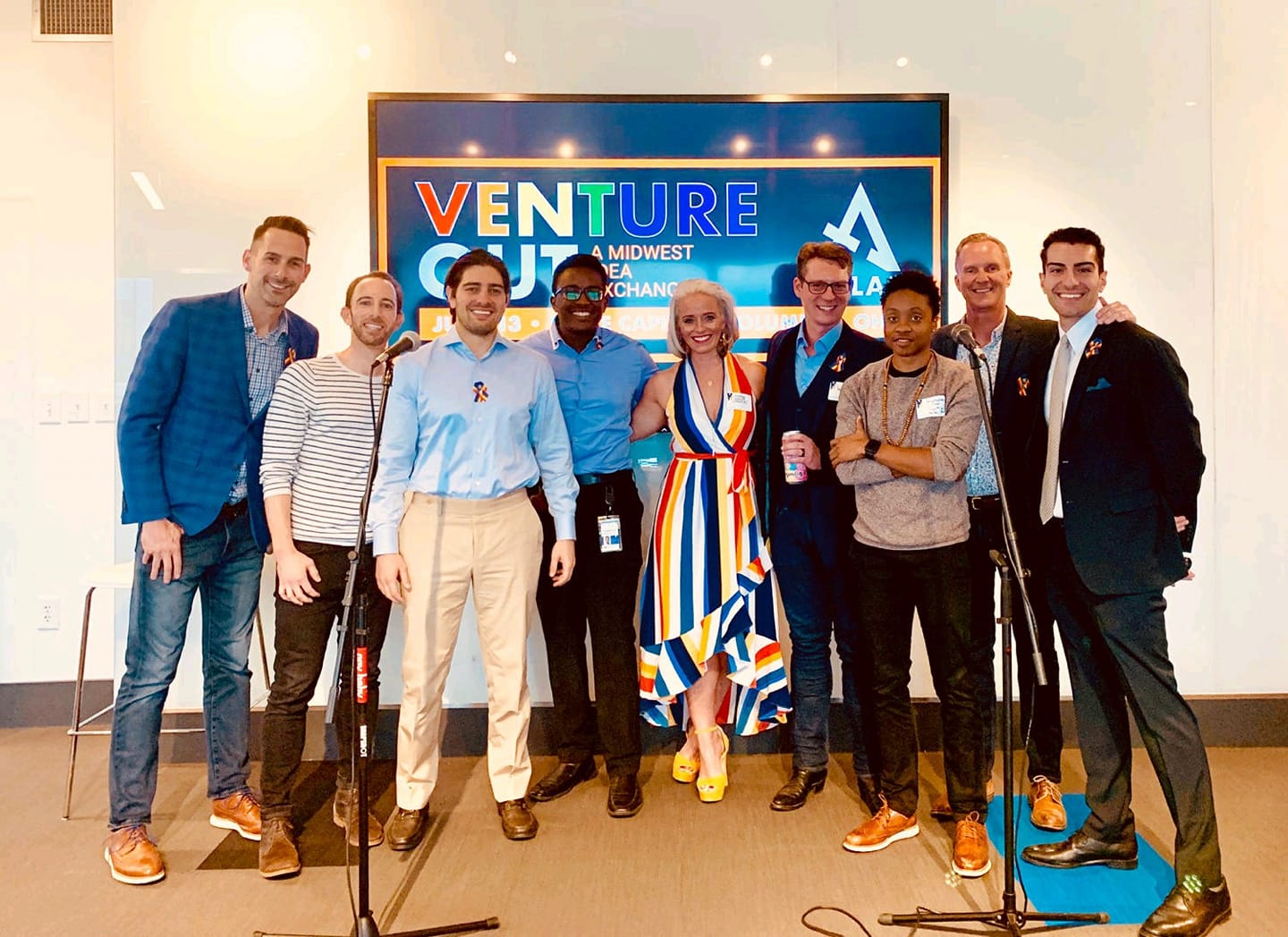 Image Courtesy of T. Wolf Starr and Pride Fund 1
Hosted by Atlas Partners and Pride Fund 1, the event will bring together entrepreneurs, investors, and corporations to highlight and celebrate LGBTQ+ organizations making changes in venture systems throughout the country. While there is an option to attend the event in person at Stonewall Columbus, you can also tune in virtually for free.
The event will be a fun celebration of the LGBTQ+ community because, at the end of the day, it's all about them.
"We want the glory to go back to the community," Wolf said, "because it's for them through and through."