Looking for a new position in the COVID job economy? Interested in upping your game as a remote worker? If you answered "yes" to either of these questions, you've come to the right place.
We know remote work isn't everyone's cup of tea. Some people thrive working from home, but for others, it doesn't always come so naturally.
With many companies offering remote work opportunities right now, it's essential to learn how to be a successful remote worker. And, there are few things you can do to set yourself apart in this new kind of job market whether you're actively looking or just trying to keep your head above water in your current remote role.
Here are a few qualities you can cultivate to impress managers (potential or otherwise) in a remote job economy.


Self-discipline
In a Kenzie Academy blog, Springbuk's VP of Technology Roger Deetz told us about what traits he looks for in remote new hires. Of course he still seeks out strong technical and communication skills, but he's also looking for another important quality:
"For those we know will be full-time remote, we like to see folks who demonstrate exceptional self-discipline," Roger said.
Remote work requires a whole new level of independence. You no longer have a boss looking over your shoulder in the office, watercooler chats, or coworkers who can see you scrolling Twitter. Because of the autonomy workers have in remote settings, a successful remote employee needs to have a certain level of self-discipline. This means showing up and doing the work because you are disciplined enough to stay on your A-game, no matter who's watching.
Self-disciplined remote employees typically work on a set schedule, get enough sleep most nights, and have a general routine on workdays. You can grow your self-discipline muscle by creating and sticking to a routine that supports your well-being. Aim for 8 hours of sleep each night, feed your body nutritious foods, and incorporate exercise or mindfulness practices into your week.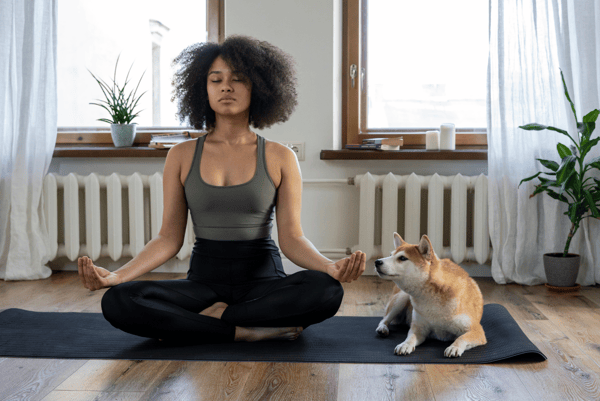 Of course, you can and should take breaks while working remotely (in fact, we encourage it) because you're a human, not a machine. So let's take a second to emphasize you should aim to cultivate a healthy level of self-discipline and not dabble in any practices of self-abuse or deprive yourself of needs (i.e. sleep, food, water, time off). We're living in stressful times so your productivity may wax and wane but generally, practice staying on task and meeting deadlines in order to live your best work-life overall.


Self-regulation
Self-regulation is a skill we've all been consciously or unconsciously cultivating since childhood. It's the ability to deal with our emotions in a healthy, positive way, seeing setbacks and challenges as ways to grow. Self-regulation allows us to process our feelings constructively without needing to lean too heavily on others to do the work for us. It's the reason most adults are able to keep calm when minor irritants pop up in work, love, and life.
According to a recent study by publishing company Wiley, the ability to self-regulate can be essential in generating successful outcomes on the road to re-employment. "Together, results of this study suggest that the components of self-regulation are key to a comprehensive model of resiliency, which plays a crucial role in enhancing well-being and re-employment outcomes during individuals' search for employment," study author Matthew J. W. McLarnon said in a press release.
Practice examining how you respond to challenges and setbacks in your work and personal life. Your observations should give you a hint as to whether or not you need to do any additional work on your self-regulation.

Clear communication skills
With Slack messages slinging, emails stacking up, and an abundance of Zoom calls, remote workers need to be attentive. It can be easy to get lost in the sauce with so many communication channels.
The ability to communicate effectively over various mediums in a timely manner is highly important when you're working remotely. If you get easily distracted by the constant pings, try turning your notifications off during focused work times. You can also schedule times throughout the day to respond to messages. As a bonus tip, according to Business Insider, a good communicator is sure to include all relevant details and context when contacting colleagues or bosses.


Motivation
The ability to motivate yourself is key to finding success in a remote role. Because a home workspace lacks the energy of an office, a remote employee needs to be able to stay on task without being babysat or micro-managed. If you're looking for a remote role, look for something that excites you. Will you be inclined to show up and be interested on most days? If not, you may want to consider the types of work you're seeking out or switch industries with an upskilling program.



Organization
Organizational skills are critical to success in a remote role. If you need help getting organized, consider implementing digital tools into your work processes. You can keep it simple with a Google Calendar or use a digital to-do list like Asana. Here's a list of some other options you could experiment with to find what works for you. Although we're all about the latest and greatest tech developments here at Kenzie, we also love simple, analog classics like pen and paper.


Boundary-setting skills
Can you separate your work from your personal life? As a remote worker, the lines can easily blur — after all, your home is now your office. A major way to keep things straight is to learn the art of setting boundaries. Setting boundaries with work can help you honor your time, protect your energy, and make you feel more present. Oh, and it can also help you avoid burnout — a true win.
Here are some examples of boundaries you can set for better work-life balance as a remote worker:
Set a work schedule and stick to it. Once it's time to end the workday, shut down your computer and mentally 'leave the office.'
Prioritize your own tasks and schedule in time to assist others.
Choose specific times to look at email, rather than letting every message that comes in distract you and fragment your time.
Speak up when your contributions aren't recognized.
Don't use digital devices in your bedroom.
Being a remote employee is a really sweet deal, but it's still a relatively new way to work for many of us. Focusing on these areas will help you adapt to this lifestyle and get the most out of your job without it blurring into your personal life.


Looking for remote work? Find your dream job here.
Kenzie Academy is a tech and coding school with headquarters in Indianapolis, Ind. Kenzie arms people with an education for the future of work, especially those who have been underserved by traditional higher education. We offer online & in-person certification courses in Software Engineering and UX Design. We believe in providing quality and affordable tech education so students can graduate job-ready.


About the Author:
Alexa Goins is the Content Marketer at Kenzie Academy. Before she joined the field of higher education marketing, she worked as a journalist and taught English in the South of France. When she's not writing, you can find her reading non-fiction works, doing embodiment yoga, or planning her next trip to Paris. You can find more of her work at www.alexagoins.com.