How often do you talk about behavior in your startup?
If your answer is "not much," you're probably not alone.
And we get it. You've got an endless number of things competing for your attention on a daily basis. Chief among them: doing everything you can to build and deliver a great product to your users.
But according to Ashley Lundquist, VP of People Ops at Drip and a veteran in the field of talent acquisition, focusing on good behavior is the through-line when it comes to developing a powerful employer brand, attracting world-class talent, hiring the right people (and therefore building an incredible product), sustaining a healthy culture, and improving employee retention.
Meet Ashley: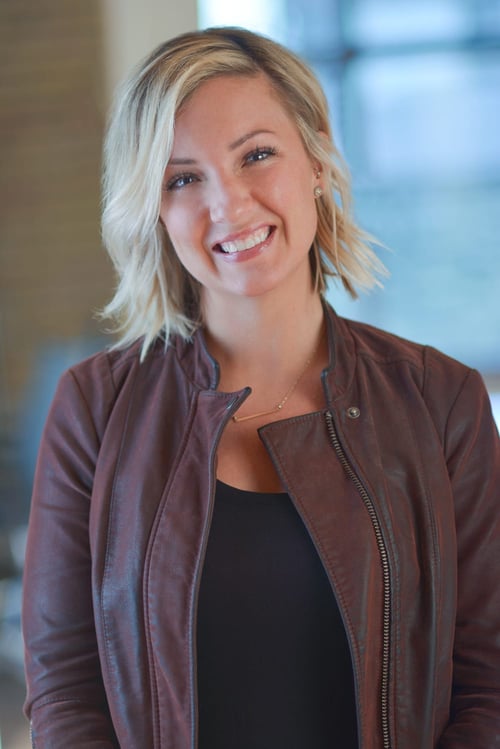 She's got impressive experience when it comes to helping growth-centric companies attract and hire talented people fit for the job.
We connected with Ashley to talk about talent acquisition (TA). We wanted to know: in her experience, how do you develop a powerful TA strategy?
Not only were we (pleasantly) surprised to find that much of the conversation returned to hiring for the right behaviors, but that by promoting and rewarding desirable behaviors, employees, managers, and leaders are more likely to work in alignment.
Read on to hear Ashley describe why hiring for the right behaviors will touch all aspects of your organizational success.
Hiring for behavior: the big picture
"When it comes to building a talent acquisition strategy," Ashley told us, "defining the behaviors that are going to drive success in your organization is key."
"Is that behavior integrity?" she asked. "Is it an ownership mentality? Is it communication? Is it not being afraid to take risks? It will be different in each organization, but ultimately, what you're doing is deciding what your organization will choose to recognize—during your hiring process, your annual performance reviews, and everything between—as guiding lights within the organization."
Why it pays off (and can prevent disaster down the road)
Ashley said, "Startups are focused on competing, and to compete, you need to move fast, to grow fast. Because of this, when it comes to hiring, it's easy to focus solely on acquiring the right technical skills."
"And sure, if you're focused solely on the numbers, and getting the physical or mental resources you need, yes, you're going to experience velocity initially."
"But what ends up happening is that a year down the road, maybe in less time," Ashley said, "is you have to pull the emergency break and spend time focusing on internal organizational struggles because there's no behavioral alignment between employees, managers, and leaders. It's lost time that could be used on driving the product forward and keeping external customers engaged."
"The reality," Ashley said, "is that while startups need to move fast, the race we're all running is a marathon. And it's worth setting up the right milestones ahead of time. Thinking about the psychology behind the design and development of your organization is a fundamental piece of that."
How to choose the behaviors you're assessing for
"It starts," Ashley told us, "by picking out your top performers and asking: what makes them a top performer? And then you work your way backwards."
"What motivates that behavior? And then, how do we measure that or articulate it as a criteria that we can hold as a bar for all of our future hires? If you're not big enough in size to have top performers, look at the leadership team and ask the same questions. Consider trends that keep surfacing and look for common themes. And you go from there and just kept refining, refining, refining so that your criteria is continually evolving into something more seasoned and precise."
Ashley added, "Bear in mind: the people ops team should play a huge piece in facilitating the conversation about behavior. But ultimately it's got to be the CEO who's 100% bought in. If the behaviors you want to see aren't demonstrated at the top, it's not going to trickle down and become authentic and organic within your organization."
How to assess for those behaviors in interviews
"I want to be clear," Ashley emphasized. "There's a ton of diversity among how different behaviors present. So let's say you're looking for an awesome salesperson and you've narrowed in on an overachiever persona. What does that mean? It's somebody who's constantly pushing for more and driving themself to accomplish more, but it can look like different things."
"Maybe the story of one overachiever is that they went to a great school and they finished in four years and they were in a ton of extracurriculars and they worked a part-time job and they graduated with honors and they were always involved and juggling and go, go, going."

"Maybe the other overachiever's story is that they struggled from the get go," Ashley offered. "They had to hustle to get through high school because they had family stuff going on and then they busted their ass to chew their way through college. Maybe it was at a community school and they were taking night classes. But they were always working, always striving for more."
"They're both overachievers" Ashley said, "but that manifests in two totally different ways."

"For me, when I'm interviewing, I always start at the very beginning. Where did you grow up? Walk me through your childhood. And I get people to tell me their stories through their lens because you can pick up a lot. How do they describe their struggles? What did they emphasize? Is there a victim mentality?"
Assessing for grit specifically
Ashley told us, "One common behavior or trait a lot of startups have started to assess for is grit, or, the ability to maintain interest in and effort towards long-term goals. In theory, it's exactly what mission-driven startups should be looking for in employees. So if you're just now beginning to assess for behaviors as a part of your broader TA strategy, consider using something like Angela Duckworth's grit test during your interview process."
"It doesn't have to be Duckworth's test exactly," Ashley added. "But what she's laid out does offer a quick way to get started in the right direction."
Assessing for adaptability
"So there's grit," Ashley said, "but another things startups should consider assessing for is a candidate's ability to process change."
"During the interview, in hearing a candidate tell his or her story, are they somebody who's always embracing change and thriving off of it? Seeking it out?"
"You might talk to candidates who have the skillset or experience you're looking, but if they prefer working in environments that provide consistency and stability, you'll probably only get six good months out of them, at best, before they end up frustrated by the very nature of what you are: something that's always growing, and therefore, always changing."
Rewarding behaviors for strong employee engagement
"Hiring for the right behaviors from the start sets you up for greater levels of employee engagement, enthusiasm, and involvement down the road," Ashley told us. "Employees come in knowing exactly what you expect, and what you're looking for."
"But assessing for specific behaviors requires an ongoing commitment from managers and the leadership team to encourage and reward those behaviors when they're seen in employees."
"Collectively, your leadership team has to decide: what types of behavior-induced success do we need to acknowledge and reward on an ongoing basis to stay true to our own standards? What do those rewards look like? How will this influence the way we conduct performance reviews? And what does it mean in terms of evaluation methods/tools aimed towards career growth for our employees (i.e. what warrants a promotion at our company)?"
"These types of conversations also motivate managers to become leaders by example. It ensures that they're modeling the behaviors they expect to see from their team."
Tolerating bad behaviors
Ashley added, "Every unaligned behavior that you tolerate is going to lower your bar for the rest of the team. One of the biggest pieces of advice I can offer is, if you really want to hire top talent, you've got to remember that smart people want to work with smart people."
"Tolerating bad behavior is going to bring down the rest of the team. It's going to bring down productivity, and ultimately, you're not helping that person. The painful part is that a lot of times, bad behavior is tolerated because managers want to avoid uncomfortable conversations."
"One of the best pieces of advice I've gotten on this topic was from a co-worker who used to work at Amazon," Ashley said. "He told me that he had to have a difficult coaching conversation with a manager that reported to him, where he said:
'You're being selfish by not providing direct feedback to your team. You're ultimately preventing them from making more money to take care of their family. If they're going to grow in their careers and get promoted, they need direct feedback. And it might mean that they're not in the right spot here, but you're then selfishly holding them in a role that's not right for them and still preventing them from growing and making more money, because you're trying to avoid your own discomfort in a hard conversation.'
"So, if you know a conversation needs to be had," Ashley said, "be compassionate, but act fast. Have the tough conversations. Yes, they hurt, but every moment you drag on letting bad behaviors exist, it will impact your culture, it will impact morale, and it will impact your bottom line."
Ashley suggested the book Radical Candor, by Kim Scott, for managers who want to have more authentic conversations with their teams.
She said, "The most effective managers build real, authentic, trusting relationships with their team members, which creates space for direct feedback and leads to a more effective organization."
Subscribe for full access

Like what you've read? Subscribe to the purpose.jobs blog.

We'll keep you up-to-date on:
News from the Detroit

startup community (and surrounding areas)

Expert advice from seasoned professionals

Tips on driving creativity and innovation

Proven methods for landing your dream job

And more!
About Ashley Lundquist
Ashley Lundquist is an experienced people strategist with a passion for building innovative teams in growth-centric environments. She is a compassionate leader that develops high-performing teams through authenticity, radical candor, and a TON of laughter. Ashley's experienced everything from a scrappy bootstrapped social impact agency to a Sequoia-backed tech company with a hyper-growth trajectory. In all situations, she's passionate about people, innovation, and growth. While Ashley has built teams from coast to coast, she is a strong advocate for attracting world-class talent back to the Midwest.

Ashley is currently the VP of People at VC-backed Drip, where she oversees People Operations, Talent Acquisition, and Employee Experience. She's led the team through an acquisition, extensive growth, multi-location expansion and serves as a member of and advisor to the Senior Leadership team. Prior to Drip, Ashley was an early employee at Houzz where she built the recruiting team that took their Southern California headcount from double-digit to 600+ employees. When she's not helping companies grow, you can find Ashley volunteering for mypitbullisfamily.org, spending time on the water, or laughing with friends while sipping cocktails on a patio.