Building on the success of the first Michigan Tech Week in 2022, MTW is returning for its second year and kicking off on October 9th. The four-day conference will be held in Ann Arbor and feature a variety of programming throughout the week, including a star-studded lineup of local and national speakers, tech demos, happy hours and more.
Over the last ten years, Michigan has grown as an emerging tech ecosystem. Detroit, which was named the #1 emerging tech ecosystem in the world in 2022, is home to national accelerator programs such as Techstars and Plug and Play, and has witnessed five unicorns between the greater Detroit and Ann Arbor ecosystem. The region's startup momentum is massive, and has only continued to grow. Newlab's mobility hub for innovation opened this year and startups across industries have continued to attract funding, talent, and attention.
Michigan Tech Week is a celebration of this startup momentum, and an opportunity to show off what's happening here to the rest of the country.
"When we started Michigan Tech Week we had two goals: 1) to provide a space for the statewide tech ecosystem to come together and 2) to let the rest of the world know about this exciting community that we're building," says Ted Velie, Co-Founder of Midwest House and one of the conference's founding organizers. "As we enter year two, those goals definitely remain, and we want to build off the momentum from last year. We're really seeing the next level of maturation for the ecosystem as successful companies start to infuse the rest of the community with increased know-how, capital, and inspiration. Folks are starting to believe you can build it here."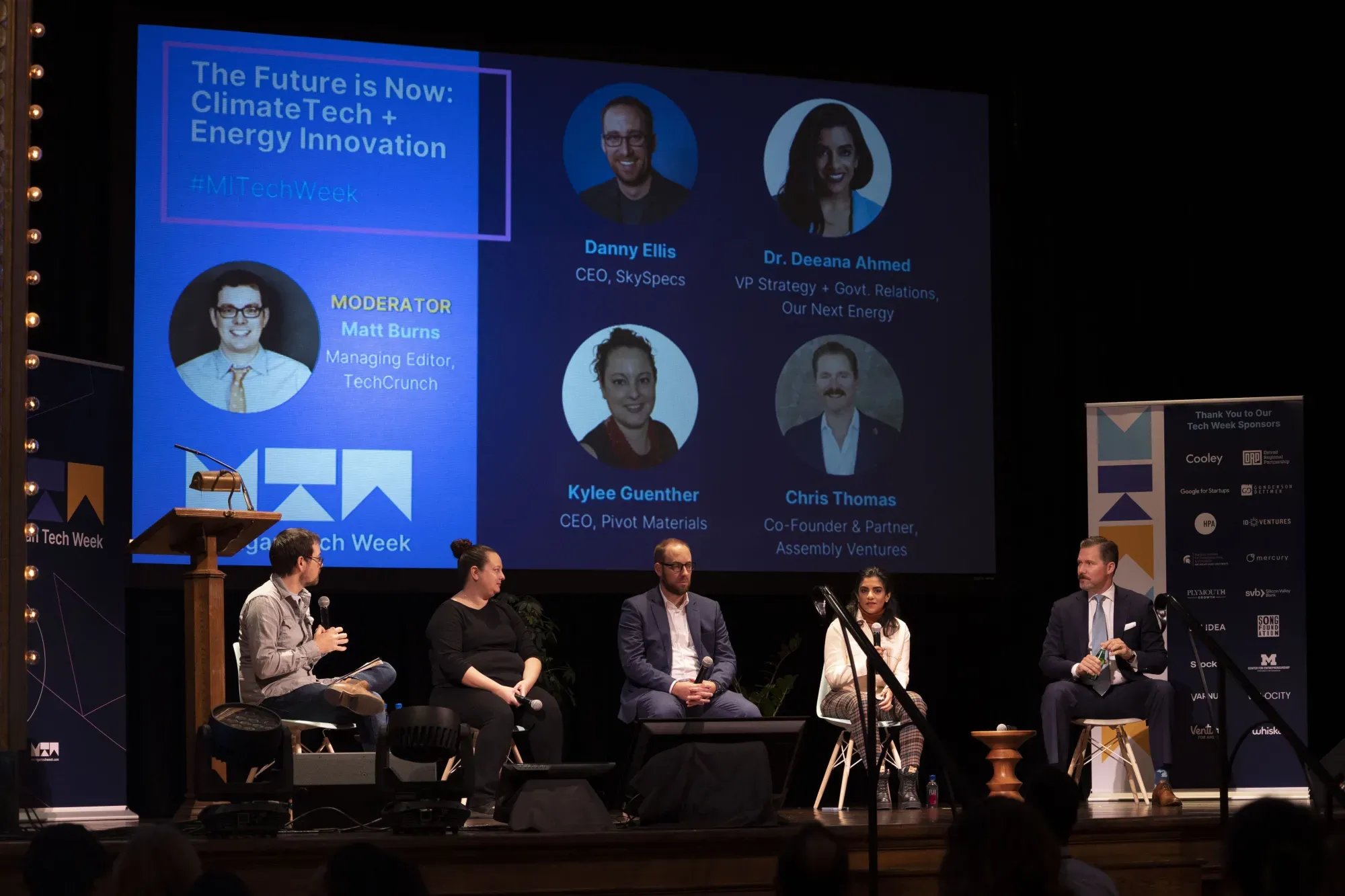 Michigan Tech Week 2022
A Coalition For Success
It's no mistake that MTW is held in Ann Arbor this year. As a statewide initiative, the founders of the event have been intentional about bringing all parts of the state together, and that includes switching up the host cities each year.
"The most noticeable and cool thing that we've seen happen over the last decade is that the community has gotten a lot more diverse and vibrant. Whereas ten years ago there were small pockets of companies in specific locales, now it feels much more tied to the fabric of what's happening in the entire state of Michigan," says Ted.
This collaboration between cities and groups is also part of the reason why Michigan Tech Week isn't owned by one organization. Instead, it was founded by a coalition of community members: in addition to Michigan Founders Fund and Midwest House as founding organizers and co-chairs of the event, Bamboo Detroit, Cahoots, Endeavor and Techstars all sit on the MTW Coalition Board. Additional committee members and volunteers have helped to organize and promote the event, including Purpose Jobs.
"The fact that it was founded by a coalition of community members and remains community-led hopefully makes it a little closer to the needs of the actual people on the ground here in Michigan's tech community," says Ted. "We have some bigger name speakers involved this year, but the core of what we're trying to do is provide the support that founders in this state need. We're going to try our best to always keep that at the center of things."


Behind The Scenes at MTW
So what can you expect at Michigan Tech Week? In addition to panels and fireside chats with excellent speakers, attendees will have the opportunity to network with other ambitious and smart folks. Whether you're an entrepreneur, a tech professional, a student, an investor, or a tech enthusiast, there is so much to do at this one-of-a-kind event.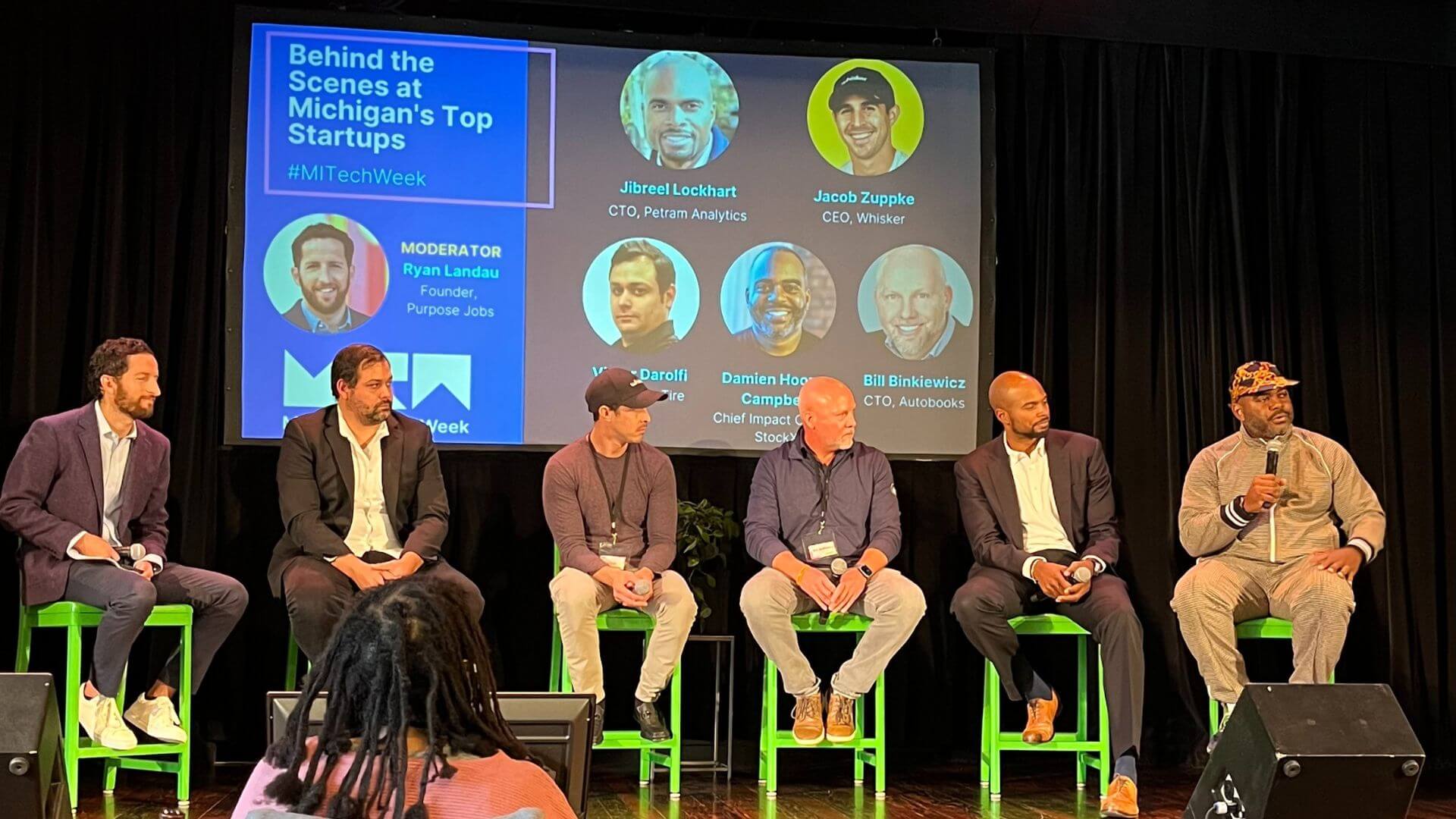 Michigan Tech Week 2022: Behind The Scenes at Michigan's Top Startups


You can check out the full schedule, but here are some highlights:
A discussion with Nia Batts and Sophia Bush about Union Heritage, one of the nation's leading minority-owned, diversified investment management companies
A talk with Peter Walker about storytelling with data
Keynote from Lieutenant Governor of Michigan Garlin Gilchrist II
Detroit and Ann Arbor mayors talking about building smarter cities
VC networking suites
Fireside chat with Johnnie Turnage and Hill Harper
Female Founders Brunch
Happy hours
Field tours of the Big House
4 pitch competitions awarding over $200,000 combined
And our very own Ryan Landau leading a conversation about founders for community
"I think people can expect to hear from a lot of really interesting, smart, and inspiring people. Even people who live in Michigan might be shocked to see all the energy and enthusiasm that exists in the ecosystem," says Ted.
In addition to all that's happening at Michigan Tech Week from October 9th through the 12th, there are two important additional events that are also happening.
On October 11th, Renaissance Ventures is hosting UnDemo Day at Ford Field, and Black Tech Weekend kicks off in Detroit on October 12th. These events are closely tied into Michigan Tech Week, and continue to spark momentum and excitement about entrepreneurship in Michigan. Those hoping to attend all events most certainly have the opportunity to do so.
"We believe — and we're hyped — that the energy in Michigan's tech ecosystem can't be contained by one conference. There's going to be a full week of great events happening," says Ted.
It's not too late to get your tickets to all three events. If you haven't yet purchased your Michigan Tech Week ticket, use the code PurposeJobs for 20% off the price.