Layoffs, hiring freezes, venture capital slow down . . . these are the headlines currently making the news. And yes, there's no doubt all of that is happening right now. But during this uncertain time, there's also quite a bit of growth happening too.
So we partnered with our friends at PeerSignal to stay on top of everything happening in the tech hiring market right now.
Each month, we're reporting on startup and tech growth to help paint a more complete picture.
And if you're looking for more hiring companies and regular job hunting resources, be sure to check out our Weekly Job Digest.
Now let's dive into July's data.
Headcount by the numbers
PeerSignal's technology discovered 1,181 B2B tech companies with open roles.
But in July, the story goes both ways for growth and decline.
"While most of the tech headlines have been negative, our July data told a mixed story. More companies increased headcount when compared to June and more companies made cuts," said Adam Schoenfeld, Co-Founder and Analyst at PeerSignal.
"It appears that there is a separate happening — some paused and returned to offensive mode while others are getting more defensive. The pain of this SaaS downturn likely won't be evenly distributed," he said.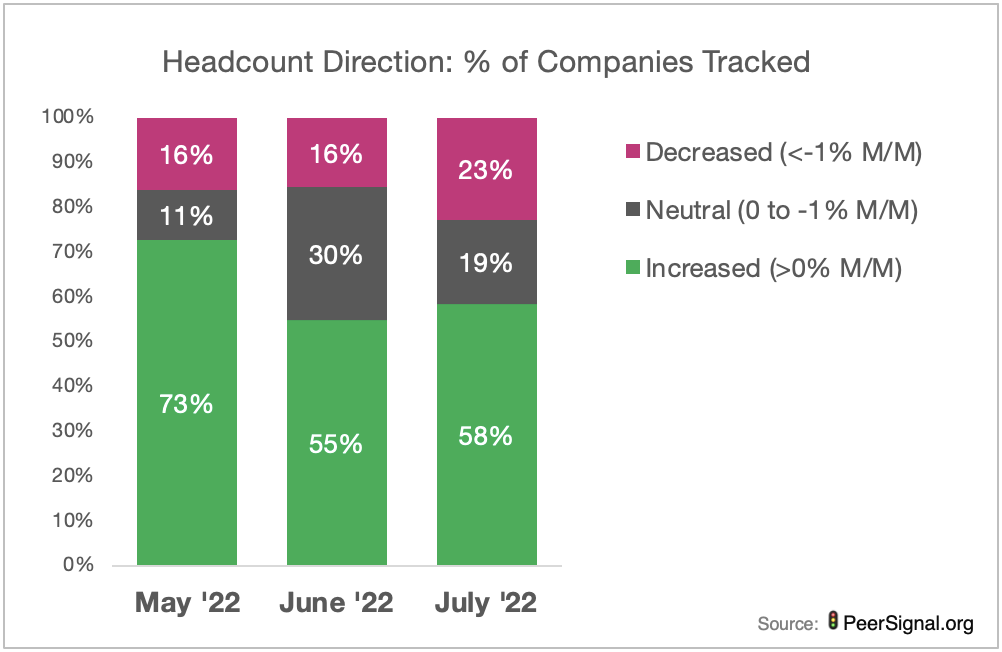 While some companies are scaling back (either through massive layoffs or small cuts here and there), some are taking this time to go on the "offensive." Either way, things are spreading out in both directions.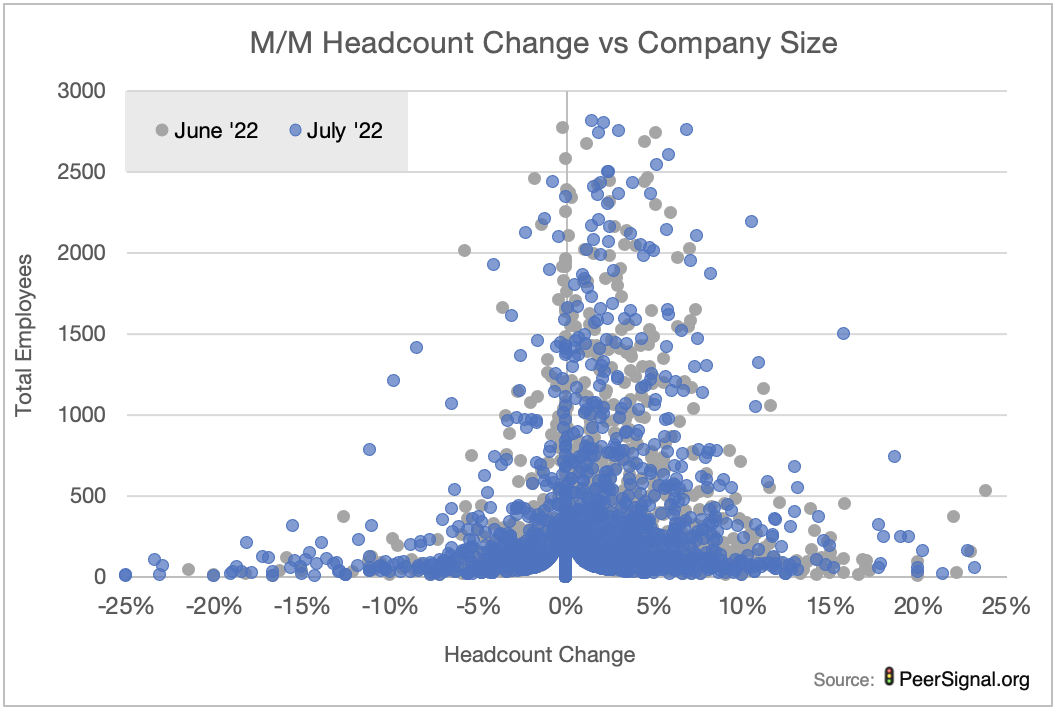 Resilient Roles: Engineering & Sales
Last month, the most "downturn durable" roles were in engineering, but sales recruiting is a close second. Sales roles only declined 4% in the last three months.
PeerSignal found 1,031 companies with open sales roles.
715 companies with open account executive roles: Highspot, Grafana Labs, Contentful, Gong.

602 with open Sales Development Representative roles: Docker, Inc, WalkMe™, Xero, LoyaltyLion, PandaDoc.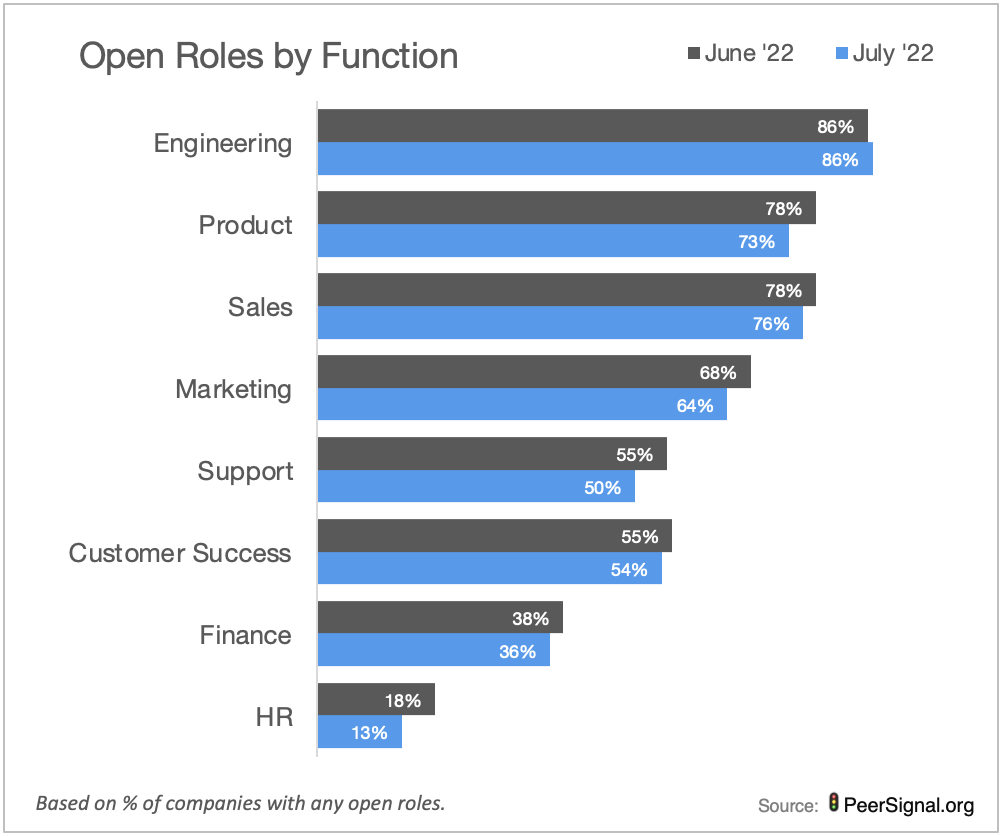 For more jobs, check out this week's job digest.
Resilient Companies: Product-Led Growth
Who's playing "offense" during this time when so many companies are playing "defense"? The data from PeerSignal shows consistent growth among companies that use a product-led growth strategy.
Notion has been particularly on the offense recently with letting employees sell stock, making acquisitions, and launching a global ad campaign.
"We find ourselves in an interesting spot because we've always been cash flow-positive and we don't need to do those things," Notion's COO Akshay Kothari told Protocol. "So we've been thinking the last six months a lot about, 'Well, if everybody is zigging, how do we zag?'"
And Notion is not alone among PLG companies still investing in growth. Canva, Figma, Calendly and Retool are just some of the PLG companies that the hiring tracker detected significant growth for.
"Clearly there's been a shift from 'growth at all costs' to efficient growth that plays to PLG companies, but I suspect this will force innovation within sales-led models as well," said Adam. "I've always believed that PLG principles can be applied broadly, even if your GTM model isn't pure product-led."
Some enterprise software companies are on the offense too, with hundreds of open roles, especially in sales and marketing.
At a time when many tech companies are laying off or pausing recruitment, these enterprise software firms are hiring sales and marketing force by the hundreds.$NOW - 600+ S&M positions$ZS - 400+$SNOW - 400+$VEEV - 300+
.....
They're going for the kill perhaps! pic.twitter.com/38c55u302W

— Masterly Inactive (@masterly_in) July 29, 2022
P.S. Veeva and Dynatrace are a part of the Purpose Jobs community. Check out more about them 👇
Midwest Startup Funding
While VC funding has slowed down across the country, many Midwest startups raised money in July. According to Crunchbase, here's just a few:
Monolith (Lincoln, Neb.) — $300M

May Mobility (Ann Arbor) — $111M

Scale Computing (Indianapolis) — $55M

PriceLabs (Chicago) — $30M

Fly.io (Chicago) — $25M

Mahalo Banking (Chelsea, Mich.) — $20M

Sabanto (Chicago) — $17M

86 Repairs (Chicago, Grand Rapids) — $15.2M

Gravie (Minneapolis) — $15M

Sortera Alloys (Fort Wayne, Ind.) — $10M

Sift Healthcare (Milwaukee) — $9M

PIXO (Detroit) — $6.5M

RoofMarketplace (Milwaukee) — $5

Cotsworks (Cleveland) — nearly $3M
To access more growth data, check out PeerSignal's B2B hiring tracker.
For more hiring companies, check out our weekly job digest.