Layoffs, hiring freezes, venture capital slow down . . . these are the headlines currently making the news. And yes, there's no doubt all of that is happening right now. But during this uncertain time, there's also quite a bit of growth happening, too.
So we partnered with our friends at PeerSignal to stay on top of everything happening in the tech hiring market right now.
Each month, we're reporting on startup and tech growth to help paint a more complete picture.
And if you're looking for more hiring companies and regular job hunting resources, be sure to check out our Weekly Job Digest.
Now, let's dive into August's data.
Headcount by the numbers
PeerSignal's technology discovered 1,310 B2B tech companies with open roles. That's a 10% increase from last month.
And of those companies, 23% had more open roles in August than in July.
"Many of the companies paused in Q1 but are investing now. Some never stopped. Some are just starting to ramp," said Adam Schoenfeld, Co-Founder and Analyst at PeerSignal. "We're seeing some signs for stabilization this month."
When we look at headcount direction, we can see some signs of stabilization. Nearly a quarter of companies decreased their headcount, similar to last month, and the number of companies that grew also increased from 58% to 60%.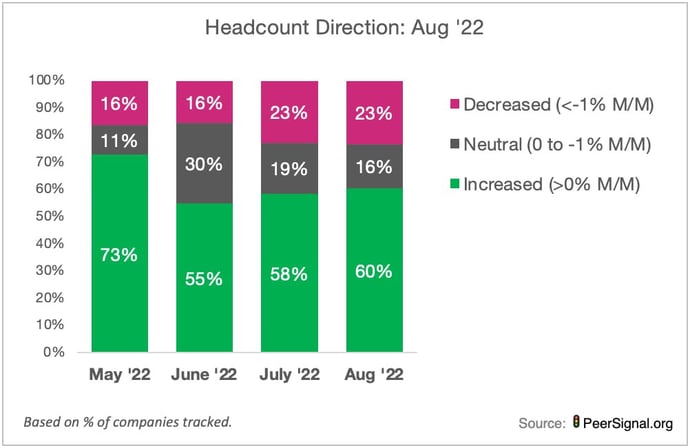 Plotting each company's headcount change relative to company size didn't expose any break-through insights, Adam said. Smaller companies continue to make larger cuts, and downturn pain and gains are not distributed evenly — there will be winners and losers.
Resilient Roles: Sales and Marketing
The total number of open sales and marketing roles declined 9% month over month. That means more companies are hiring but at a lower volume of open roles.
Over the 1,703 companies PeerSignal tracked from July to August, in aggregate they went from roughly 28,000 open sales and marketing roles to just over 25,000.
"While it's a decline, there's still a ton of demand for talent in this space," Adam said.
For more jobs, check out this week's job digest.
Resilient Industries: Energy
According to Crunchbase, global venture funding reached its lowest monthly funding point in the last two years. With $25.2 billion raised in August, it's down 52% yearly and about 10% month over month as fewer startups are raising funding at every stage. Less money of course means hiring slowdowns, layoffs, and companies closing their doors.
But while the overall venture funding may be slowing down, one industry saw quite a bit of growth in August: energy-related startups. Energy startups dominated the largest funding rounds in August, according to Crunchbase. Four out of the top ten funding rounds were for energy-related startups, and three of them were in the top 5:
1. TerraPower raised $750M
2. Longroad Energy raised $500M
4. Lunar Energy raised $300M
8. Fervo Energy raised $138M
With the passing of the Inflation Reduction Act, which was signed into law in August, climate tech startups everywhere are seeing a huge boost. That's because the act includes a $370 billion investment in clean energy initiatives.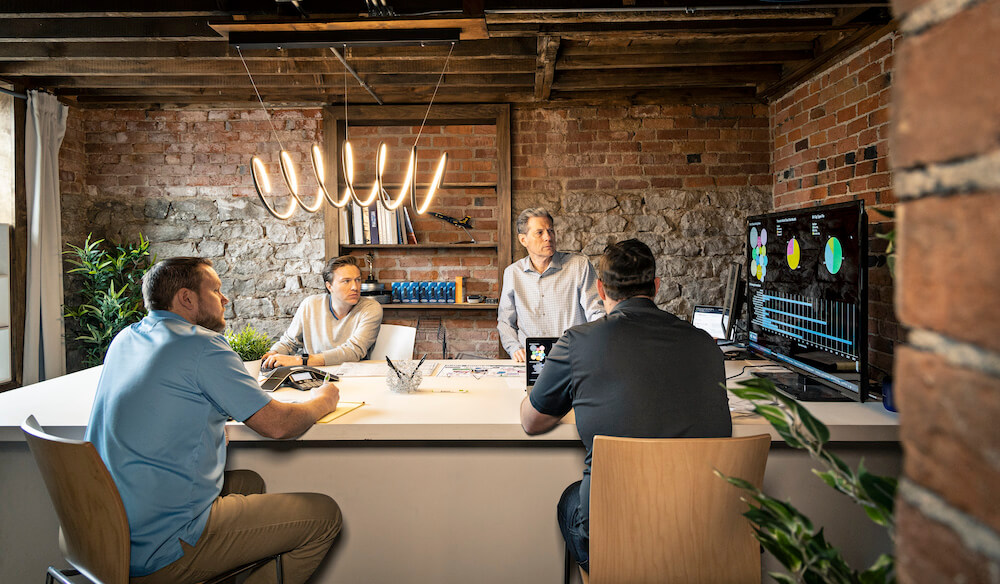 Courtesy of GreenLancer

Closer to home, we're seeing clean energy startups like GreenLancer see some major growth. The Detroit startup accelerating clean energy is hiring, opening a new office in downtown Detroit, and building up their team to develop EV charging infrastructure.
More Midwest Startup Funding
Here are just a few other Midwest startups that raised money in August:
Digital Diagnostics (Coralville, Iowa) — $75M

Assertio (Chicago) — $60M

Sibel Health (Niles, Illinois) — $33M

ATLAS Space Operations (Traverse City, Michigan) — $26M

KeyCare (Chicago) — $24M

NOXX (Grand Rapids, Mich.) — $15M

Olio (Indianapolis) — $13M

Clearstead (Cleveland) — $7.3M

SoFresh (Milwaukee) — $5.6M

To access more growth data, check out PeerSignal's B2B hiring tracker.
For more hiring companies, check out our weekly job digest.