Onboarding is one of the most important practices for your business. Bringing on a new employee is exciting and represents positive change. And the more prepared someone is to do their job, the more successful they are likely to be. So what about offboarding? You probably guessed it — offboarding is just as important.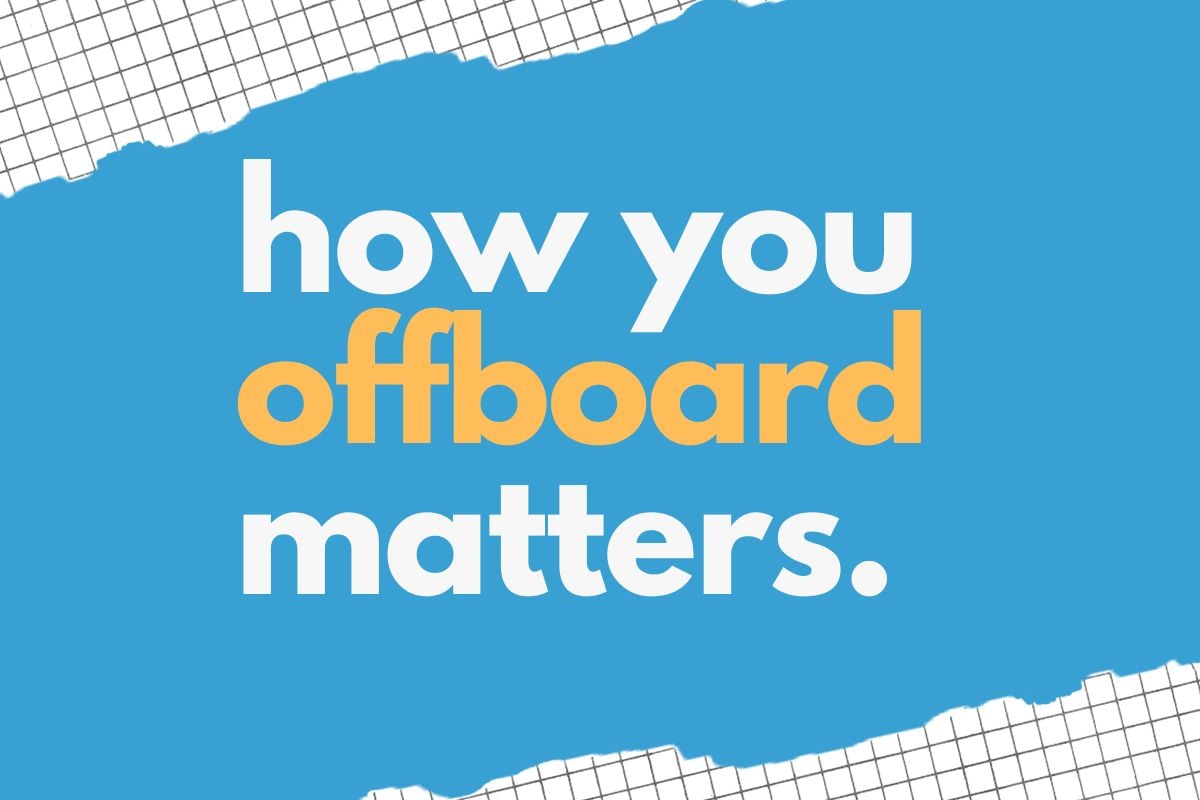 What is offboarding?
Offboarding is the process of preparing for a current employee to leave your company. It's the task you take to ensure their departure is successful and that there are no loose ends.
Why is offboarding important?
Similar to onboarding, offboarding is important because it sets people up for success. Just like welcoming a new member to the team, announcing that someone is leaving keeps everyone on the same page. Training new employees on their job duties helps them be successful in their day-to-day, just like a knowledge transfer for a departing employee helps current employees adjust to a new workload or process. It impacts everyone.
Poor offboarding is also directly related to your employer brand. When you offboard an employee and they have a bad experience, it harms your brand. Good offboarding with support from everyone makes sure the departing employee has a positive experience and leaves with that feeling. You never know when someone might want to return, but if they leave with a bad impression, you may have lost someone for good.
10 Basic Steps of Offboarding
Send an announcement to HR
If you have a Human Resources team/person, make sure you inform them once your employee has resigned. They'll need to know to ensure anything on their end can get buttoned up, similar to the work you're doing. Here's an example of an email you could send to HR:
Hi ___,
I'm writing to let you know that associate name has resigned from their position as of date. Their final day of work will be date. Please let me know if you need any further information.
Thanks!
Send an announcement to the full team
Once HR has been informed of the employee's departure, it's time to tell the team. If your company has a hierarchy, it's best to tell leadership first, then send out an email to all team members who will be impacted by their departure. Make sure to copy the employee on these emails to give coworkers a chance to ask questions or say their goodbyes. Here's an example of an email to send to the team:
Hi ___,
I'm writing to let you know that associate name has resigned from their position and their final day of work will be date. We thank associate name for their time with us and wish them the best of luck in their next adventure.
Plans will be put into place for knowledge transfers. If you are impacted by this departure, you will be brought into these conversations.
Thanks!



Send an announcement to external partners
Now that the team knows the employee is leaving, it's important to let external partners know. This is also something the employee could send, but it's important to make sure whoever will be taking on those partnerships is on the email. Here's an example:
Hi ___,
I'm writing to let you know that associate name has resigned from our company and their final day of work will be date. We wish them the best and will ensure you are in good hands going forward. As of now, please contact me/other associate name for any needs you may have.
Please let me know if you have any questions.
Thanks!
Plan a knowledge transfer
Now it's time to bring together the people who will be taking on the departing employee's work. Once you have determined who will take on what, let them know this is the expectation and bring the people together to complete any training, partner introductions, etc. It's important that when an employee leaves, they don't take all the information with them — if process documents are needed, ask!
Complete an exit interview
Everyone should be given the opportunity to talk about their time at your company. Preferably, this conversation should be done with a Human Resources Representative to provide the employee with privacy and anonymity. But if that's not possible, make sure to schedule 1:1 time with them that will be uninterrupted and give them an opportunity to speak openly without judgment or argument.
This is a great time to understand any holes in the knowledge, holes in processes, any team dynamics, etc.

Collect any loaned tech
If you've loaned out a laptop, a company cell phone, or any other collateral to the employee, make sure to have them drop it off at the office, or send it back to you in the mail. Depending on your company size, you can also give them the option to purchase the laptop from you!
Remove system access from the departing employee
The day after the employee has left your company, make sure to disable their company email, remove them from any systems, and change any passwords they had access to.
Provide a letter of recommendation
If you truly feel this employee was an asset to your company, say it! Letters of recommendation are highly underrated. The products on Amazon with the most reviews tend to have the highest purchase rates — people trust authentic opinions.
Update any organizational charts, phone lists, etc.
This seems small, but once someone leaves, it's important to make sure all things are updated to no longer include their name, picture, etc.
Determine if the employee is rehirable
Lastly, if you enjoyed this employee and think they'd be an asset to your company again in the future, let them know and make a note in their employee file that they are eligible for rehire.


Offboarding doesn't need to be a really complicated process. It just needs to get done! Keep everyone in the loop, acknowledge the employee's contributions to your company, and if they feel like a huge loss, maybe even host a happy hour in their honor. These are people after all, and people want to feel appreciated.