Since the start of the pandemic in March of 2020, employers all over the world have been working tirelessly to find the right environment for their employees. There are new stories every day about companies forcing their employees to come back to the office, companies selling their office spaces to be fully remote, and everything in between. Where we work is important and as everyone finds their sweet spot, there are a lot of factors to consider.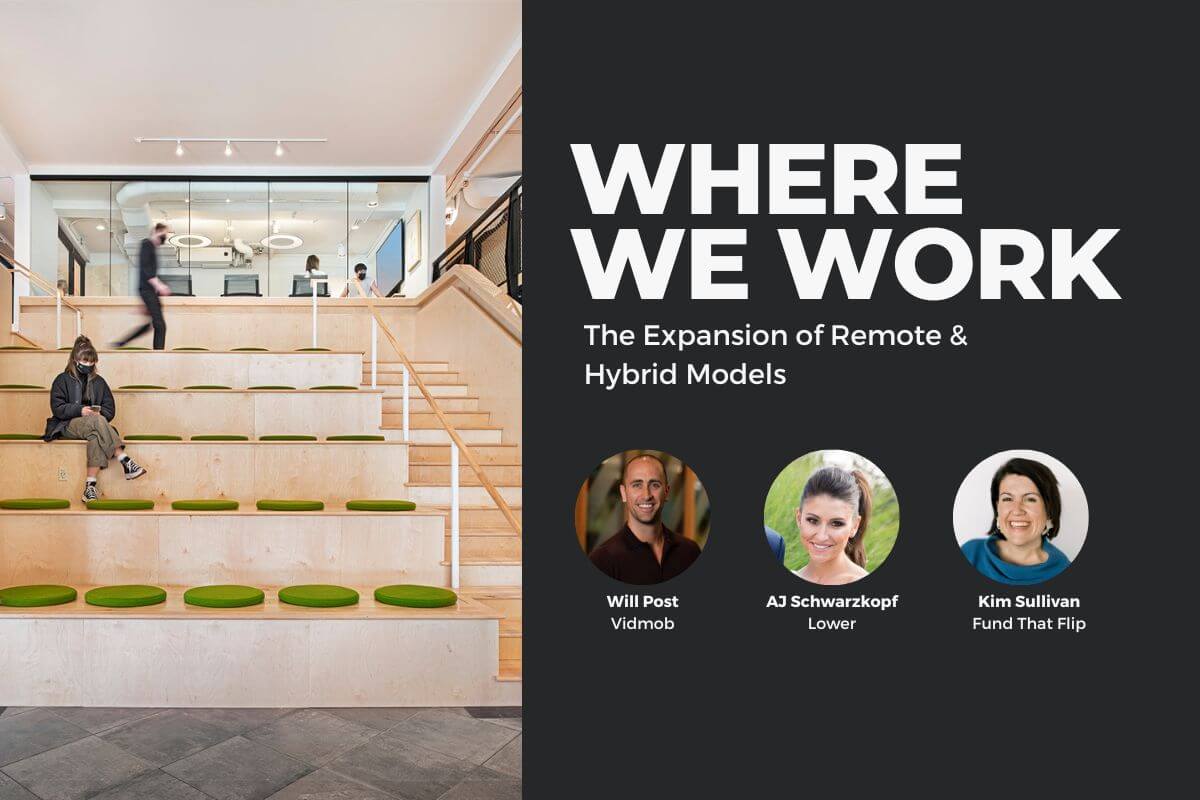 We sat down with some of our friends in the industry who've taken on remote and hybrid working models within their companies to discuss what makes them successful as well as what remains a challenge.
You can view the recording of our conversation with Will Post (VP Revenue Strategy & Operations at Vidmob), AJ Schwarzkopf (VP Talent Acquisition VP at Lower), and Kim Sullivan (VP of People & Culture at Fund That Flip, now Upright) below.
What are the pros and cons of remote and hybrid models?
Pros
Flexibility and balance

Larger talent pool for quality hiring

Work isn't driving how we live our lives

We have had to become better managers of our team members

Forced transparency
Challenges
1:1's with team members differ in vulnerability and openness based on location

Finding the right workflow in your home environment
Building a safe space for psychological safety

Building trust within your team
Flexibility is a double-edged sword
Some people thrive in ambiguity, and some people really need structure and clear rules that require open communication. Leaders need to be available and approachable.
In what ways are hybrid or remote environments more inclusive?
Parents have been allowed to swap the commute or walk to get coffee for some more time with their children or get things done around the house

Increasing access to opportunity

New working relationships with people I haven't met in person

Focus on the individual, instead of defaulting to what works best for me

Creating a safe space, allow people to talk, and learn from others but then put policies behind it to truly create a place of inclusivity
How have you effectively communicated expectations?
Actively train on our tools on a regular basis

Calendar etiquette - giving people time to take breaks

Utilizing collaboration tools

Creating healthy boundaries for chat

Set overlap days for those roles who do need to come into the office

Establishing asynchronous working hours

Creating approval deadlines

Bonus: Give yourself grace, give your employees grace
How do you maintain a strong culture in a remote or hybrid environment?
If your culture was based on how the building was decorated or the snacks in the breakroom, then it wasn't a strong culture

Company purpose is really important
Give people the ability to give constant feedback

Selecting the right people who meet the core values and engaging and continuously iterating on how you keep them engaged
What advice would you give to individual contributors to advocate for the environment they want?
The number one piece of advice from our panelists: tell people what you need. If there are areas of concern or ambiguity, don't be afraid to be vocal. Leaders need you to be self-aware and understand what will set you up for success and communicate it.