High-tech semiconductor manufacturing, venture capital, and Silicon Valley share a common origin story.
In 1955, William Shockley left the East Coast to found Shockley Semiconductor Laboratory in Mountain View, California. Two years later, the "Traitorous Eight" left Shockley to found their own semiconductor firm: Fairchild Semiconductor. What made this possible? Venture capital.
Arthur Rock — backer of Apple, Intel, and Teledyne — recognized the potential of Fairchild and financed the new company, an investment that transcended financial gain. Fairchild Semiconductor helped coin the term "Silicon Valley", aided in the rise of the VC industry, and positioned the US as the world leader in semiconductor manufacturing for decades to come.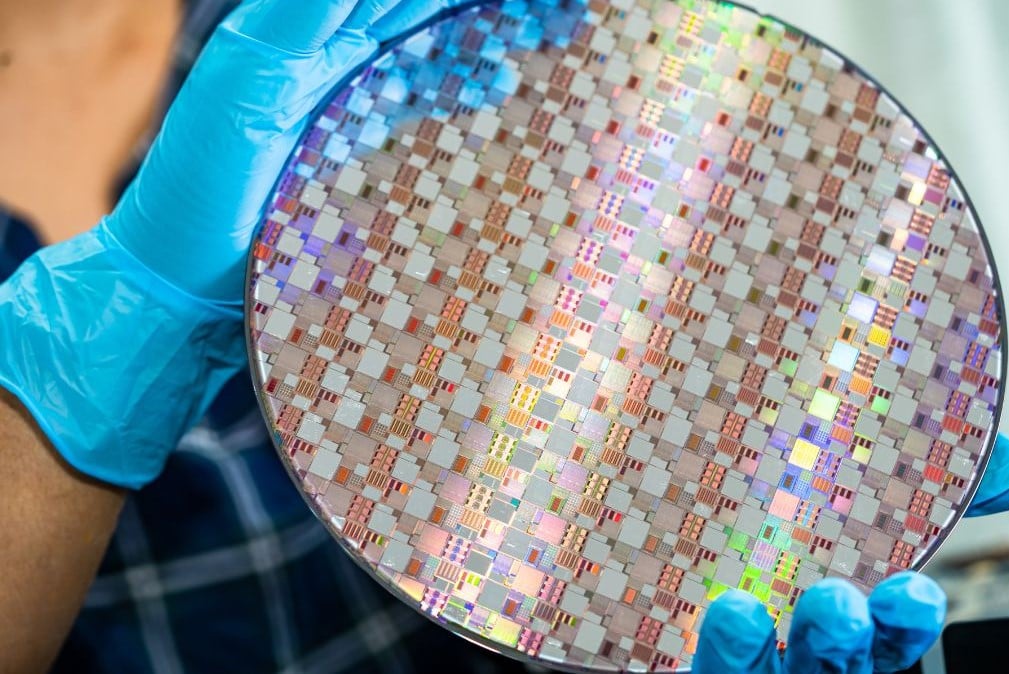 Much has changed since.
Today, the U.S. manufactures only about 12% of the world's semiconductor chips compared to 37% in 1990. This long downward trend was not so apparent until the COVID-19 pandemic when supply chains broke down, demand for technology in new home offices skyrocketed, and the geopolitical climate highlighted a critical gap in U.S. manufacturing capabilities.
The demand for semiconductors, or chips (as they are often called), will not be decreasing anytime soon. The world is becoming increasingly digitized and as a result, more and more chips are required. Historically, the semiconductor industry has primarily served the computer industry, but now chips are used for almost everything. As an example, automobiles alone have twice the number of chips now (over 1,200) than they did as recently as 2010.
Suffice to say, we need a lot more semiconductor chips. Moreover, it would alleviate supply chain strains and reduce American reliance on foreign suppliers if they were made domestically. However, before the passage of the United States Chips and Science Act, there were a number of issues preventing American companies from attaining this goal. Factories struggled to secure the specialty tools needed in chip manufacturing, and that caused a years-long chip shortage that is expected to continue perhaps even into 2024. There was also a lack of investment into physical manufacturing centers as well as an inability to attract a substantial qualified workforce.
To tackle these issues, the severely under-invested industry in the U.S. has gotten a much needed boost with $52.7 billion earmarked for direct financial assistance in the construction and expansion of semiconductor manufacturing plants and supporting areas. Companies like Intel and Micron are already tapping into this market and establishing themselves as leaders in the new wave of chip development projects springing up across the country. But perhaps more important than just the scale of investment is where these dollars are being invested.
It isn't Silicon Valley leading the way like in 1955 — it's emerging tech hubs.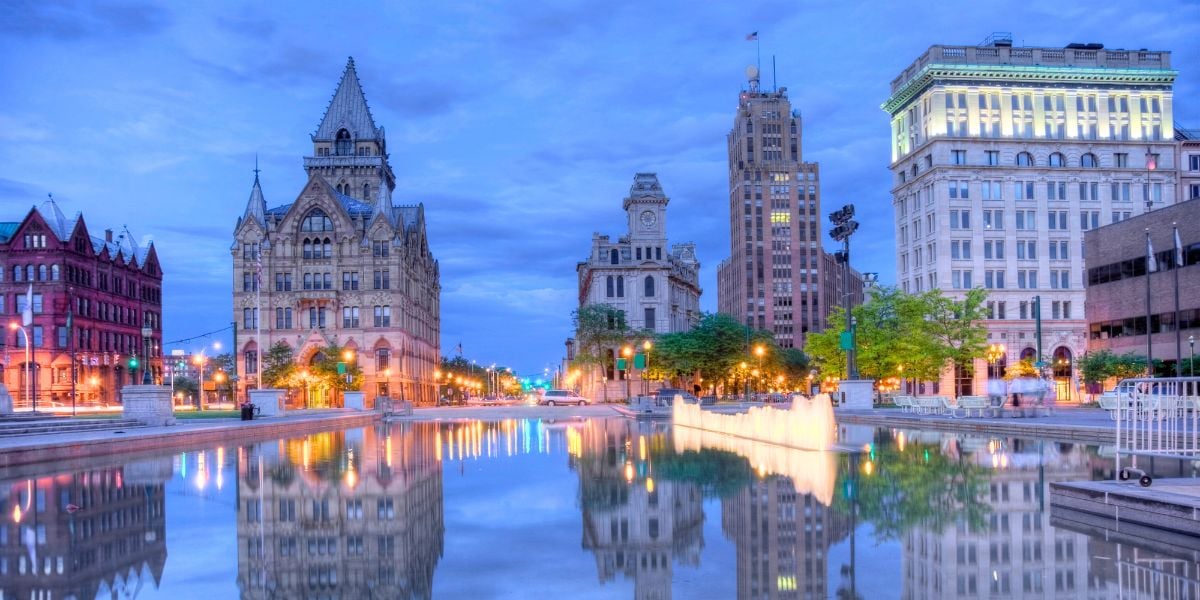 Syracuse, NY
Last fall, semiconductor manufacturing company Micron Technology announced it is investing up to $100 billion over the next 20 years to build its next chip plant in Central New York. It is the largest single private investment in New York history.
The plant would create up to 9,000 manufacturing jobs and another 40,000 through construction and supply chain. Construction is expected to start in 2024, and phase I would be 3,000 employees working in a $20 billion "mega-fab." These are the plants where silicon wafers are turned into integrated circuits which power personal computers, cell phones and other electronic devices.
Syracuse beat out other finalists for the site, including Texas, which is known for its rapidly growing tech hubs.
I had the opportunity to speak with Syracuse Mayor, Ben Walsh, to get his thoughts on what the Micron investment represents to the City of Syracuse.
"Syracuse, like many cities across the Northeast, was once home to nationally recognized manufacturers like GE and Carrier. Although those companies are no longer here, the intellectual capital is," said Mayor Walsh.
The initial priorities for Micron was finding a suitable site that had the requisite infrastructure and financial support of local stakeholders. Where Syracuse was able to differentiate itself was talent. Syracuse is home to a dynamic, diverse workforce that is close in proximity to the site because so many former GE and Carrier employees stayed in the area and created a new generation of local companies.
"There's still a significant footprint from our manufacturing history and a strong connection with academic institutions," said Mayor Walsh. "It is precisely this talent that sets Syracuse apart from some of the other cities."
Micron has already started partnering with local institutions like Syracuse University and The Museum of Science and Technology. Mayor Walsh said that the scale of the investment goes far beyond Clay (the town where the Micron plant will be located), Syracuse, and even Central New York.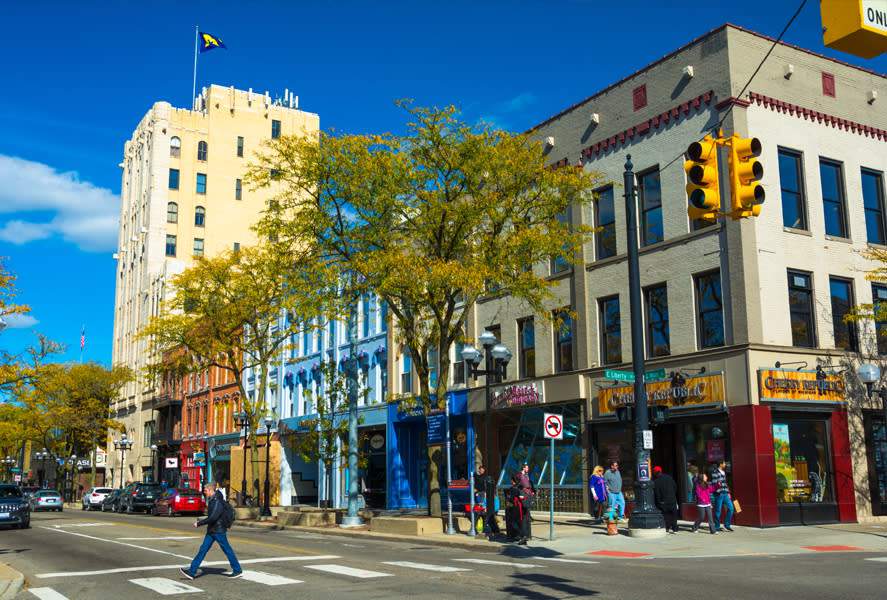 Ann Arbor, MI
While a chip manufacturing site has not been dedicated in Ann Arbor (yet), there's a very important part of the process that takes place in this emerging tech hub.
Founded in Silicon Valley in 1976, KLA is a global tech company that serves semiconductor manufacturers. In 2021, KLA opened a new state-of-the-art campus in Ann Arbor, which is home to its AI and Modeling Center of Excellence.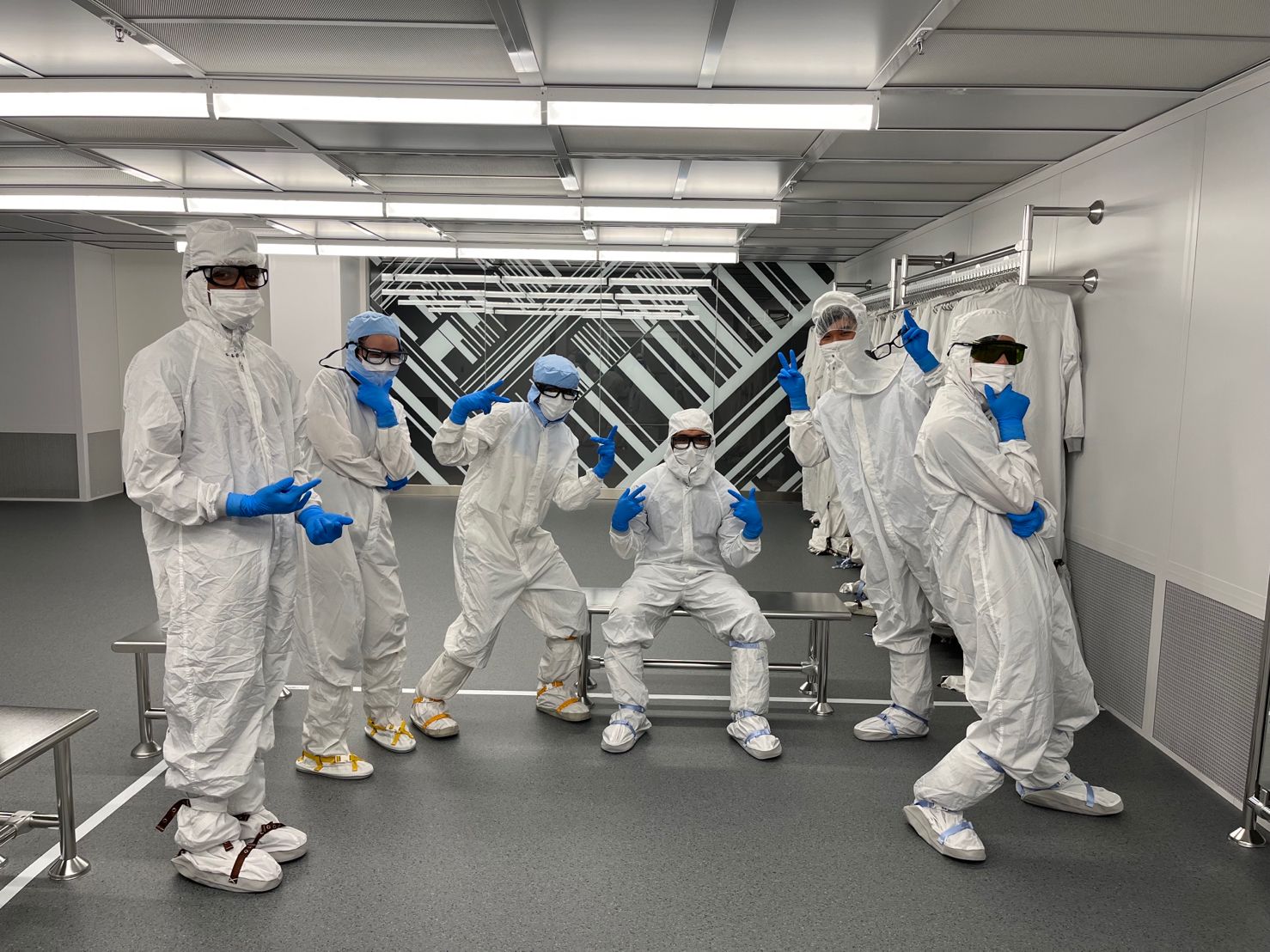 Image courtesy KLA
Using AI and other technologies, KLA's equipment analyzes images of the chips at key steps during production, to find defects as small as a few nanometers, and measure dimensions accurately in sub-nanometer scale. KLA's technology helps chip manufacturers control their process and debug their problems by providing critical measurements and defect data, saving time and money.
"No modern chip can be made without KLA equipment," Vijay Ramachandran, KLA's Director of Artificial Intelligence, told Purpose Jobs.
With KLA's Artificial Intelligence R&D team based in Ann Arbor, this emerging tech hub is becoming a hot spot for AI, mobility development, and improved chip manufacturing processes. It's also helping attract and retain top tech talent in the area.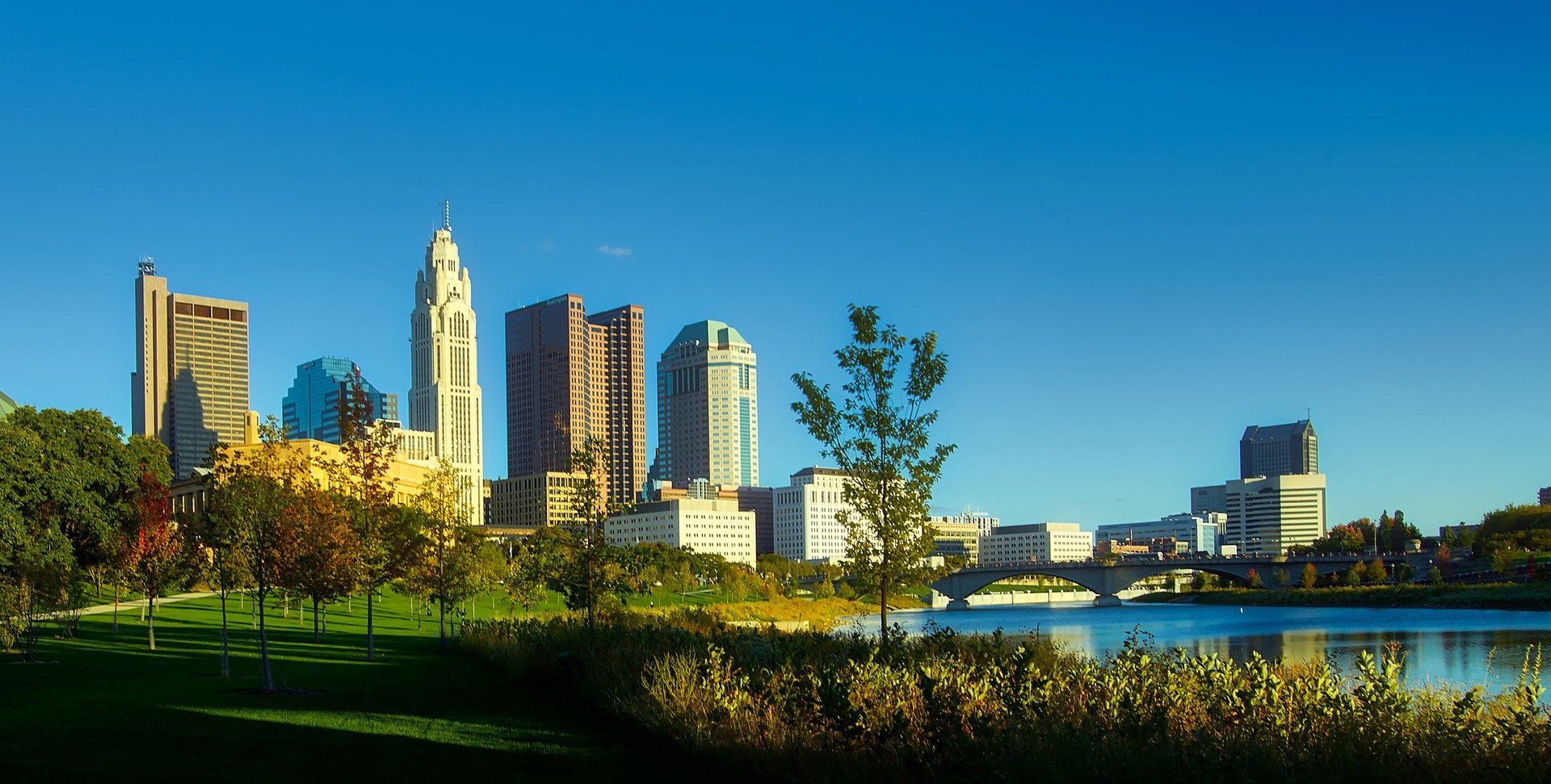 Columbus, OH
Only three hours south of Ann Arbor, Central Ohio is also making headlines for historic investments in chip manufacturing. Intel is investing $20 billion to build a pair of semiconductor manufacturing plants just outside of Columbus, Ohio. It represents Ohio's single-biggest economic development project of all time.
The computer chip "fabs" will employ 3,000 people in high-paying jobs, at an average salary of $135,000, plus create another 7,000 temporary construction jobs and thousands of indirect jobs. Intel expects the site could eventually grow to include eight chip fabs. Construction will begin this year and is expected to be completed in 2025. Offering key infrastructure upgrades, plenty of land, and economic incentives, the Columbus region beat out 40 other sites around the country to land the investment.
Just as Micron and KLA have developed deep relationships with the world-class universities in their backyards, Intel cited the talent pool in Ohio as a key factor in choosing the Buckeye state for its new development. Working closely with local colleges and universities, including The Ohio State University, Intel plans to spend $100 million over the next decade to create an Intel Ohio Semiconductor Center for Innovation.
The Ripple Effect for Emerging Tech Hubs
We are already seeing the ripple effect of these semiconductor projects.
In Syracuse, it is predicted to be transformative for the region, from housing, infrastructure, career preparation and more. Just a few examples:
Syracuse University created the Future-Ready Workforce Innovation Consortium at the College of Professional Studies to help with job readiness for Micron

Micron agreed to commit $250 million towards a $500 million community benefits initiative fund to help prepare the region for rapid growth

NYS has agreed to commit $200 million to invest in infrastructure surrounding the chip fab plant
"As the largest city in the region, Syracuse will play a critical role in the success of the project. Already we're seeing a rejuvenation of certain areas of Syracuse's downtown and urban center, and it's becoming attractive for younger people," Mayor Walsh said.
He also added that it's important to remain aligned on the community's collective values, so that everyone, especially underrepresented people, will benefit from this kind of advancement.
In Columbus, city officials are anticipating extreme population growth, which could lead to housing shortages as well as the rise of housing costs. According to reports, Columbus will need to double its housing construction in order to meet demand. Communities across the central Ohio region will face increased demands. Whitehall, Ohio predicts a $4.7 billion economic impact from its redevelopment plans aimed at helping Intel employees find homes.
Of course, infrastructure development—and redevelopment—can pose its fair share of challenges, but one of the biggest positive impacts is the ripple effect of new industry development.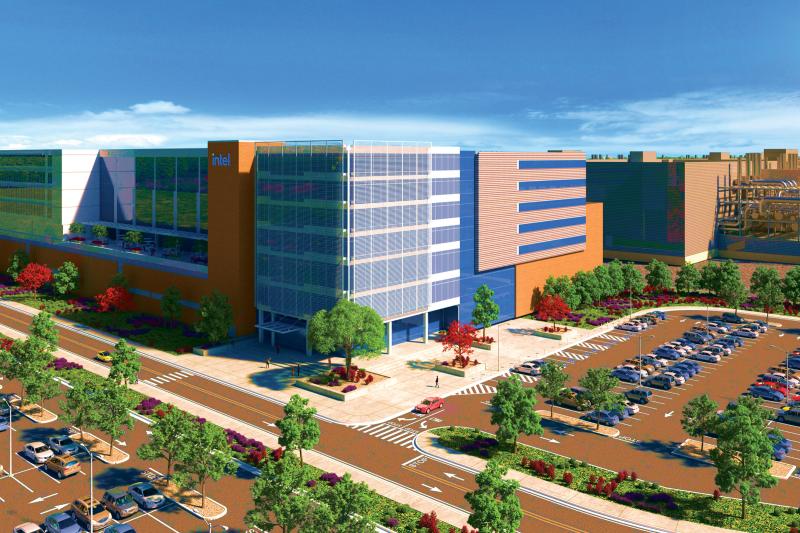 Designs for Intel in Central Ohio


Since Intel's announcement, Ohio's innovation economy has been on a roll. Amazon recently announced a $117 million purchase of 400 acres east of Columbus, where it is planning a multibillion-dollar investment in as many as 30 buildings to house data centers, substations, and offices. New innovation districts in Columbus, Cleveland, and Cincinnati are expected to support 60,000 new jobs, 47,000 new students with STEM degrees, and $9 billion in economic impact over the next decade.
However, investments in these regions don't have to be from just a once-in-a-generation spending bill. It can and should come from private investments, as well.
To that end, Somak Chattopadhyay, Managing Partner at Armory Square Ventures, had this to say about the transformative effect all this investment will have on these burgeoning tech regions:
"Many of the secondary cities across the Northeast and Midwest were home to some of the most important manufacturers of the 20th century. The $100 billion investment by Micron in Upstate New York is an example of a great private/public partnership that will fuel the growth of our economy. The growth in AI innovation this year will accelerate the need for these semiconductor technologies. Silicon Valley was built on chips. It's exciting that the original technology that gave Silicon Valley its name is now returning to the Rust Belt."
As emerging tech hubs continue to attract big tech businesses from the likes of KLA, Intel and Micron as well as private investment from firms like ASV and others, these communities will only grow in strength and become established tech hubs—top destinations to do business and work in tech.
It is for all of these reasons that I am so energized to be spending more time across the Northeast and Midwest meeting with innovative founders and likeminded investors. These regions have already seen huge successes like ACV Auctions in Buffalo, Duolingo in Pittsburgh, and ExactTarget in Indianapolis. With the influx of investment and newfound presence of high-tech semiconductor manufacturers throughout these emerging tech hubs, the environment is ripe for the next generation of technology startups, much in the way of the beginning of Silicon Valley some 70 years ago.
About Anthony Santaro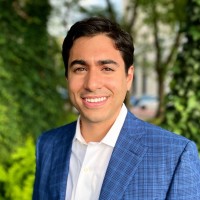 Anthony Santaro is an investor at Armory Square Ventures. He is originally from Syracuse, NY and is passionate about the secondary cities that ASV primarily invests in. Anthony sits on the Executive Committee of VentureNext where he is the Co-Chair of the Deal Flow Committee. He is also a member of EVCA. Outside of work, Anthony enjoys traveling to any destination and serving on the Advisory Council of Citizens Committee for New York City. You can follow him on LinkedIn and Twitter (@santaro_anthony).
About Armory Square Ventures
Armory Square Ventures is an early-stage venture capital firm that is headquartered in Upstate New York with offices in New York City and Indianapolis. ASV looks to lead or co-lead Seed and Series A rounds in B2B SaaS and Marketplace companies in New York State and select emerging cities across the Midwest. ASV is actively involved in all aspects of company growth—from recruiting senior talent, customers, and co-investors to providing general management support. See more about the Firm's investment thesis and criteria at https://www.armorysv.com/