A place that was once known as Test City, USA, due to its close resemblance to the overall population and preferences of our country as a whole, is now the 14th largest city in the US and growing. Many people know Columbus, Ohio, as the home of the Ohio State Buckeyes or as the capital of a state that produced 8 US presidents. However, some things that the general population may not know is that Columbus is within 500 miles of 50% of the US population, was home to the first woman to fly around the world, and was the first city in which the McDonald's Chicken McGriddle was sold.
Today, Columbus is also making a name for itself as an emerging tech hub. With a rise of unicorn startups like Olive and IPOs like Root Insurance, Columbus, Ohio, has proven itself to be a fertile environment for some of the country's top startups. And Columbus startups are hiring for many open jobs.
But much like other emerging tech hubs in the Midwest, the cities we know and love today are not the same cities as ten, fifteen or twenty years ago.
So how did we get here? How did Columbus emerge from the Midwest as a top startup and tech ecosystem? What's been the recipe for creating such successful companies? And where is Columbus heading?
We're breaking all of that down in this guide to the past, present, and future of the Columbus startup ecosystem.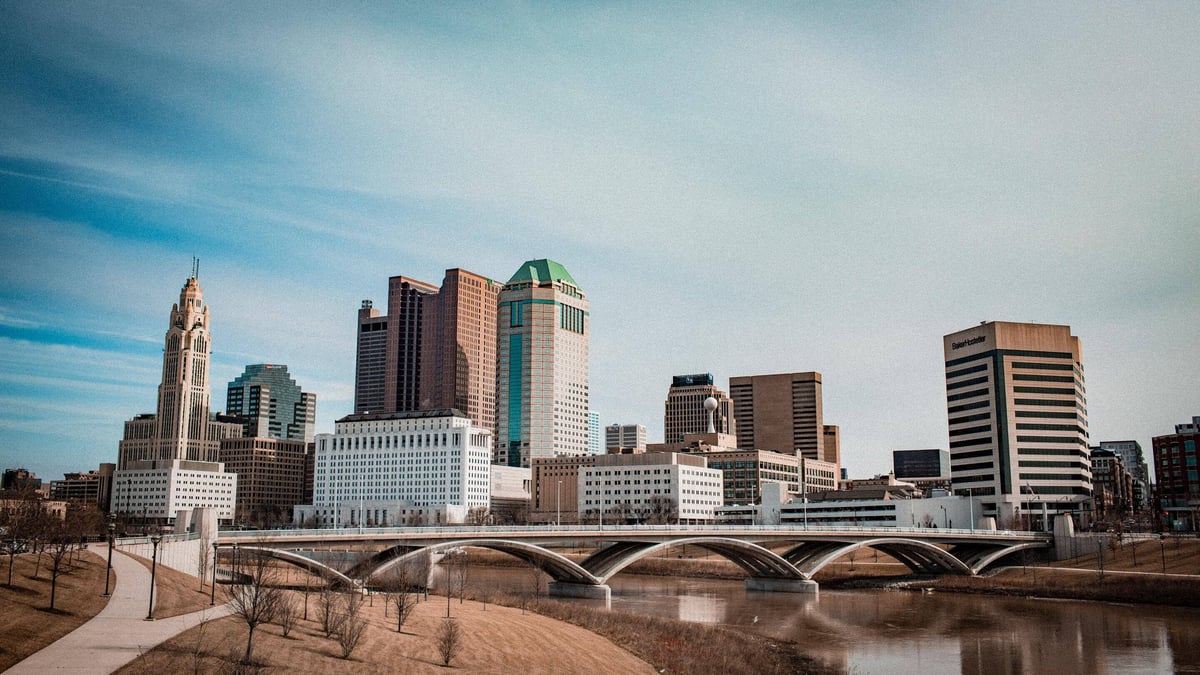 Arcs of startup ecosystems
First, we should probably start here: What is a startup ecosystem? What makes a city a sustainable startup environment? How do you define the beginning of a startup scene? These are all difficult questions to answer, but there are some key points and patterns to look at.
There are endless approaches to measuring startup ecosystems, and none of them are perfect due to the incredibly vast nature of the topic. Startup Ecosystems are complex systems encompassing people, businesses, economics, politics, and more. If this subject interests you, I'd recommend reading Startup Community Way or The Rainforest. However, this article is not a detailed playbook on how to improve the Columbus ecosystem, rather it's a high-level look at where Columbus sits along the curve of its own lifespan. So, I'm going to take a slightly different approach.
Brad Feld's main point in Startup Community Way is that Startup Communities are complex systems. Meaning they are large groups of interdependent people and organizations that adapt to one another but cannot easily be "controlled." With those components in mind, the empires of the past 500 years — Chinese dynasties, Dutch empire, British empire, and now the US — are interesting analogies to startup ecosystems. Ray Dalio, one of the most successful investors and author of Principles, is working on a new book examining the rise and fall of these empires over the past 500 years. He has found that the power of empires can be distilled down to 8 factors: 1) education, 2) competitiveness, 3) technology, 4) economic output, 5) share of world trade, 6) military strength, 7) financial center strength, and 8) reserve currency.
In the startup world, these could be translated into things like talent pools, access to capital, innovation, development, security and resources, etc. Perhaps it's a matter of looking at VC deals, the number of new startups, number of exits, IPO values, serial entrepreneurship, network maps, VC funding, etc.
These are all valuable insights to the health of a startup environment. (In fact, these are some of the factors that Startup Genome uses to create their Global Startup Ecosystem Report.)
I am not proposing a new framework for measuring startup ecosystems, but what I have learned from Ray Dalio's work is that you have to zoom way out to the macro level to see the relevant patterns in empires. This is in line with Brad Feld's view of startup ecosystems or communities as complex systems. Nothing happens in a vacuum. So, the two macro factors I want to focus on are time and behavior.
Time: what are the common patterns of startup ecosystems, and where can we place Columbus on the archetypical startup ecosystem timeline? Plus, how can we always be thinking 20 years ahead?
Behavior: What are the key behaviors that drive ecosystem growth and compound over time? Are they happening in Columbus? What's working? What isn't working?


History of the Columbus Startup Ecosystem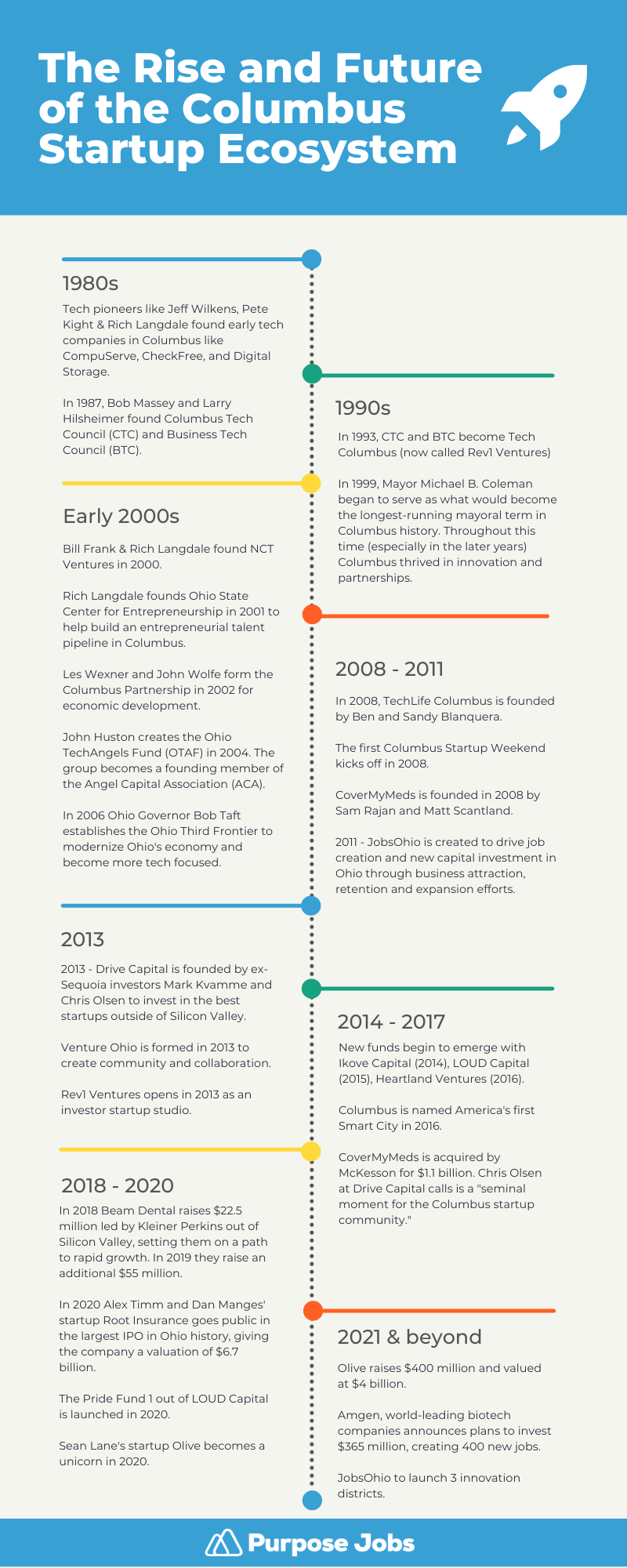 Like many of its Midwest neighbors, Columbus has a history as a major manufacturing hub. At the start of the 20th century, Columbus had over 800 manufacturing plants. As manufacturing declined throughout the 20th century, Columbus shifted to a hub of financial institutions, major retailers, and healthcare companies. Throughout the 1990s and 2000s, the population of Columbus closely mirrored the larger U.S. population, and the city became known as a test market for new products.
Columbus is now home to 16 Fortune 1000 companies—notable players are JP Morgan Chase, Nationwide, State Farm, Cardinal Health, and L Brands. In more recent history, Columbus' expertise in healthcare and insurance has become a common theme amongst the successful startups in the city.
But the tech scene has been growing ever since the 1980s when early pioneers began founding tech companies and tech organizations. In the early 2000s, new venture and angel funds helps kickstart many companies. And in 2006, Ohio Third Frontier was founded to modernize Ohio's economy and make it more tech focused.
In 2008, one of Ohio's first and biggest startup successes, CoverMyMeds, was founded in Columbus. In 2011, JobsOhio, one of the top economic development organizations in the country was founded to help drive job creation and new capital investment in Ohio. And in 2013, a major move brought about a whole new era of the Columbus economy.
In 2013, two ex-Sequoia investors moved from Silicon Valley and took a bet on Columbus. Mark Kvamme and Chris Olsen founded Drive Capital, a venture firm in Columbus' popular Short North neighborhood. At first, the move seemed risky, maybe even crazy, but as Chris told TechCrunch, perhaps the most compelling markets for venture capitalist are emerging markets:
"The economy of the Midwest would be the fourth-biggest economy in the world. It's bigger than Brazil... And it has this legacy educational infrastructure that's been producing more engineers than any other corner of the planet. It was kind of like, wait a minute. If this thesis is right, maybe emerging markets are the most compelling place for venture capitalists to invest," Chris said.
Now, Drive Capital manages $1.2 billion, features twelve partners, has interest from 7,000 startups each year, and has a stake in some of the biggest players in the Midwest startup and tech scene. Already this year, Columbus companies in Drive's portfolio have raised $782 million.
Olive, Drive's first investment, is a healthcare AI startup that recently raised $400 million (bringing their total funding to over $856 million) and is now valued at $4 billion. Root Insurance, another major tech company in Drive's portfolio, went public late 2020, raising $724 million in their IPO. Root is rapidly growing and proud to be building a digital product-focused company in Columbus. Finite State is another great Columbus tech company that's rapidly growing in the cybersecurity space.
Rev1 Ventures is another active VC investor studio in Columbus. They were the first modern VC in Columbus, and as such work differently than most firms — they are focused on developing a holistic innovation economy. They host dozens of public events every year and help large Columbus-based corporations innovate on top of investing in startups. Some of their notable investments include Seamless.AI, Updox, Myonexus, and ScriptDrop. The Rev1 team has helped launch more than 150 startups, invested in more than 300 companies, and supported 70+ successful exits. In 2020 alone, Rev1 Ventures helped generate nearly $450 million in capital, revenue and exits.
And of course we can't forget about CoverMyMeds, that early startup mentioned before: the healthcare software company went on to be one of the fastest growing startups in the region and was acquired by McKesson Corp. in 2017 for $1.4 billion. This made it Central Ohio's first $1B+ exit. Chris Olsen at Drive Capital called it a "seminal moment for the Columbus startup community."
And it's no coincidence that some of the most successful Columbus startups have been in the healthcare and insurance industries. Columbus was rooted in these industries for a long time, which has created an amazing talent pool for startups based in healthcare and insurance.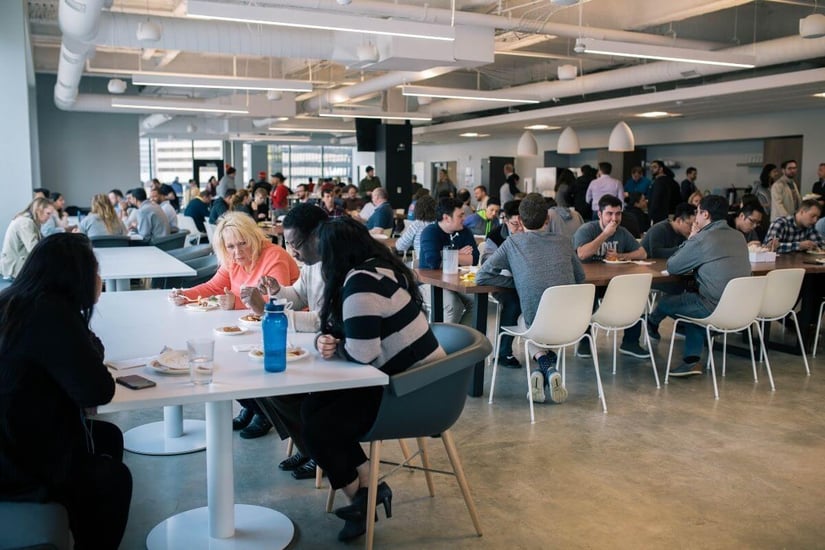 Photo courtesy Root Insurance
Now, Columbus is positioned not only as a great place to start a business, but also a great place to open a second HQ. In 2018, Veeva Systems, a Silicon Valley tech company, opened a second HQ in Dublin, Ohio, just outside of Columbus. The company continues to build its presence in Columbus with growing engineering and product teams (and more).
In 2019, another Silicon Valley-based company, Upstart, opened a second headquarters in Columbus. They chose the city because of its high density of tech talent and livability factors (affordable housing and quality of life). Now, Upstart's Columbus office has more than 250 employees and is continuing to grow.
Where Are We Now?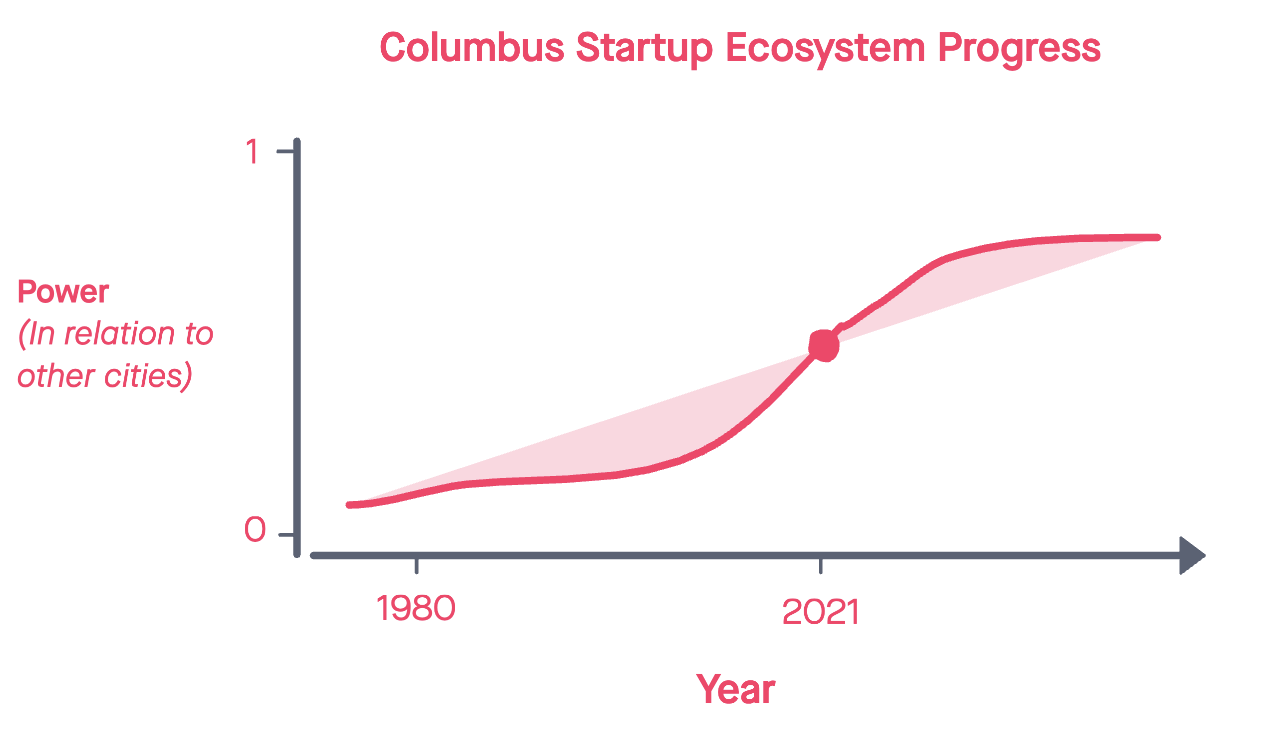 Disclaimer: This is a rough sketch purely for the purpose of visualizing my opinion and projecting into the future. For more rigorous analysis on the past and present, see Midwest Startups' City Rankings or StartupBlink and Startup Genome for Global Reports.

The power scale ranges from 0 to 1 with 0 being a non-existent startup ecosystem to 1 being the most powerful startup ecosystem in the world. Notice that Columbus never reaches 1 on the arbitrary graph I drew. This is because I don't think we will ever be the next Silicon Valley.
To compare startup ecosystems to countries again, Silicon Valley is comparable to the United States — currently the most powerful in the world. Whereas Columbus is like India, Brazil, or Russia; it's a developing economy that still has plenty of potential but likely isn't the next world leader.
This trajectory might even play in our favor. In Startup Genome's latest annual report, they predict that there won't be a "Next Silicon Valley"; rather there will be 30 startup hubs around the world, each with their own specialty. Perhaps Ohio will be the hub for insurtech, healthcare, and manufacturing.
Startup ecosystems are an infinite game—there is no ending point and therefore no such thing as winning. Rather, the goal for startup ecosystems is to reach and sustain the highest potential of the city or region. We're on our way in Columbus, but nowhere near finished. In Startup Community Way, Brad Feld asserts that community leaders should always be focused 20 years in the future. This is important for us to keep in mind in Columbus because we have so much untapped potential.
Where Are We Heading?
As the saying goes, "Rome wasn't built in a day." Similarly, Silicon Valley wasn't built in a decade (as this timeline shows, it was almost a hundred years in the making). It's fascinating to look back on this history, but most of Columbus' appeal comes from being the opposite of Silicon Valley in many ways. The affordability, short commutes, and helpful and accessible community is something we don't want to lose.
With a 20 year horizon in mind, let's look at the biggest challenges and opportunities that lie ahead for Columbus. As I mentioned earlier, this piece is focused on two main factors: time and behavior. We covered the timeline, so let's talk about behaviors.
In terms of where we are and what's working, there's a lot of good going around.


Tight-Knit Community
This community has a strong sense of place. People love living and working in Columbus. It's not a place where people flock to temporarily—there are real roots put down here.
"Fifty percent of OSU graduates spend more than two years in Columbus," Kenny McDonald of One Columbus told Fast Company.
Many college grads in other cities leave after graduation for other areas of the county. What this stat shows is that Columbus has ample opportunities for their graduates to stay and live in the city. And that people want to.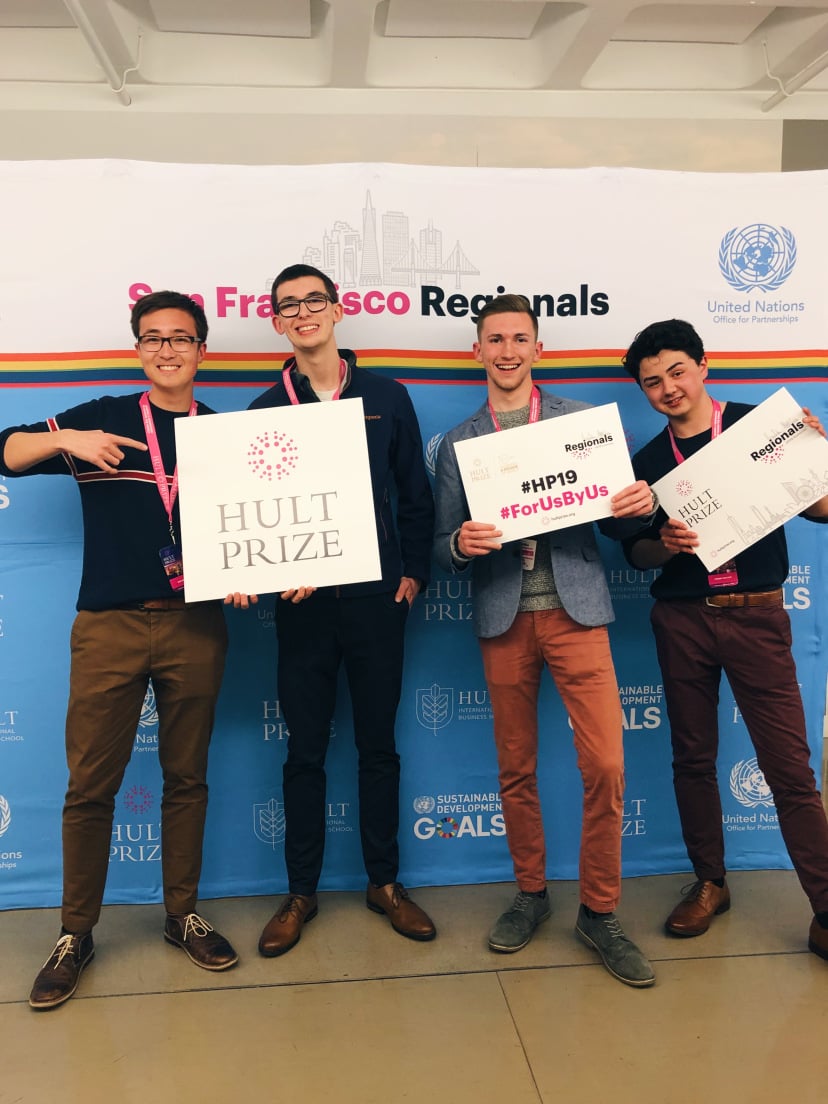 Kai McKinney (far left) is an OSU grad who chose to start his own company, Helm, right here in Columbus.
Another part of this tight community is a willingness to help people. Maybe that's the "Midwest nice" in us, but there is a genuine atmosphere of support in the Columbus startup ecosystem. People are happy to help, network, lend a hand, and senior leaders are extremely accessible and down to earth. Many events and digital communities like the Columbus Startup Community help people connect and thrive.
This is good for everyone. It's good for budding software engineers or product designers. It's good for leaders who want to make a real impact. It's good for startup founders who need guidance. It's good for VC firms who want to invest in something viable, sustainable.
But we still have a long way to go.


Challenges & Opportunities
Just as every startup has its growing pains, so does a startup ecosystem. We're still trying to figure out the best ways to work together, to continue to grow in sustainable ways and maintain our Columbus identity.
One opportunity would be to break down silos. Of course, people want to take ownership in their projects and hard work. But let's look at the big picture here—we all have the same goal: to build companies that do great things, solve hard problems, and invest in our communities.
So yes, it's all about breaking down that individualistic behavior, that short-term view and focusing on the long term. Where do we see ourselves in five, ten, twenty years? How can we work together to get there?
Another major part of the long term is seeing the compounding effects of entrepreneurship. Take Ann Arbor for example. After the acquisition of Duo Security for $2.3 billion, additional cybersecurity startups have sprang up in Ann Arbor and Detroit. Part of that is because Duo's founder, Dug Song, continues to invest in and advise emerging security startups.
As more startups find access to venture capital, create innovative tech jobs, and in turn create more opportunities for technologists, entrepreneurs and the community, the more the startup ecosystem grows.
Recently in Columbus, Olive's CEO Sean Lane raised $50 million (from Drive Capital) for his next venture, CirculoHealth. This will lead to more job creation, new innovation, and community investment—these are the compounding effects of entrepreneurship.
The common paths to get those compounding effects of entrepreneurship are successful founders supporting the next generation of founders, widespread angel investing, and employees at successful startups starting their own ventures.
We're beginning to see these patterns take shape in Columbus, but we need more to become a leading ecosystem. Again, time is on our side here.
Lastly, as we see the community grow, we also hope to see a diversification in the startup industries that do well here. It's great to see insurtech and healthcare companies thriving, but we also want to see e-commerce, robotics, green tech, etc., being able to thrive and find a community here.
Placing Bets
Just like founding a startup, building an entire startup ecosystem isn't easy, and it's kind of scary, too. Failure is a reality that we all face sometimes. But we're also not going at it alone. It takes a lot of effort from a lot of people.
What's happening in Columbus is amazing. And though it seems like the rapid growth and success is happening overnight, it's not. It's years in the making of hardworking people who are placing a bet on Columbus.
But look at what's happening. The technology, the growth, the people.
I think it's a pretty good bet to place.
About the Author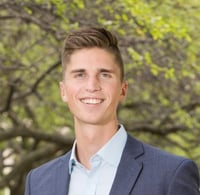 Nathan Zanzig works at ScriptDrop, a prescription delivery startup based in Columbus. He ended up there through a fellowship with Venture for America, a program for recent college graduates interested in entrepreneurship. Outside of work he organizes meetups for the Columbus Startup Community with the goal of uniting the future startup leaders and founders of Columbus. If he's not doing anything listed above, you'll probably find him running the beautiful Olentangy and Scioto trails.
Learn more & get involved
Interested in being a part of the conversation? Join our Columbus Startup Community Slack channel.
Watch Test City USA
Filmed in 2019, Test City, USA explores that moment in time for Columbus. With interviews of Mark Kvamme of Drive Capital, Matt Scantland of CoverMyMeds, Tom Walker of Rev1 Ventures and more, Test City, USA explores how the ecosystem evolved, and the challenges of what comes next.