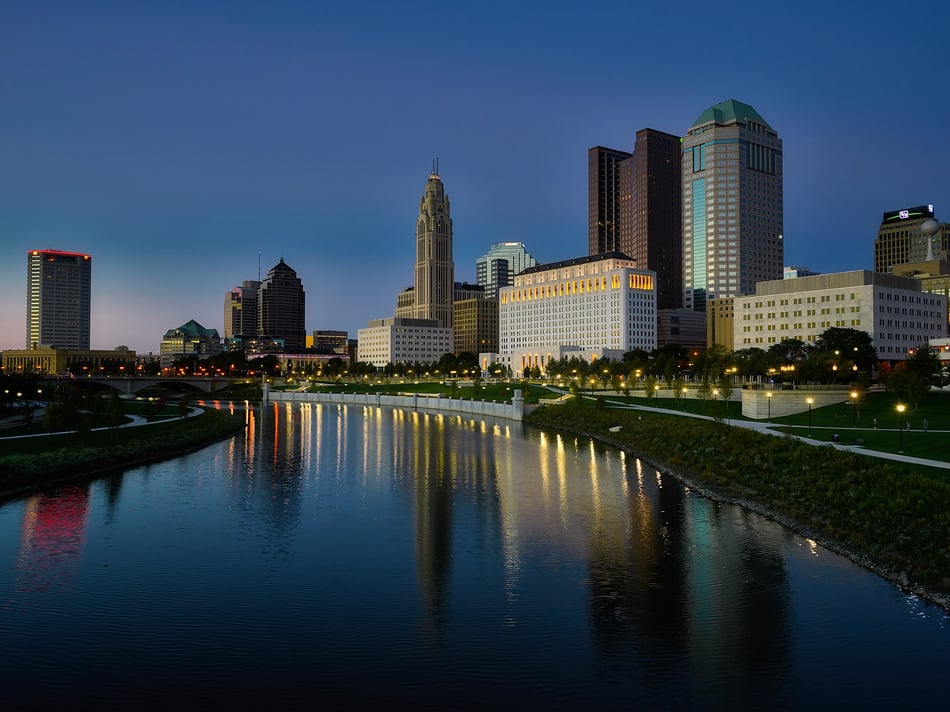 Columbus is a hotbed for fast-growing startups and tech companies. We featured a few of them on our list of the top startups in the Midwest, but there are lots of companies in Columbus that are growing, hiring, and still getting funded. Back in March, Olive raised $51 million, and Finite State just announced they raised $12.5 million.
Columbus is a great city, and many other startups there, along with Finite State and Olive, are still hiring—and that includes some remote positions, too. Check it out.


11 Columbus Startups Hiring Right Now
1. Olive
Olive automates healthcare's most robotic processes, so your employees don't have to. Let them focus on what matters most instead.
Locations: Columbus, OH; La Crosse, WI; Charlotte, NC; Cincinnati, OH; New Orleans, LA
Size: 201–500 employees
Market: AI, healthcare
Open positions:
Software Automation Engineers
Manager of Software Automation Engineering
Project Managers
Solutions Architect


2. Finite State
Finite State gives defenders a tactical advantage by providing deep visibility and proactive protection of every device on their network.
Location: Columbus, OH
Size: 1–50 employees
Market: Cybersecurity
Open positions:
Firmware Engineers
Kubernetes Engineer
Data Engineer
Senior Machine Learning Data Engineer
Senior Technical Project Manager
Product Designer


3. Root Insurance
Care insurance rates based on how you drive.
Locations: Columbus, OH; Chicago, IL
Size: 501–1,000 employees
Market: Insurance
Open positions:
Growth Manager, Paid Search
Growth Marketing Analyst
Head of Demand Generation
Senior Growth Marketing Analyst
Principal Data Scientist, Pricing
DevSecOps Engineer
Engineering Manager
Mobile Telematics Engineer
Mobile Telematics Engineer, Enterprise (Chicago)
Senior Engineering Manager (Chicago)
Payroll Analyst
Senior Product Designer, Business Development


4. Beam Dental
Dental benefits that reward you for brushing your teeth.
Location: Columbus, OH
Size: 51–200 employees
Market: Dental, Insurance
Open positions:
Client Success Manager
Senior Mobile Software Engineer
Senior Site Reliability Engineer
Senior Software Engineer


5. Aware
Information governance & risk management for remote work.
Location: Columbus, OH
Size: 11-50
Market: SaaS, AI
Open positions:
Site Reliability Engineer - Cloud Platform
Software Engineer - Product
Data Engineer
BDR
Internships: Software Engineer, Business Development, Content Marketing, and Demand Generation


6. Seamless.ai
Maximize revenue, increase sales and acquire your total addressable market instantly using artificial intelligence.
Location: Columbus, OH
Size: 11-–50 employees
Market: AI, Sales
Open positions:
Data Engineer
Account Executive
Customer Success Support Specialist
Content/Copywriter
Sales Development Representative


7. Ryze Rewards
Earn seamless rewards that help you beat student loans faster so you can build wealth sooner.
Location: Columbus, OH; remote
Size: 2-10 employees
Market: Fintech/Adtech
Open positions:
Lead Full Stack Developer
Full Stack Developer


8. Studium
We provide students streamlined access to all of the opportunities and resources that make a college campus great, ensuring students are always exposed to what's relevant and allowing them to make the most of their college experience.
Location: Columbus, OH; remote
Size: 11–50 employees
Market: social education
Open positions:
9. Tribevest
Building and maintaining a marketplace that unifies, supports and celebrates tribes, their members, and each milestone along their journey.
Location: Columbus, OH
Size: 2–10 employees
Market: Fintech
Open positions:
Full Stack Application Developer
UX/UI Design Lead


10. Nzyme Incorporations
We deliver all your IT, business or workforce related solutions to streamline your businesses effectively while significantly reducing costs.
Location: Columbus, OH
Size: 51–200 employees
Market: IT Consulting
Open positions:
Software Engineer
Java Developer
AWS Engineer


11. Mobikit
Mobikit bridges the gaps in connected vehicle infrastructure, allowing you to focus on product and consumers, not data wrangling.
Location: Columbus, OH
Size: 2–10 employees
Market: Software, Mobility
Open positions:
Frontend Engineer
Backend Engineer
Lead Product Engineer
Internships: Applied Data Analyst, Business Development
Did we miss a great Columbus startup that's currently hiring? Reach out to Lauren if your company wants to be featured on the blog or if you want to share your ideas.
Like what you see here and want more? Subscribe below and we'll take care of the rest.