The biggest city in the midwest, Chicago is home to some of the most exciting startups and tech companies. It's more affordable than New York or San Francisco but still has a big city vibe. And if you're a Midwesterner through and through, you'll be comfortable with the Midwest values and the kindness the people bring.
We love this city, too so we rounded up the best places to work in Chicago.

23 Best Places to Work in Chicago
Clearcover
A startup based in Chicago and Detroit that hires remotely, Clearcover is changing how we buy car insurance using technology and affordable, efficient pricing. They launched an AI-powered digital claims form that accelerates and streamlines the claims process. and Clearcover invests in DEI programs, is remote-friendly, and strongly emphasizes mental health and community.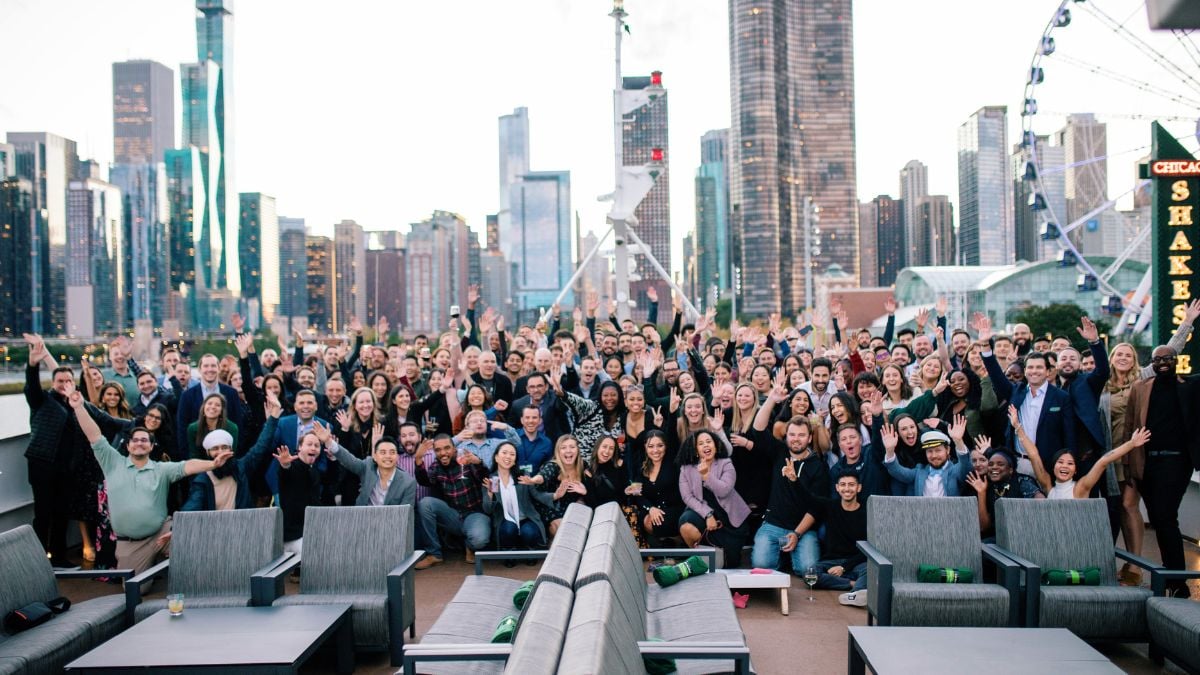 Best Places to Work in Chicago: Vouch
Vouch
Vouch is an insurtech company based in San Francisco with an office in Chicago. Their platform offers business insurance for high-growth companies. Vouch itself is a high-growth company, having just raised $90 million with a $550 million valuation. On top of competitive pay and insurance, Vouch has some additional great employee benefits and perks, including a wellness allowance, monthly Doordash credits, and unlimited PTO.
KPI Sense
One of the fastest-growing startups in the nation, KPI Sense is a Chicago-based solution for SaaS startup finances. KPI Sense has beer on tap, happy hours, and an open office floor plan. If collaboration and friends outside of work is your thing, KPI might be a great fit. They are dedicated to "bring(ing) previously inaccessible strategic finance support to startups and give finance folks the opportunity to work in a startup environment."
Cooler Screens
Cooler Screens designs screens for in-store shopping experiences to make the way we shop in-store as easy and compelling as the way we shop on our phones. They offer their employees generous parental leave, commuter benefits, and gym memberships in order to cultivate a culture that focuses on work-life balance.
86 Repairs
While many startups are addressing new technology for the restaurant industry, 86 Repairs is handling something that often goes overlooked: equipment repairs and maintenance. With a remote-friendly culture that embraces anyone who can do their job within 3 hours of the Eastern time zone, this is a cool startup to work for.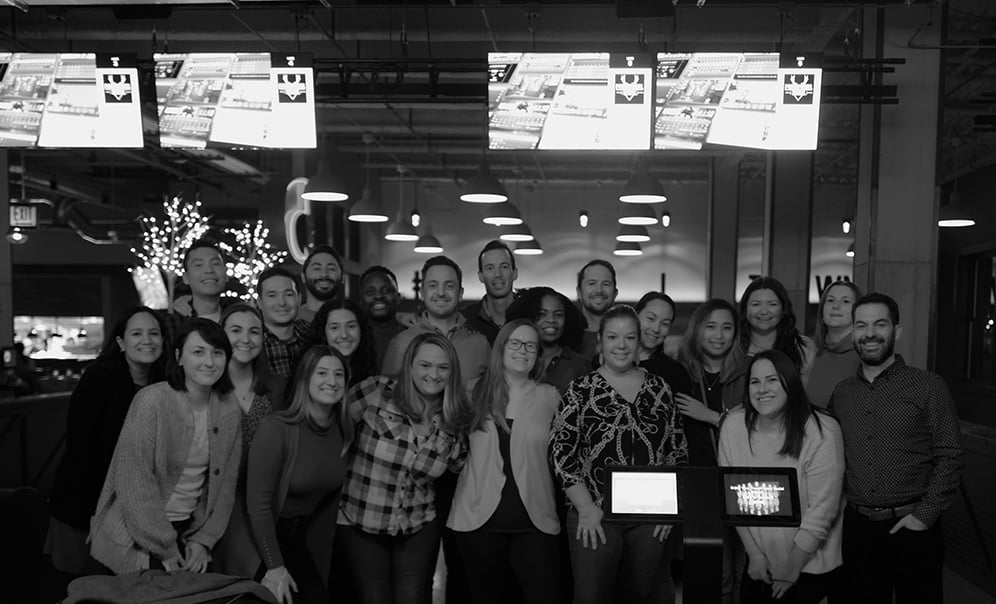 Best Places to Work in Chicago: ThreeFlow
ThreeFlow
Not only is Chicago startup ThreeFlow a company with great employee benefits; it's their entire mission to change how employers provide benefits. Their enterprise software allows benefits brokers and insurance carriers to manage the entire placement process in one system. ThreeFlow is an unusual startup in that it has created an entirely new category of software. Pretty cool way to get in at the start of a new type of service.
BallotReady
BallotReady is a Chicago tech company that provides personalized, nonpartisan information to voters in all 50 states. Female-led and founded (Alex Niemczewski and Aviva Rosman), BallotReady understands that DEI is work and a work priority. They know that true commitment to equity means actively minimizing harm and how important it is to support the psychological and emotional wellness of their employees in order to grow and thrive as a successful business.
Hologram
Hologram's cellular platform designed for the Internet of Things enables you to connect and manage any device, anywhere in the world. This Chicago-founded remote startup is a great company for diversity, equity, and inclusion. Hologram is deliberate about embracing diversity, equity, and inclusion, and it's incorporated into every aspect of their work — from the way they hire to daily operating procedures.
Hallow
As a Catholic prayer app, Hallow draws on the foundations of meditation and finding peace — and God — in moments of silence. Guided audio meditation through the rosary, morning and nightly prayer routines, Lectio Divina…Hallow provides the 1.3 billion Catholics in the world with a tool to deepen their faith. Being a member of the Hallow team does not mean being Catholic, but being in line with their mission of helping people find peace certainly is.
Evozyne
Chicago-based, Evozyne is a biotechnology company that specializes in protein design and molecular scale. They are dedicated to unlocking the potential of novel proteins to solve complex human and societal challenges — developing life-changing patient treatments, making carbon capture a reality, and ultimately making a healthier, more sustainable world.
Coldcart, Inc.
Coldcart is an end-to-end solution for perishable eCommerce fulfillment for those expanding direct-to-consumer business, eliminating complexities of cold chain fulfillment, or ensuring frozen and refrigerated products arrive to customers intact and on time. Coldcart is responsible for delivering goods as well as analyzing data to constantly improve processes and optimize customer business.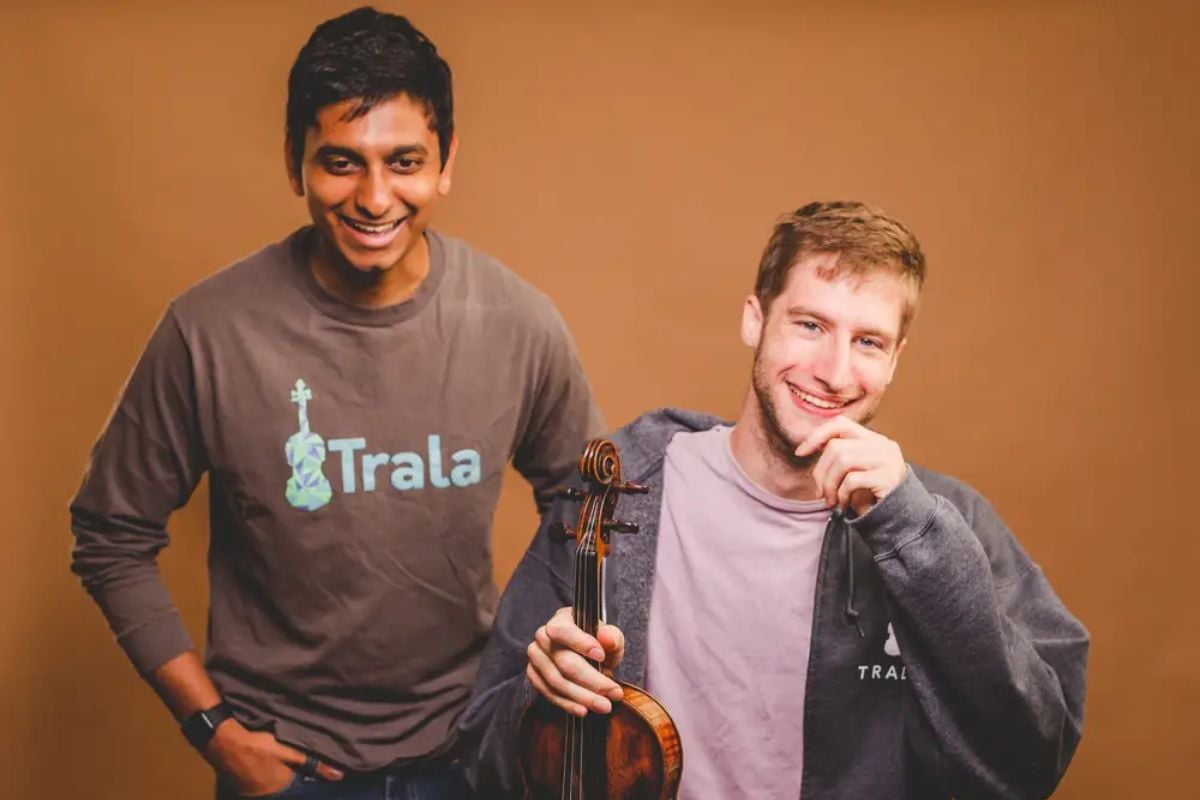 Best Places to Work in Chicago: Trala
Trala
Trala is a tech-powered online music school that teaches you to learn the Violin. They offer a hybrid violin-learning solution where students of all ages can get matched with a teacher in combination with having access to the Trala app. The Trala app houses video tutorials from word-class violinists and practice exercises that give instant feedback on mistakes so students can continue to improve in-between lessons with their Trala teachers. Their mission is to make world-class music education accessible to every single person on Earth.
Avant
Avant is a top Chicago fintech startup, dedicated to premier digital banking solutions for the middle class through a combination of technology, analytics, and superior customer service. Avant also acquired Level and raised $3.9 million, in addition to the $1.6 billion in funding already under their belt.
Tempus
Biotechnology company Tempus is a top Chicago startup that applies AI in healthcare to make precision medicine a reality. Founded by Groupon co-founder (and native Detroiter) Eric Lefkofsky, Tempus has raised over $1 billion. In addition to their current AI, they are developing a companion diagnostic test with Kartos Therapeutics.
VillageMD
Village MD is another Chicago healthtech company that provides tools, technology, operations, and staffing support needed for physicians to drive the highest quality clinical results across a population. The company has raised $491 million in funding and was acquired by Walgreens for $5.2 billion. With a patient-first approach to everything they do, each team member of the VillageMD team is selected to play a critical role in building value in primary care.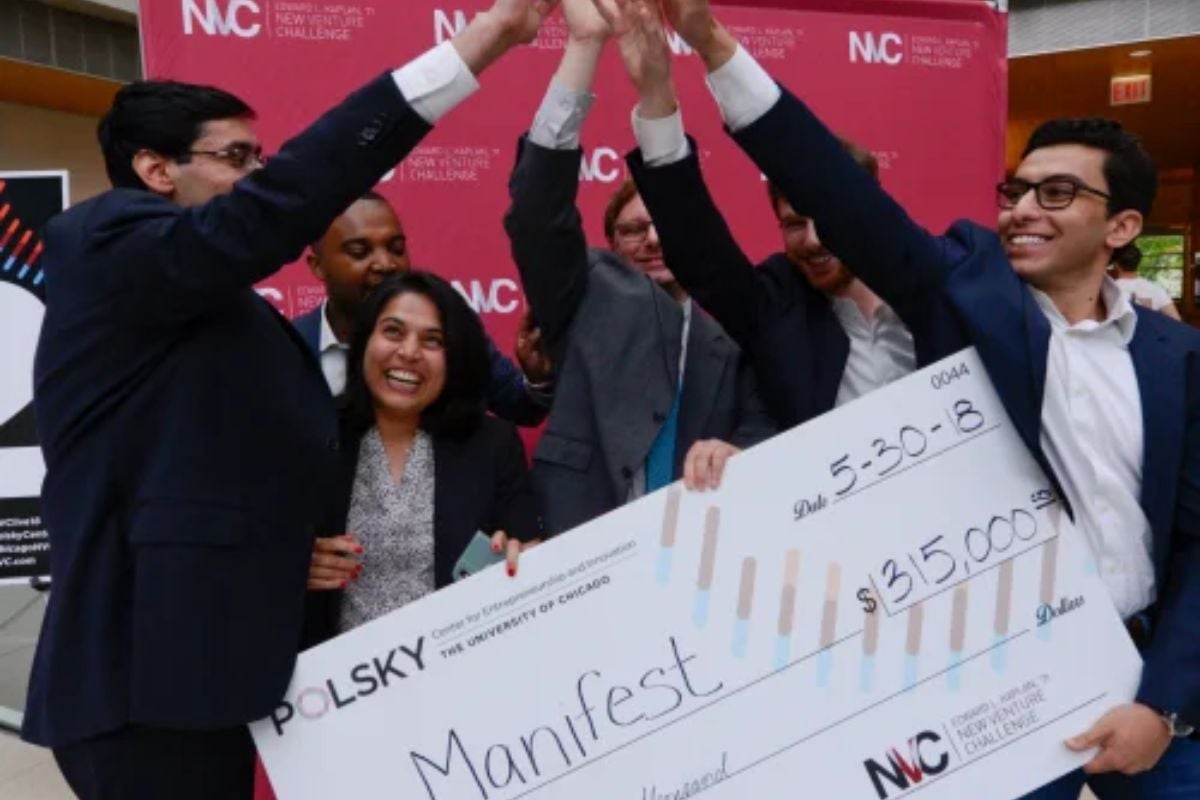 Best Places to Work in Chicago: Manifest
Manifest
Manifest is the easiest way to consolidate retirement accounts. They're digitizing retirement transfers, helping people continue to grow their savings when switching jobs. Transferring an existing retirement balance into another employer-sponsored retirement account is the best way to retain investing momentum and Manifest is dedicated to helping employers empower their employees to do so.
NeuraFlash
NeuraFlash is a fast-growing leading AI and Consulting / ISV Partner of Salesforce and AWS. Working across industries, NeuraFlash enables intelligent business automation that drives real-time ROI. Company funding allows remote employees who live in the same region to go out to dinner and enjoy a fun activity. And, their Employee Resource Groups encourage employees to bring their full selves to work and connect with those who have similar interests or passions.
Homethrive
Homethrive leverages technology to create a program that matches home caregivers with dedicated support to help them care for a loved one. Their Dari digital or 1:1 assistant supports caregivers and the whole family through coaching and highly educated resources. The Homethrive platform has changed the world of family caregiving, especially through the COVID-19 pandemic.
EarlyBird
EarlyBird is an investing platform that allows loved ones besides parents to invest in a child's financial future. It's a simple app but is backed by financial institutions you can trust. EarlyBird describes their culture as transparent, fun-loving, collaborative, and an impactful organization with a purpose. They've received national attention as one of the best ways to invest in a child's future.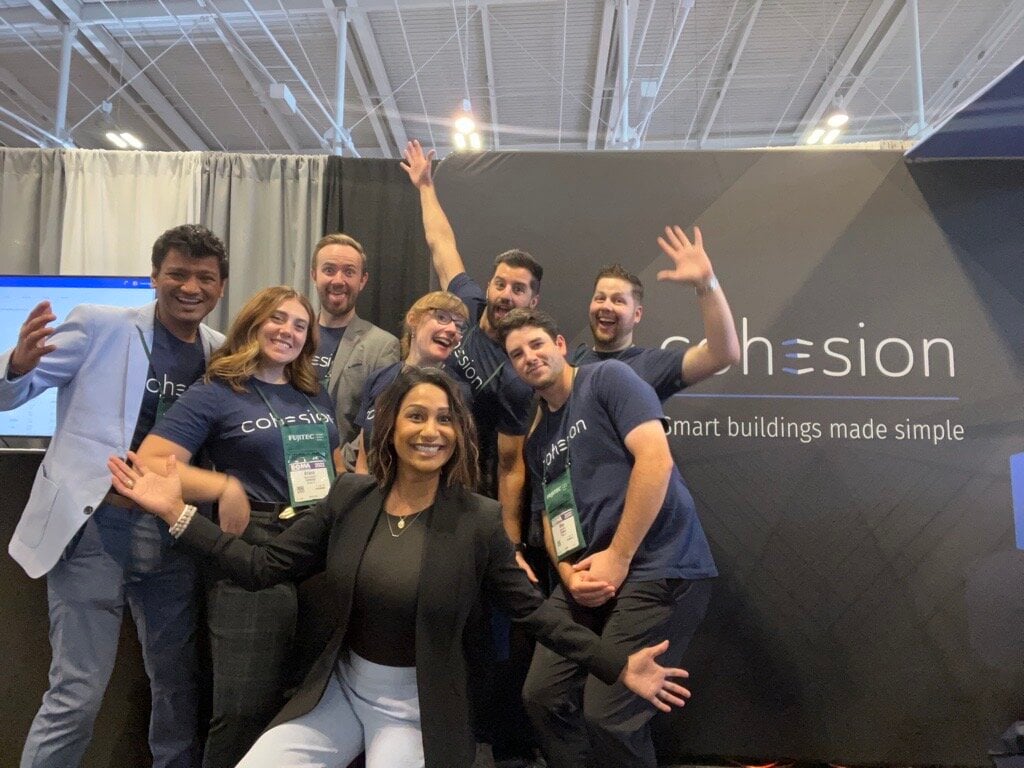 Best Places to Work in Chicago: Cohesion
Cohesion
Cohesion is a Chicago-based Intelligent Buildings SaaS platform, leading the way in autonomous building technology—seamlessly connecting critical systems with the human ecosystem, simplifying management through transparent operations, and increasing asset value for owners by delivering better tenant experiences. Cohesion has raised $23.5M in funding to date.
Chowbus
The Chowbus app helps users order quality Asian food, and that's it. Every company and restaurant featured on Chowbus is hand-picked down to the meal to ensure quality is all you can choose from. What more could you ask for? Chowbus also prides themselves on their culture and benefits offerings to employees, including a continuing education stipend, free meals, and more.
Mediafly
A sales enablement and content management company focused on marketing, technology, and customer experience, Mediafly is leveraging technology to get stuff done. This platform is trusted by big names like Sony, Workday, P&G, and more. Not only are they building a substantial platform, but they're also building a great culture. Mediafly only continues to grow and innovate with their customer, made possible by its Customer Advisory Board.
Mastery Logistics Systems
Mastery Logistics Systems is dedicated to innovation and growth and creating a healthy work culture for its team. They respect work-life balance and give you time to work on new ideas during your day. Mastery Logistics Systems is in the logistics and shipping tech industry, an ecosystem Chicago was born to disrupt.
Explore More Best Places to Work in 2023
Best Places to Work in Ann Arbor in 2023
Best Places to Work in Cincinnati in 2023
Best Places to Work in Cleveland in 2023
Best Places to Work in Columbus in 2023
Best Places to Work in Detroit in 2023
Best Places to Work in the Midwest in 2023
Best Places to Work Remote in 2023