This year has certainly had its share of ups and downs. It's true that the Midwest isn't totally immune to the widespread tech layoffs that are happening on the coasts, but overall the Midwest tech community is still going strong. Times might be tough. Our community is tougher.
That's because of the amazing people who make the Midwest tech community so supportive, empowering, and successful.
We often talk about all the companies in our community, but at the end of the day, companies are led by people.
So we're taking the time to celebrate the purpose-driven people in our community who are doing great things at work and beyond.
Meet the 28 winners of the 2023 Purpose Awards.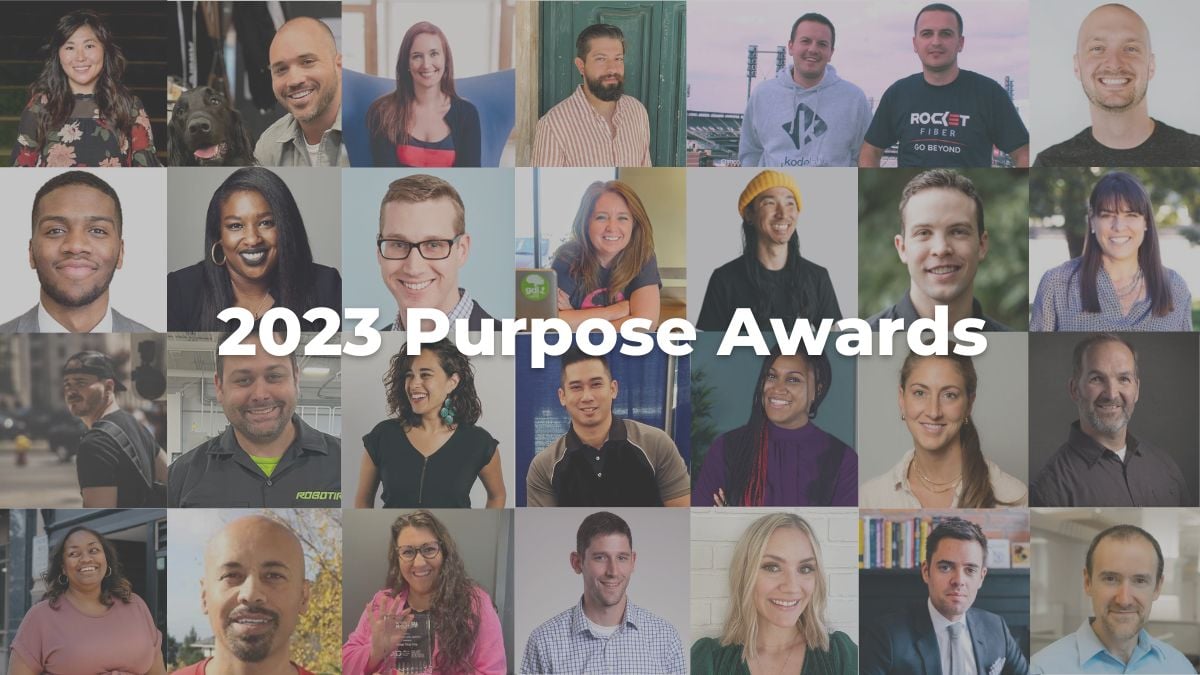 Purpose Awards: Top Founders & CEOs
Jeff Schumann
Co-founder and CEO at Aware, Columbus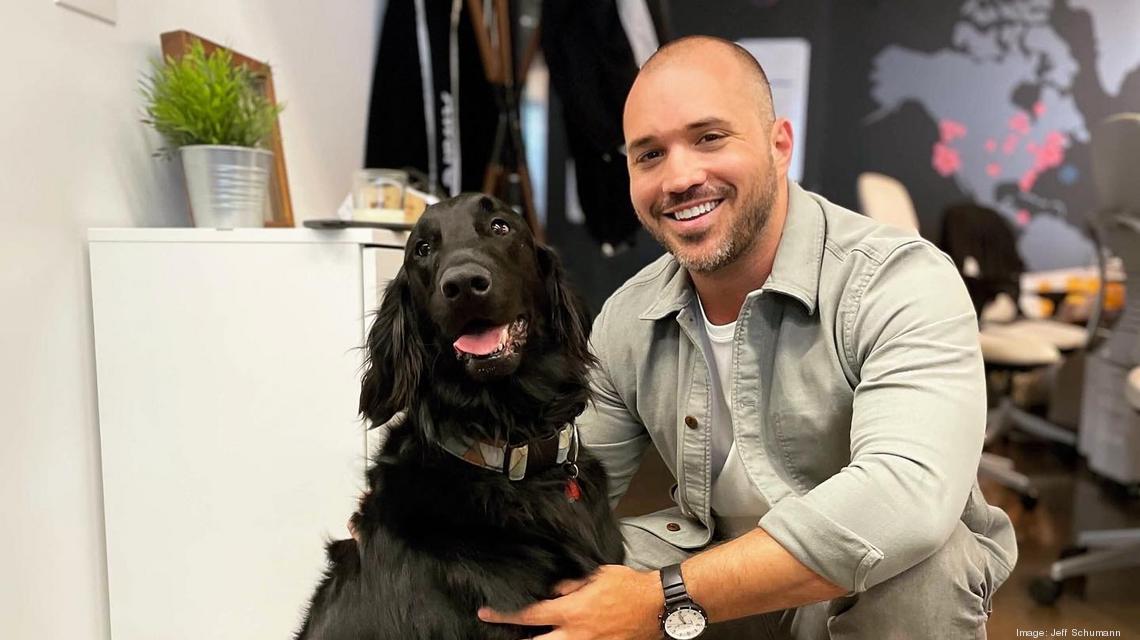 As CEO and co-founder of Aware, Jeff Schumann pushes his team to think beyond the possible. Aware's comprehensive platform keeps organizations in sync, secure and compliant real-time visibility and control of data across the ever-changing landscape of collaboration tools. As a purpose-driven leader, Jeff is building a company that puts humans and empathy first.
Forward-thinking and often labeled a visionary, Jeff will find a solution even if he must create it. This is evidenced by his credentials and success in the entrepreneur and startup community, as well as enterprise companies. Jeff successfully built more than 10 companies throughout his career — starting in middle school, continuing through college and even while holding a highly-prominent position at a Fortune 100 company. Before graduating from high school, Jeff had already built and launched his first software company: a video platform that grew to more than 100,000 customers. He found additional early success leading his next venture, an online service that monitored and tracked Al-Qaeda communications on the dark web.
Goldman Sachs has recognized Aware CEO Jeff Schumann as one of the Most Exceptional Entrepreneurs of 2022 at its Builders and Innovators Summit in Healdsburg, California.
Mark Stansbury
Founder & CEO at Stansbury Weaver, Columbus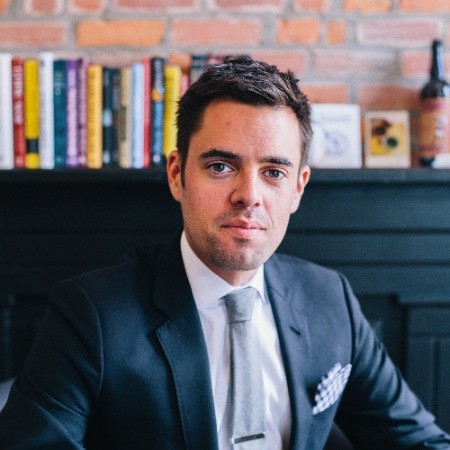 Mark Stansbury is the co-founder and CEO of Stansbury Weaver, a tech-focused law firm that says the billable hour is dead. The firm serves startups and tech companies and very much operates like a tech company, too. Mark created this legal model not because it was more profitable than the traditional model, but because it created a better experience for clients and it created a better life for the surrounding team (no billable hour = better work-life balance!).
As CEO and Partner, Mark is innovative and leads with empathy, kindness, generosity and honesty. He puts the needs of his team above the needs of his own and consistently works to provide better opportunities and benefits to each member of the team. Mark and Stansbury Weaver also are involved in giving back to the Columbus community through RTRX and Pelotonia.
"His willingness and eagerness to take feedback makes him the most approachable leader I have ever worked alongside. Mark listens to the feedback and ideas of every person on our team no matter if that person is on the leadership team or our intern," said Mackenzie Durbin, COO at Stansbury.
Molly McFarland
Co-founder and CRO at AdAdapted, Ann Arbor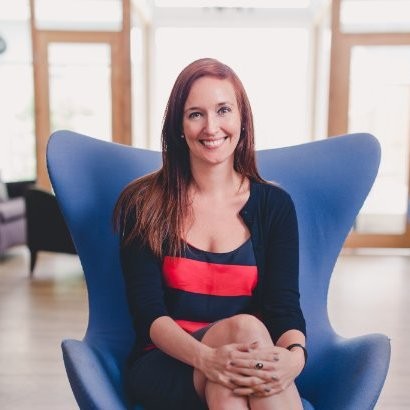 Molly McFarland, co-founder and Chief Revenue Officer of Ann Arbor's AdAdapted, offers a unique perspective being a woman in the tech startup world. A native of Maine and graduate of Tulane, Molly began her career as a marketing professional and has since grown into an impressive, innovative and charismatic founder of a fast-growing advertising platform. Molly brings expertise in the mobile advertising environment, add-to-list solutions and extensive knowledge on how to reach consumers in an ever-changing ad space.
Edi and Etrit Demaj
Co-Founders at KODE Labs, Detroit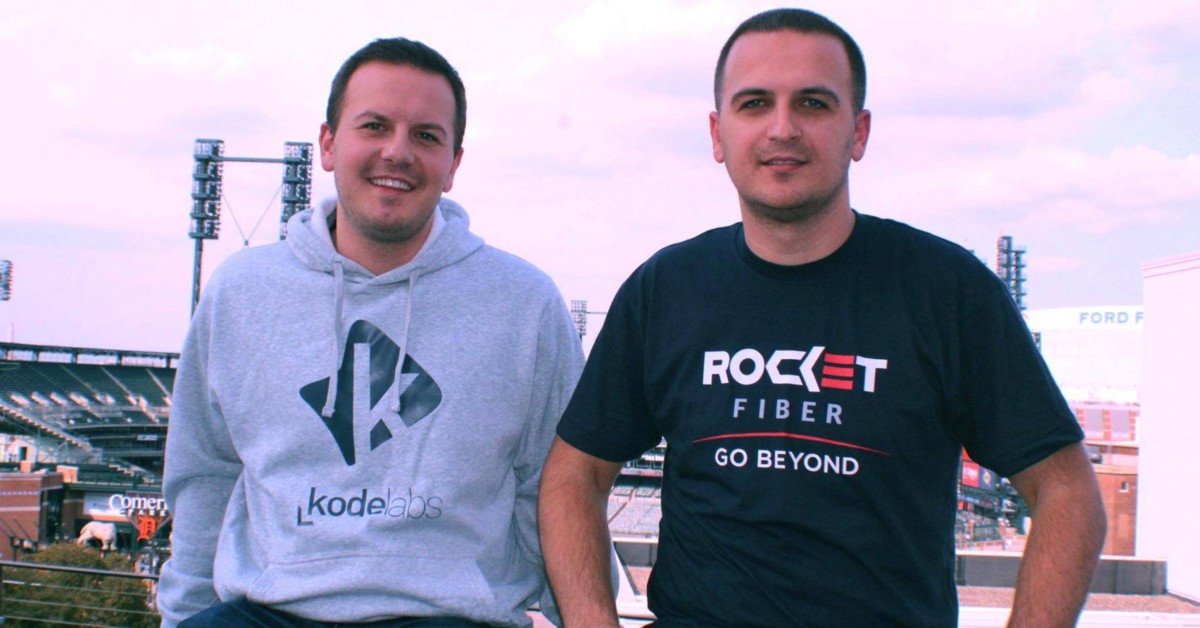 Edi and Etrit Demaj are not just co-founders, but they are also brothers. Born in Kosovo, they came to the U.S. as refugees during the Kosovo War in 1999. In 2017, they launched KODE Labs, a bootstrapped startup that provides smart building software. Their ties to both communities led to the company's name (Ko) for Kosovo and (De) for Detroit. Both founders are serial entrepreneurs (they sold their last company, Rocket Fiber, to Everstream) and have scaled and exited real estate technology companies for over $100M+.
In 2022 the company raised its first round of capital, $8 million led by I Squared Capital. To date, the company touts a zero churn rate: every client they've ever signed up is still working with them. The founders told TechCrunch they believe this is a testament to its flexible and novel technology and its dedication to customer service.
Patrick Kelly
Co-Founder and CEO at Signal Advisors, Detroit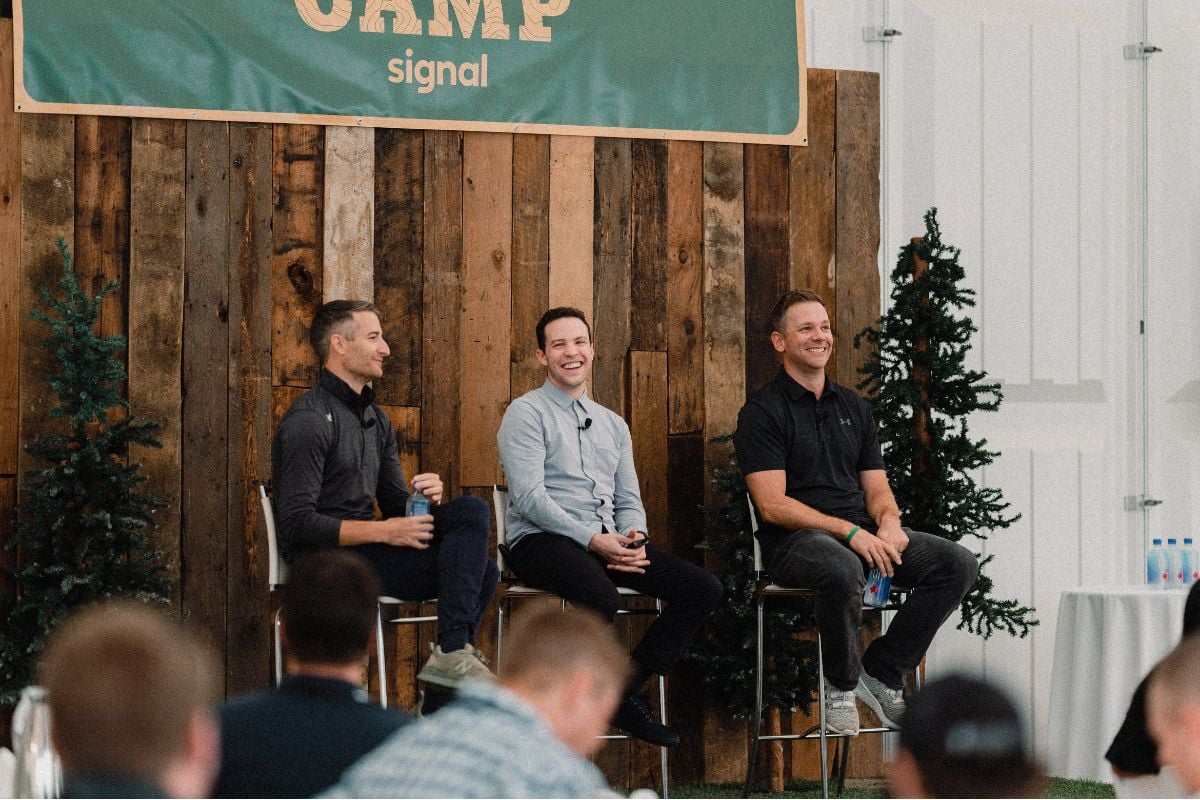 Image courtesy of Signal Advisors, Patrick Kelly pictured center
As Co-Founder and CEO at Signal Advisors, Patrick Kelly is truly a values- and purpose-driven leader. The company itself was founded to help financial advisors spend more time helping people manage their finances and plan for better financial futures, and the startup is deeply rooted in its values, especially being "obsessed with finding a better way." And no one embodies that more than the founders and Pat Kelly.
"Our founders are the biggest champions of our values, which is so important," said Kristina Oberly, Head of People at Signal. "They are not just values on a piece of paper."
Purpose Awards: Top HR Leaders
Abby McNutt
Manager of Culture at Fund That Flip (now Upright), Cleveland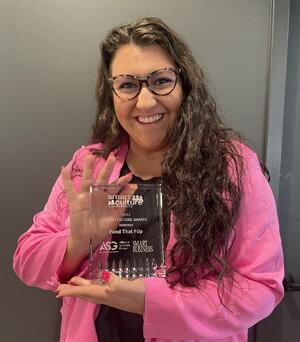 As Manager of Culture, Abby always prioritizes an environment where everyone is heard and valued. She's truly a purpose-driven leader who constantly looks for ways to maximize Fund That Flip's positive impact on the Cleveland community and on each and every employee, whether local to CLE or distributed around the world.
"Abby is a picture of our HUSTLE culture, always bringing Hard work, Unity, Success, Transparency, Learning, and Empathy to everything she does. She brings purpose to what we do at Fund That Flip, and is a key to what makes this a great place to work!" said Sara Bakken, Lead Recruiter at Fund that Flip.
Julia Kimmel
Vice President of Recruiting and People Ops at RocketReach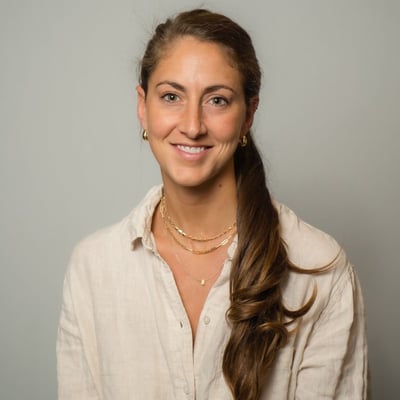 As VP of Recruiting and People Ops, Julia Kimmel is a true purpose-driven leader at RocketReach. Julia has especially been an outstanding advocate for women in tech. She continues to stand by her team and promotes diversity, development, and pay equity.
"Her leadership skills exceed any manager I have worked with in my career. Her drive and passion has already made a positive impact on our overall company culture," said Bencia Joseph, People Operations Manager at RocketReach.
Sang Lam
Vice President, People and Culture at SkySpecs, Ann Arbor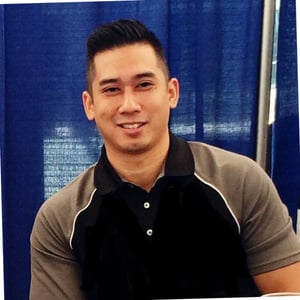 If you ask people at SkySpecs "why did you join the company," many of them will say, "Sang Lam." As VP of People and Culture, Sang is focused on making sure SkySpecs takes good care of its people.
"When you start at a new company, you should be able to just dive right into the work. You don't want to have to worry about benefits. You just want to focus on why you're here," Sang said in an interview about SkySpec's mission and culture.
That's why Sang has worked hard, leading the people team to perfect its benefits package (which includes things like flexible and unlimited PTO, paid parental leave, mental wellness resources, and more) and perfecting the company's remote/hybrid environment, making sure its culture (open communication, passion, drive) translates into a virtual world.
Shannon Crooks
Director of People Experience at Cerkl, Cincinnati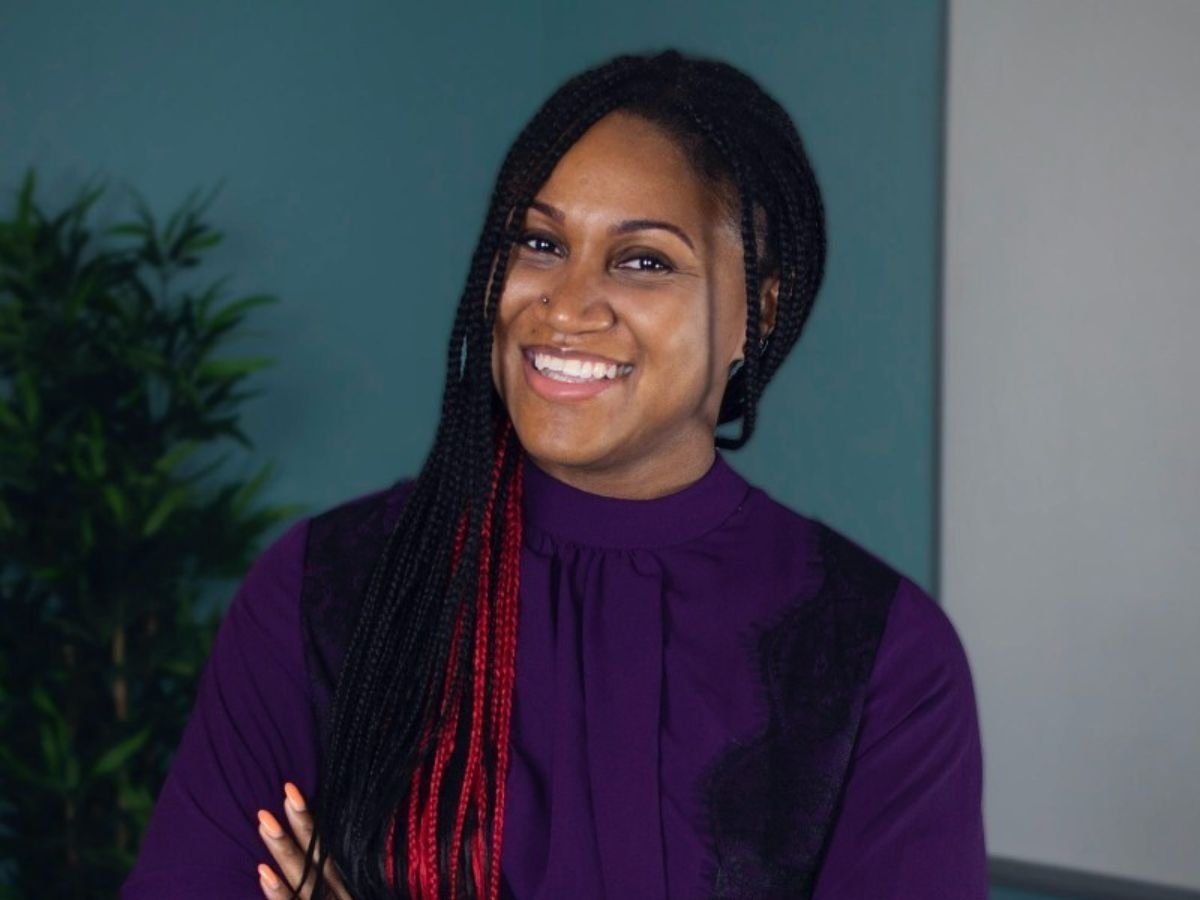 Shannon Crooks is an HR pro with over 8 years of experience in the field. She currently leads the people team at Cerkl, one of Cincinnati's best startups to work at. Shannon is a purpose-driven leader who is passionate about teaching and providing leadership advice. Cerkl's platform is all about helping organizations communicate better and have better employee experiences — Shannon is making that a reality for her team, too.
Patrick Payne
Global Head of Talent Acquisition at StockX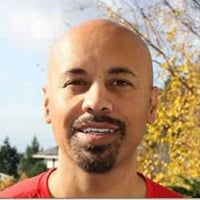 As Global Head of Talent Acquisition at StockX, Patrick Payne brings his 20+ years of recruiting experience (with organizations like Adidas and Amazon) to build high-achieving, culture-driven teams. StockX, a Detroit unicorn, is known for its pop culture marketplace — and its flexible, autonomous and supportive work culture. Patrick has been integral in bringing the right people on board and helping StockX grow from a startup to a global tech company.

Purpose Awards: Top Marketing Leaders
Kristy Sharrow
VP of Marketing at Quikly, Detroit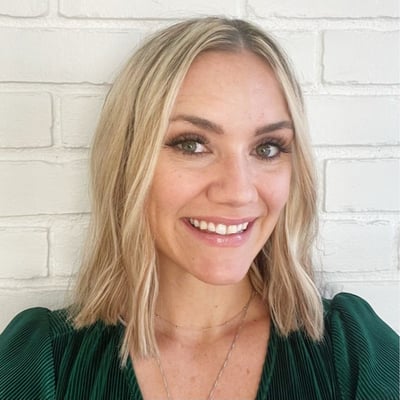 Having been with Quikly for nearly 4 years, Kristy Sharrow really helped the company find its bearings and get organized around one aspect of its mission statement, which is to leave a mark on the city of Detroit. She helps organize the company's financial support to local organizations and also its volunteer events, including events with the nonprofit Southwest Solutions on a mission to help end homelessness in Detroit.
As a purpose-driven marketing leader, Kristy has also supported her team as they've found ways to incorporate DEI into Quikly's own marketing efforts. An example of this is the article Kristy's team published: "How brands can create content that respects the needs and wants of Native American communities" — which was Tweeted and shared by Cherokee Nation. She also volunteered her own time and talents to The Carbon Almanac, a book of facts about climate change.
Kristin Motta Zwickau
VP of Talent Attraction at Veeva Systems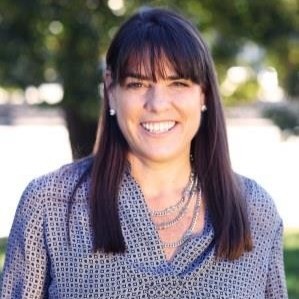 Veeva is a Silicon Valley - founded, global cloud software company that powers the path to the world's new medicines. The company has continued to grow its presence in the Columbus tech community because of the amazing people that work there. Though Kristin Motta Zwickau isn't based in Columbus, her efforts to grow the community there can't be overlooked.
Taking a marketing approach to talent attraction, Kristin is helping grow the Veeva community in Columbus (and around the world). She leads the Talent Marketing team to build an effective top-of-funnel candidate pipeline, and she manages content, employer branding, and recruitment enablement. It helps that Veeva is naturally an amazing place to work. With awesome benefits like work from anywhere, flexibility, free catered lunches, wellness classes a meditation room and more, it's no wonder Veeva is one of the best places to work in Columbus. Kristin is on a mission to spread that message far and wide and help people find meaningful work at a company that will support their wellness and growth.
Kyle Lacy
CMO at Jellyfish, Indianapolis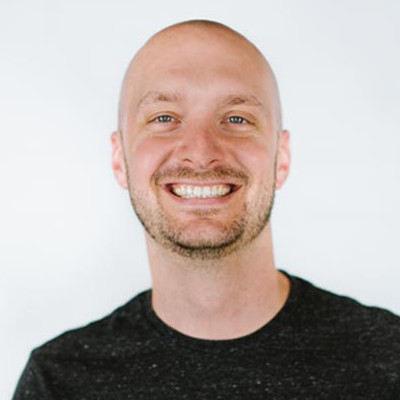 Kyle Lacy is an innovative and purpose-driven marketing leader and mentor. During his time at Indiana startup Lessonly, Kyle led the marketing team (as VP of Marketing and then as CMO) through hyper growth and eventually a massive acquisition by Seismic. Kyle's unique revenue-focused approach to marketing made him an invaluable leader at Lessonly, as well as in the Midwest startup community. Kyle has also served as the Indianapolis Chapter Head of The Revenue Collective, which is an invitation-only community of the best sales and marketing leaders.
In addition to his marketing roles, Kyle also lends his brand and marketing expertise to help other startups grow and thrive. He's a Strategic Advisor at Postal.io, and at rising Indianapolis startups Demandwell and Navattic.
Purpose Awards: Top Operations Leader

Sean Simon
Head of Credit and Operational Risk at Provide, Columbus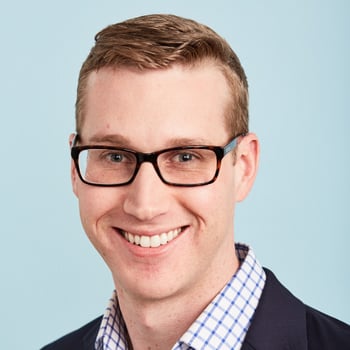 Provide Head of Credit and Operational Risk Sean Simon has been an integral part of the Columbus team at Provide. He has helped build the team there, played a critical role in the company's recent acquisition by Fifth Third, and has led their leadership development and culture initiatives. What really stands out about Sean is how unassumingly and quietly he does all these things, passing on credit to others and allowing them space to shine. But it certainly hasn't gone unnoticed.
"Throughout my time with the company, I have heard from numerous employees that Sean's support, guidance, and gentle leadership are a large part of why they are fulfilled in their role. Not many are lucky enough to work with someone of Sean's caliber, and the company truly recognizes the value Sean brings day in and day out," said Jess Ehler, senior director of marketing and culture at Provide.
In his personal life, Sean has made it a priority to give back to those around him. He is incredibly passionate about children's mental health and launched the Simon Family Giving Fund to act on his conviction. This fund supports school counselors by providing materials and supplies needed by their students, removing a layer of stress and burden to allow them to focus on what matters most: the child. Additionally, he spends time building handicap-accessible garden beds for nursing homes throughout central Ohio, creating a healthy, engaging outlet for the elderly. It's easy to see Sean genuinely cares about the most vulnerable among us and takes action to make our community a better place for all.
Dan Ngoyi
Senior Vice President, Strategic Operations at Rock Connections
Dan Ngoyi has been a leader at Rocket Companies for almost ten years. He started his career with the company as a recruiter and has taken on more and more leadership roles in the talent acquisition space. Now, he spearheads strategic operations for Rock Connections, which is part of Rocket Companies and the Family of Companies (Dan explains Rocket Companies and the FOC here).
As a people leader, Dan always leads with empathy and support, and he has the wonderful ability to engage and unlock the potential of others (which is such a superpower). Dan is also an accomplished public speaker, sharing his expertise and insight at conferences nationwide. Dan is without a doubt a purpose-driven leader who puts people first and makes the community better for it.
Chevonne James
Director of Projects at Lightship Capital, Detroit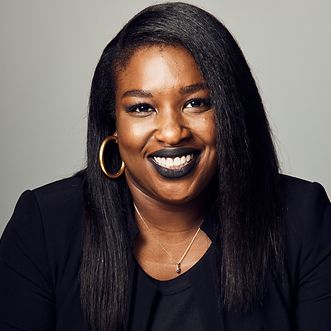 They call Chevonne James the unofficial COO for a reason. Based in Detroit, Chevonne leads all of Lightship Captal's projects in Michigan, Special Projects, and platform (leading project sprints/strategy sessions for portfolio companies). Chevonne was an integral leader in bringing to life Black Tech Week as Project Lead and Planner. With Chevonne's help, their goal is to bring a Black Tech Weekend to Detroit next year.
Chevonne is also involved in community organizations. She's the project manager of Motor City Kares, a project with Ford Foundation, Lightship, Delta Dental and Kare Mobile to award mobile dentistry to two Detroit dental practitioners. She's also the project manager for Closing America's Smile Gap, a collaboration between P&G, CVS, and a Lightship portfolio company to provide dental deserts with free dental screenings.
Victor Darolfi
CEO & Founder at RoboTire, Detroit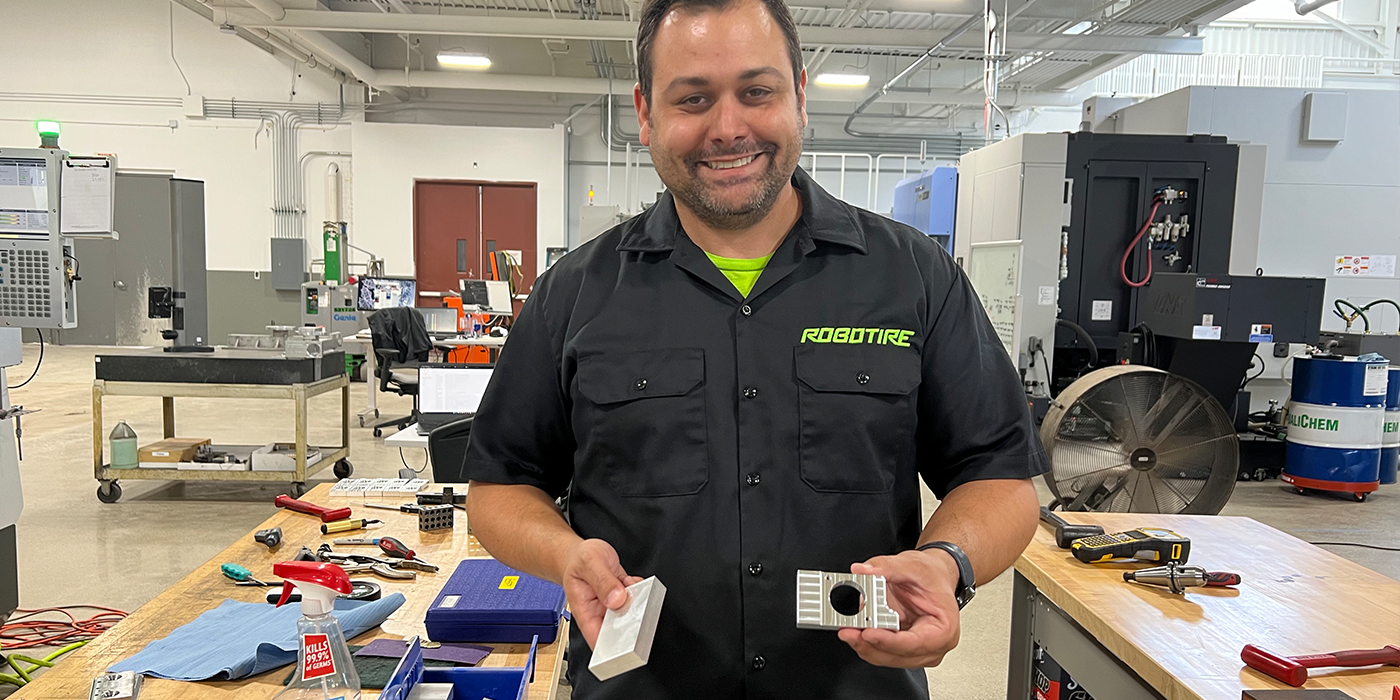 Image source: Tire Review Magazine
As the founder and CEO of a company that's all about optimizing operations, Victor is no stranger to making things run more efficiently. It's the crux of his Detroit-based startup, RoboTire. The company is building cutting-edge robotics and AI technology that quickly automates the tire-changing process. Changing tires faster than ever before reduces service time and labor costs. But it's not about eliminating human services — instead this frees up mechanics, technicians, and engineers to focus on more technical services and repairs.
Purpose Awards: Top Product & Tech Leaders
Jaafar Mothafer
Co-founder and Chief Product Officer at Hush, Detroit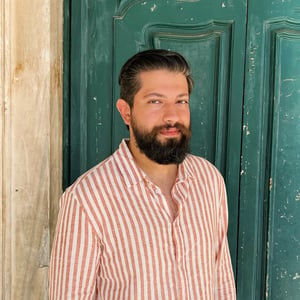 Jaafar Mothafer is a true champion of startups and a strong advocate for building businesses in Michigan. He was a fellow with Venture for America and maintains strong alumni relations with the organization, including hiring VFA talent for positions at Hush. Before co-founding Hush, Jaafar was part of the Detroit startup community in his role at Integral, a Detroit-based technology consultancy.
In addition to his passion for startups, Jaafar is a strong, purpose-driven leader. He has a relentless focus on designing products that fill a true need, products that have strong design and usability. Jaafar is always exposing himself to new ideas: reading, listening to podcasts and talking to people. He has a practical way of applying new ideas to his own life and work, and sharing them with the rest of the team. In this way, his thinking is always fresh and pushes boundaries and challenges the status quo.
"Jaafar is also rooted in values. He constantly brings our team back to our company values and challenges us to weave each of those values into the way we operate the business on a daily basis," said Tamara Rambus, the interim Head of People and Culture at Hush.
Ronda Bergman
Director of Engineering at Genomenon, Ann Arbor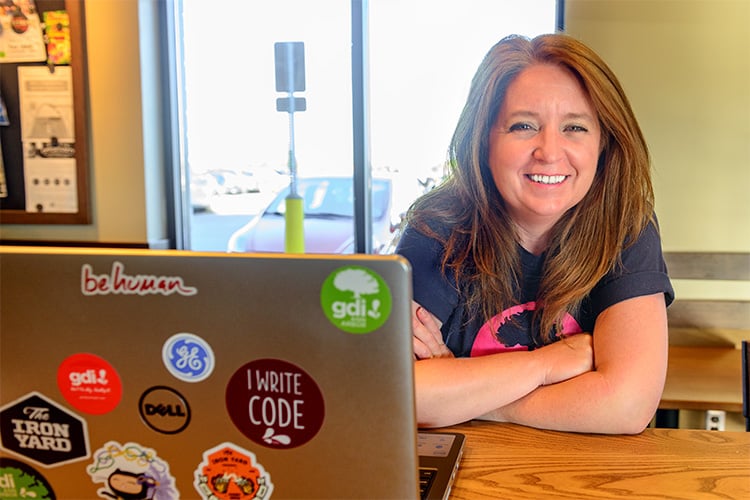 As an engineering leader, Ronda Bergman, Director of Engineering at Genomenon, has served as an advocate and mentor for many in the Ann Arbor tech community, especially for girls and women in tech.
In addition to leading a top engineering team at Genomenon, Ronda is the co-founder and Director of Sponsorship for Tech-Inclusive, an Ann Arbor non-profit dedicated to fostering professional growth for underrepresented people in tech, and empowering allies to become advocates. The organization creates an inclusive, supportive community, and provides low-barrier, safe learning opportunities and networking events.
Aaron Schmid
Co-Founder and COO at Autobooks, Detroit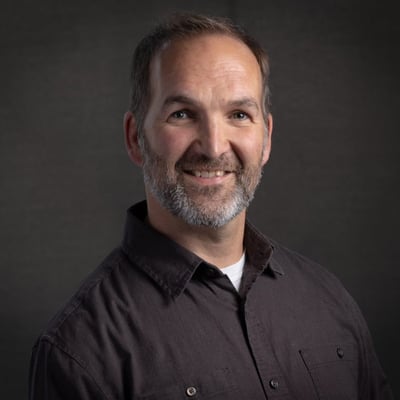 As co-founder of Autobooks, one of Detroit's fastest-growing startups, Aaron Schmid has played a variety of roles including COO and Chief Information Officer. Under his leadership, Autobooks has formed partnerships that provide access to approximately 50% of the U.S. banking market, and that number is only increasing. Just in the past year alone, bank deployments through Autobooks have grown 800%, enrollments have grown to an average of 10,000 a month, and the company has surpassed $40 billion in transaction volume. The company was also just named to this year's Inc. 5000 list of the fastest growing companies, ranking #258 in the whole nation, #30 in software, and #2 in the state of Michigan.
Spearheaded by purpose-driven leaders like Aaron, Autobooks is a mission-driven fintech company helping small-business owners manage and grow their businesses. Small businesses are the backbone of our communities, and Autobooks is helping them thrive.
Michael Hanley
Chief Security Officer and SVP of Engineering at GitHub, Ann Arbor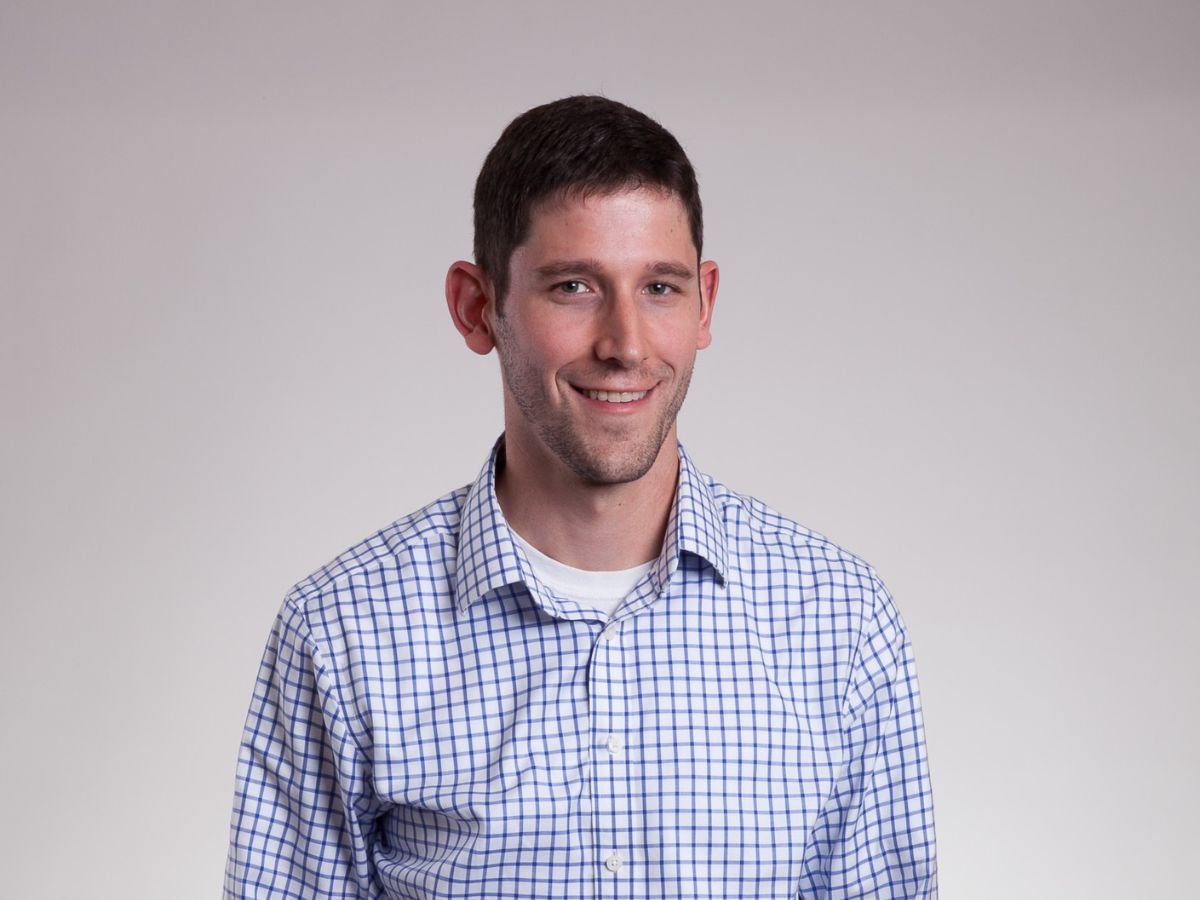 Yes, GitHub's top engineering leader is an Ann Arborite! Michael Hanley is a Duo Security alumni before taking on the role of Chief Information Security Officer at Cisco after Duo's acquisition. Michael's leadership has only grown as he took on executive roles at GitHub, where he's been for nearly 3 years. Michael has taken an expansive approach to security and looks at collaboratively. Great security requires leaders to work with the broader cybersecurity community, and Michael's community-driven approach is making a difference.
Purpose Awards: Top Catalysts
Monica Wheat
Managing Director at Techstars Detroit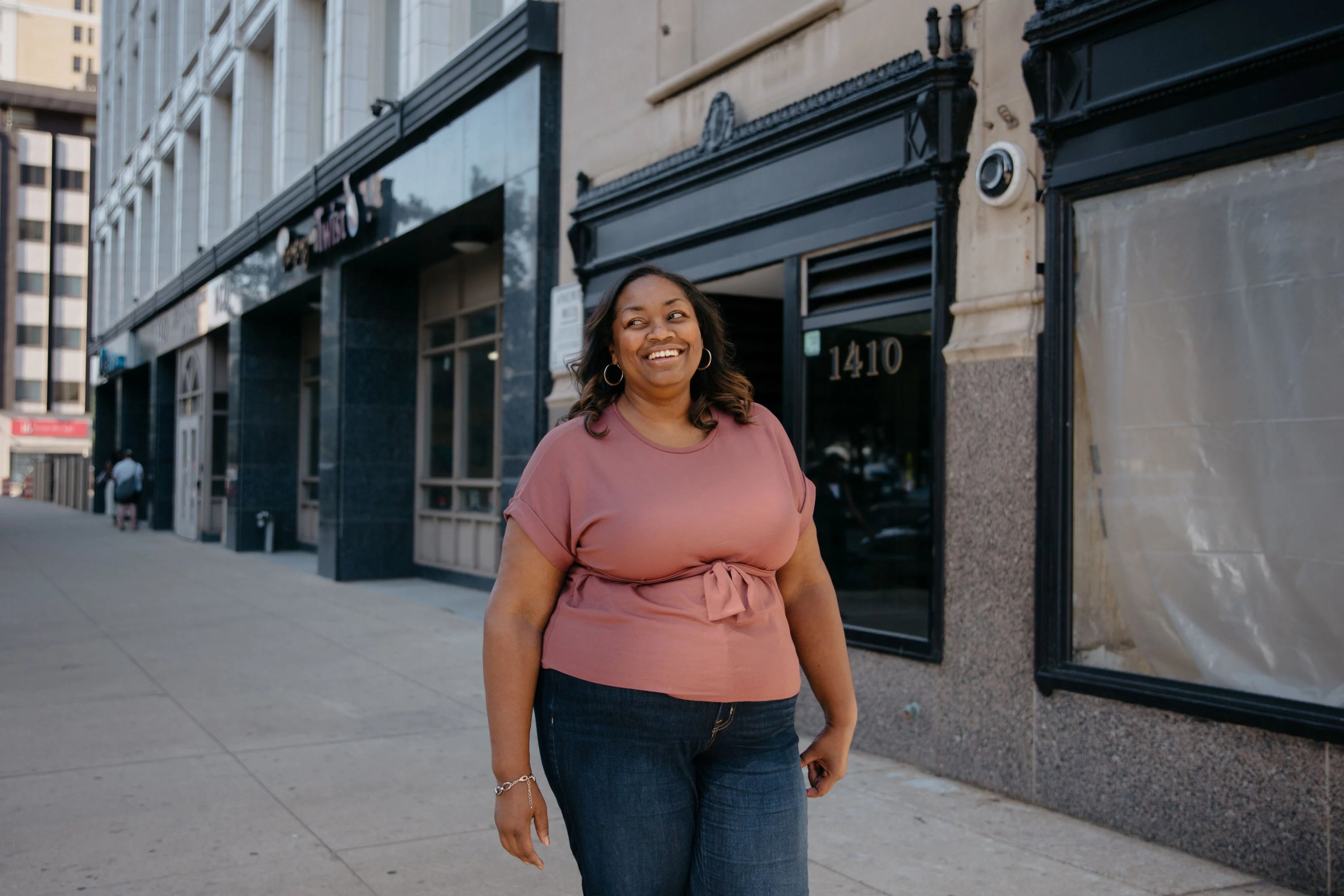 Image source: Crain's Detroit
It's hard to think of the Detroit tech community without Monica Wheat. As Managing Director of Techstars Detroit and Techstars Equitech, Co-Founder and Executive Director of Venture Catalysts and a Venture Partner at Backstage Capital, Monica is a purpose-driven leader and catalyst — she's the real deal.
Not only does Monica work to help startups get funded and find success, but she also works hands-on in building a more equitable tech ecosystem.
"The vision is big, but basic," she told Techstars in an interview. "Revolutionize how venture and innovation is done using diversity and inclusion as a force multiplier."
Monica shared her amazing insight with us last year at the virtual road tip in Ann Arbor and Detroit. Check out what she had to say about the Detroit tech community, inclusion, and how to continue its growth.
Margarita Hernandez
VP of Entrepreneurial Services at Ann Arbor SPARK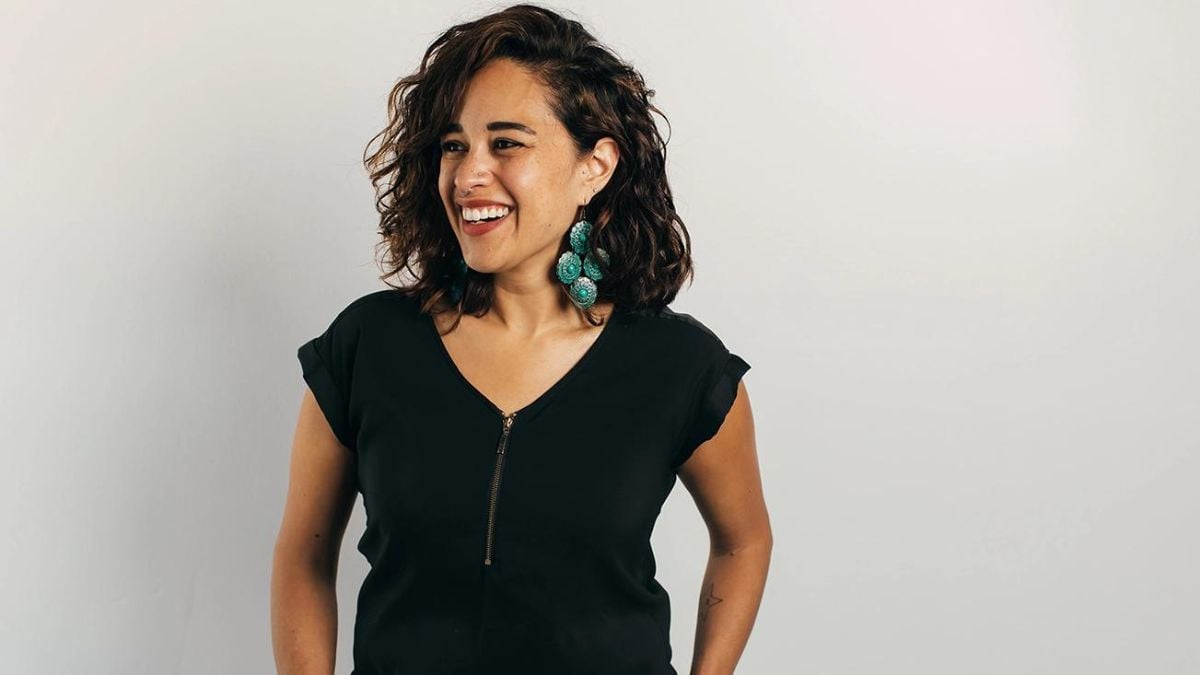 Image source: Ann Arbor SPARK

As VP of Entrepreneurial Services with Ann Arbor SPARK, Margarita Hernandez, PhD, has been involved with Ann Arbor startups as an advisor, coach, and mentor for nearly four years. She advises startups with a variety of resources, connections, and business accelerator grants aimed to promote the success of startups in the ecosystem.
As a startup coach, Margarita has a real impact on the organizations she works with, getting deeply involved in the ideation, IP, R&D, product development, manufacturing, scaling, financing and commercialization. As a startup veteran herself, she has unique expertise that she shares with entrepreneurs to help them succeed.
Purpose Awards: Top Community Builder
Trista Van Tine
Co-Founder and Executive Director at Michigan Founders Fund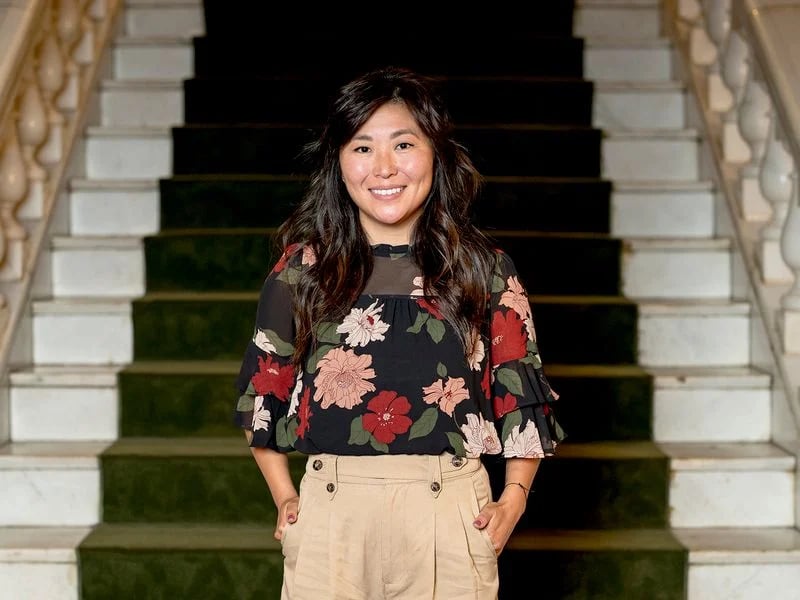 Image source: Crain's Detroit
The Michigan Founders Fund was originally established in 2019 as the Ann Arbor Entrepreneurs Fund to advance the support of high-growth entrepreneurs, increase programming and resources. In 2021, the 501(c)3 organization restructured as the MFF to support founders and communities throughout the state of Michigan. As Executive Director, Trista Van Tine has a direct impact on the startup and tech community in Michigan.
Trista is on a mission to leave the world better than she found it. She does this every day through her for-purpose approach to advancing the startup and tech community in Michigan. This year, she was an integral organizer of the first annual Michigan Tech Week conference, pulling together an amazing lineup of speakers and topics. Trista also won Crain's Detroit 40 under 40 award this year, recognized for all her work in building up the tech community in Michigan.
Ted Velie
Co-Founder of Michigan House Creative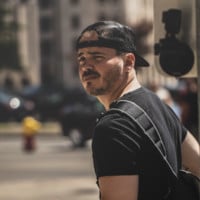 If you've been to a big tech event in Michigan, Ted Velie was probably there and probably helped make it happen. Ted has worked incredibly hard over the years to build up the tech ecosystem through multiple community-oriented events here in Michigan and throughout the Midwest.
A huge feat this year was the ultra-collaborative Midwest House, an experiential embassy at South By Southwest in Austin dedicated to the Midwest's innovators and creatives. The 5-day event featured panels with founders and tech leaders, a Pride Fund brunch, dance parties and wellness events. The entire event was a marker of Ted's collaboration and his inclusive approach to getting key stakeholders to the table.
Sloth
Founder of Slothwerks and Lead Organizer for GR WebDev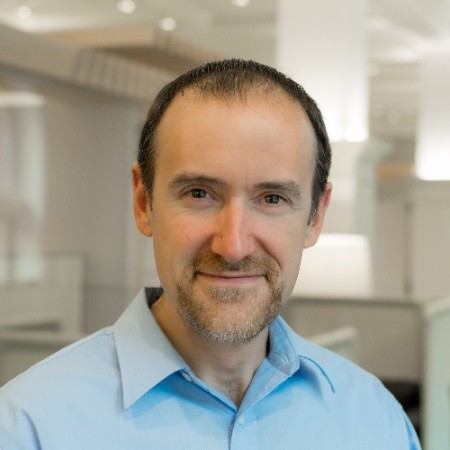 Don't be fooled by his Danish name: Sloth is a go-getting and a community giant in West Michigan. He gives his time and talents to multiple community building events and organizations. He is the lead organizer of GR WebDev (the largest meetup group in Grand Rapids), he is a lead volunteer for Hour of Code, Code for Good and several other non-profits. He has also served as a mentor for many Jr. Developers, especially those who chose non-traditional paths into I.T. (bootcamps, self-taught).
"Sloth is a 'go-to' person in Grand Rapids when you need to rally the troops and help get something organized," said John Rumery, Industry Council Lead at West Michigan Tech Talent.
Hien Lam
Founder of Huck Finch and Host at Ann Arbor New Tech Meetup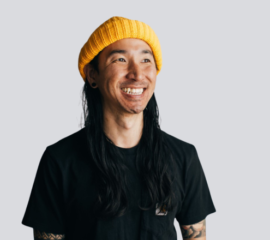 Hien Lam is a founder, community organizer, designer and advisor who does a ton of work in bringing the Ann Arbor tech community together. Hien is the host of the Ann Arbor New Tech meetup, which is one of the longest-running, highest-attended tech events in the region. It's been going strong since 2009, and once a month the gang gets together to do pitches, Q&A with the audience, and networking. Hien is an integral part of the startup community in Ann Arbor — whether he's helping them build beautiful websites through his webflow studio, Huck Finch; providing an audience for their pitch; or offering support and a friendly face, the impact he has on the community is huge.